#AlertaVenezuela is leading the way in identifying, exposing, and explaining disinformation within the context of one of the Western Hemisphere's largest crises in recent history, where the fight for control of the information space will continue to pose a challenge for the region.
Top Story
Nicolás Maduro pushes anti-migrant narrative to explain why COVID-19 cases are increasing in Venezuela
As the Maduro regime has reported an increase of coronavirus cases in Venezuela, Nicolás Maduro himself blamed Venezuelan migrants returning illegally to their country and the "Colombian mafia" to be the main source of the "Colombian virus" in Venezuela.
On July 5, Maduro regime reported 419 new infections, the highest number of daily cases since the virus was first confirmed to be in the country on March 13, 2020. According to Runrun.es, the projected spread of COVID-19 in the country shows an "upward trend": while the pandemic in Venezuela surpassed 1,000 total cases after 71 days – with 1,010 cases as of May 23, the current rate of infection showed a similar number of new cases over a period of just four days – from 6,062 total cases to 7,169 from July 2 to July 5.
During the celebration of Venezuela's Independence Day on July 5, Maduro made two appearances on live television in which he discussed the COVID-19 emergency. Maduro interrupted military parades to present a report on state-funded television outlet VTV. In the VTV program, Maduro claimed the main source of infections has been Venezuelans returning to their country from Colombia via illegal border crossings – know in Spanish as "trochas." For many years, Colombian "entrepreneurs" (including, among others, guerillas and armed mercenaries) have controlled some points along the country's border with Venezuela and have facilitated illegal border crossings for Venezuelans for a price. Most frequently, the passage has been out of Venezuela, but COVID-19's impact on countries around Latin America have led many newly unemployed migrant Venezuelans to seek the comfort of home, thus reversing the normal flow of traffic. In a move that only exacerbated the use of these illegal crossings, Maduro limited the legal crossings to the country from Colombian checkpoints to three days per week since mid-June.
Maduro has referred to both the returning migrants as well as those who have assisted them as "trocheros" and ordered Venezuelans to inform on them if "someone sees 'trocheros' among the neighbors." (The nickname is presumably a reference to a "trocha," a Spanish term for a path through a jungle or mountain.) Maduro also said the "trocheros" would receive all the assistance necessary to help with COVID-19 at special assistance centers, but independent media, such as Tal Cual and El Pitazo, have recently reported that people – not just the "trocheros" – have been leaving regime-supported hospitals (even while sick) and assistance centers because of the poor conditions, including a lack of food and medical supplies.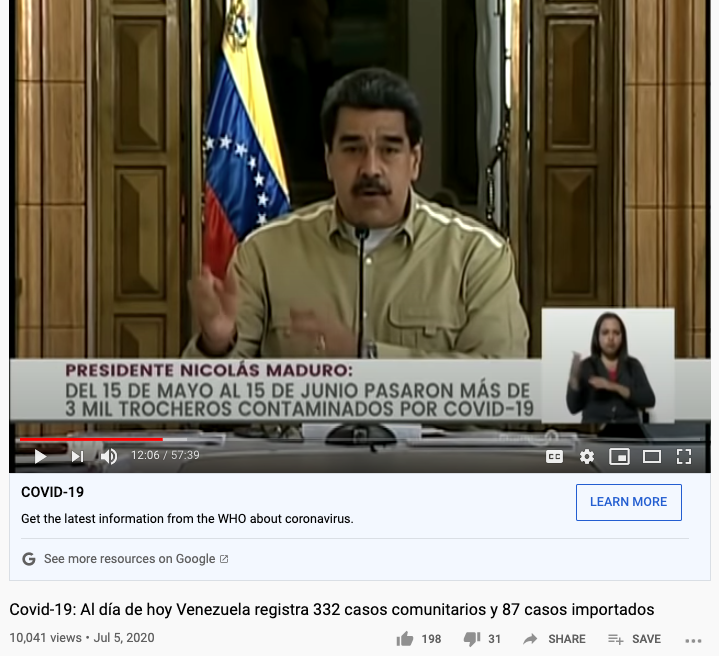 Maduro also claimed anew that the increase in COVID-19 cases was intentionally planned by foreign governments – normally with direct references to Colombia and Brazil in particular – in which the governments allegedly sent infected Venezuelans back to the country. This time, however, Maduro limited the charge to Colombia, saying "we are cutting off the transmission chains of the Colombian virus [Colombian President Iván] Duque sent us." Maduro further claimed, without evidence, that his regime had discovered a new strain of the COVID-19 "imported from Colombia" beginning on May 24.
Talk of the Country
In the Media
On July 2, CNN in Spanish published "Reino Unido reconoce 'inequívocamente' a Guaidó y le niega a Maduro el acceso a US$ 1.100 millones en oro" ("The United Kingdom recognizes 'unequivocally' Guaidó and denies Maduro access to $1.1 billion in gold"). The article described a ruling from the High Court in London confirming that the British government could legally recognize Juan Guaidó as Venezuela's president and therefore block Maduro's access Venezuelan gold reserves held by the Bank of England. According to CNN, the court decision also means that Guaidó's government could have access to the 30 tons of gold as well as $120 million invested with the Deutsche Bank. The ruling stemmed out of a 2018 case filed by the Maduro-controlled Banco Central de Venezuela against the Bank of England after it tried unsuccessfully for a second time to gain access to the gold. According to CNN, Maduro had pledged that the funds would be used to buy food and medical supplies through the United Nations amidst the economic crisis and the COVID-19 epidemic. The Banco Central de Venezuela intends to appeal the decision. According to a query using social media listening tool BuzzSumo, CNN's article garnered 17,500 interactions on Facebook and Twitter combined.
In Venezuela, independent website Runrun.es published on May 17, "Internet en Venezuela podría dejar de ser para toda la población" ("Internet in Venezuela may not be available to the entire population"). Runrun.esinterviewed three experts who pointed to chronic infrastructure failures and the economic crisis in the country as the main causes of loss of access to the internet. Runrun.es further described Venezuela's low position (ranked 139) across the world of the countries with the slowest average download speed; Venezuela's average download speed is a low 7.68 Megabits per second, placing it after Algeria and Afghanistan and the worst in all of Latin America. Runrun.es explains Venezuelans have been working and studying from home since the Maduro regime ordered lockdowns due to the coronavirus outbreak, but users have "complained about poor internet connection and continuous failures by internet providers." According to Luis Carlos Díaz, journalist and president of Internet Society in Venezuela, exacerbating the problem is that eight of 10 families cannot afford an internet subscription because of the economic crisis.
What's Trending
On Social Media


The hashtag #SinCondicionesNoSeElige ("Without conditions, there are no elections") trended on Twitter between July 1-2, following a push by accounts supporting Guaidó. The hashtag arose after Maduro's Consejo Nacional Electoral (National Electroal Council, or CNE) announced that a parliamentary election would take place on December 6, 2020. The Twitter account for the National Assembly, of which Guaidó is the head, promoted the hashtag, claiming that the CNE is an illegal body and that the opposition would only participate in the elections if they are "free, fair, and auditable." Among the most retweeted accounts using #SinCondicionesNoSeElige were opposition representatives Juan Pablo Guanipa and Omar Barboza, with 118 and 45 retweets, respectively.
Official Statements
Mientras exista una Fuerza Armada como la que hoy tenemos: antiimperialista, revolucionaria y bolivariana nunca podrán ejercer el poder político en Venezuela.
"As long as the anti-imperialist, revolutionary, and Bolivarian Armed Forces exist, [the opposition members] will never exercise political power in Venezuela."
– Vladimir Padrino, Maduro's defense minister, during a July 5 VTV broadcast.
"Nuestro plan frente a la dictadura tiene que ver con la presión internacional, con generar puentes para un Gobierno de Emergencia Nacional y rebelarnos en las calles de toda Venezuela. Son mecanismos que necesitamos combinar y activar para lograr nuestra segunda independencia."
"Our plan to confront the dictatorship has to be with international pressure, building bridges for a National Emergency Government, and our rebellion in the streets around Venezuela. These are the mechanisms we need to combine and activate to achieve our second independence."
– Guaidó on Twitter on July 5.
Our Team in the News:
Venezuelan independent outlet El Diario quoted Daniel Suárez Pérez on his research on the country's disinformation narratives. Suárez presented his findings during the virtual event "Trust in elections and the problem of disinformation in Venezuela" on June 30.
Venezuelan independent media La Patilla and Miami-based outlet El Nuevo Herald mentioned DFRLab's article "Cuba-linked Twitter activity target Venezuelan social media." The DFRLab story took a look at Twitter accounts with set locations of Cuba and Venezuela being used to make at least six anti-U.S. and pro-Cuba hashtags trend in Venezuela. The accounts used the hashtags to denounce U.S. sanctions and to promote Cuban medical missions in Venezuela.
Subscribe to the #AlertaVenezuela newsletter
To receive future editions of the #AlertaVenezuela newsletter each week, sign up below!