#AlertaVenezuela is leading the way in identifying, exposing, and explaining disinformation within the context of one of the Western Hemisphere's largest crises in recent history, where the fight for control of the information space will continue to pose a challenge for the region.
Top Story
Article on Sputnik V shipment from news aggregator website garners more engagement on Facebook than those from Russian media outlets
Heraldo Venezolano, a news aggregating website originally registered in the United States, garnered the most engagement on Facebook on reports of the Maduro regime's receipt of a shipment of Russia's Sputnik V coronavirus vaccine on October 2, 2020. Shared mostly in Facebook groups, posts of Heraldo Venezolano's article amassed more interactions than any other media, such as Russian state-funded news outlets RT en Español and Sputnik.
Venezuela became the first Latin American country to receive the Kremlin-funded COVID-19 vaccine Sputnik V. On October 2, Maduro's Vice President Delcy Rodríguez gave a press conference after the shipment arrived at the Maiquetía airport. Also at the press conference, Maduro's Minister of Health Carlos Alvarado said the delivery would cover trials for 2,000 people. Alvarado also said a mass production process of the vaccine would start locally after the tests successfully conclude. On October 4, Maduro retweeted a post by his son, Nicolás Maduro Guerrero, who claimed he would be one of the volunteers to receive the vaccination.
A search using social media listening tool BuzzSumo showed that posts of Heraldo Venezolano's article were the most engaged-with on Facebook, with 53,422 engagements (likes, comments, and shares) between October 2 and October 5. The article included only two quotations from the press conference and a link to a tweet about it by RT's Caracas correspondent Érica Orteja Sanoja. According to BuzzSumo query, RT en Español publications on October 2 and October 3 received the second-most engagement behind Heraldo Venezolano's article. The RT en Español articles also covered Rodríguez's press conference and quoted Maduro in thanking Russia. The articles garnered 45,500 and 12,300 interactions, respectively.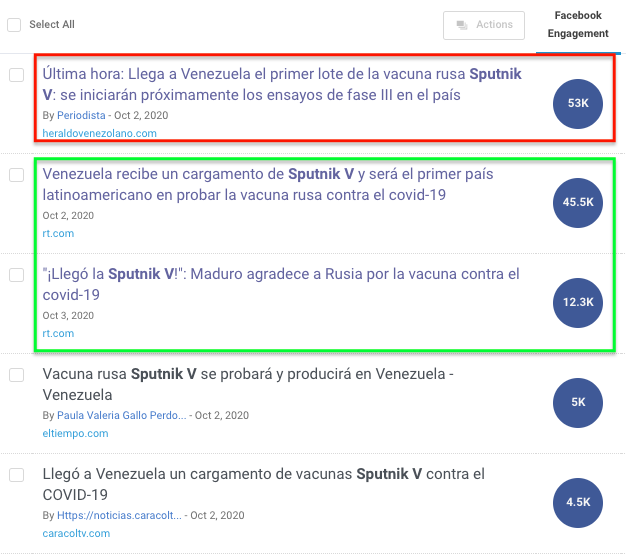 An analysis of the Facebook groups using CrowdTangle showed that Heraldo Venezolano's article appeared in the most engaged-with posts to groups. The most engaged-with post garnered 2,311 engagements and was posted on a group supporting Colombian opposition congressperson Iván Cepeda.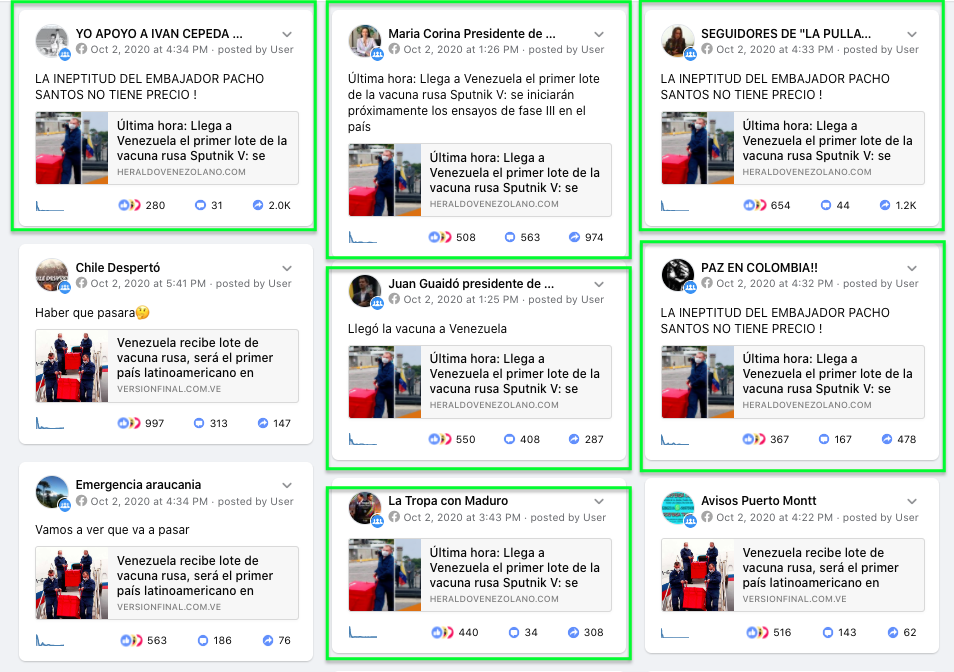 The account that garnered most of the interactions sharing Heraldo Venezolano's article on Facebook groups shared at least nine posts to nine different Facebook groups within a span of 5 minutes, including the most engaged-with post in the Facebook group supporting Cepeda. The account posted on groups connected to Colombia and used the same text claiming that Colombian Ambassador to the U.S. Francisco Santos' ineptitude is "priceless."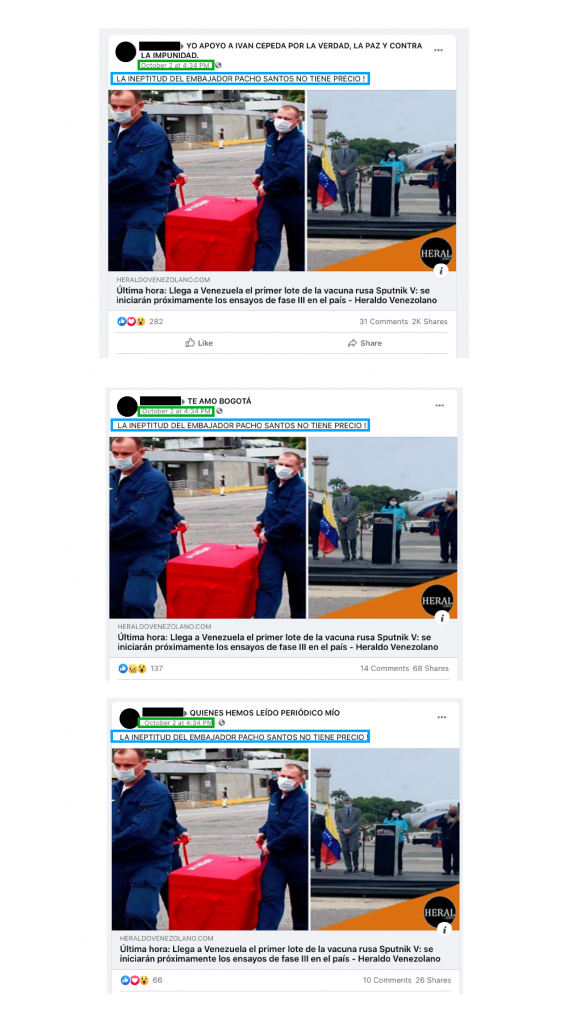 The two Facebook assets that shared the article first on October 2 were the Facebook pages Nacho Mundial and Explícito Venezuela. These pages were both created on January 19, 2017, and changed their names four times around the same dates in 2017. The Facebook page Nacho Mundial also has a link to Heraldo Venezolano's website in its "About" section.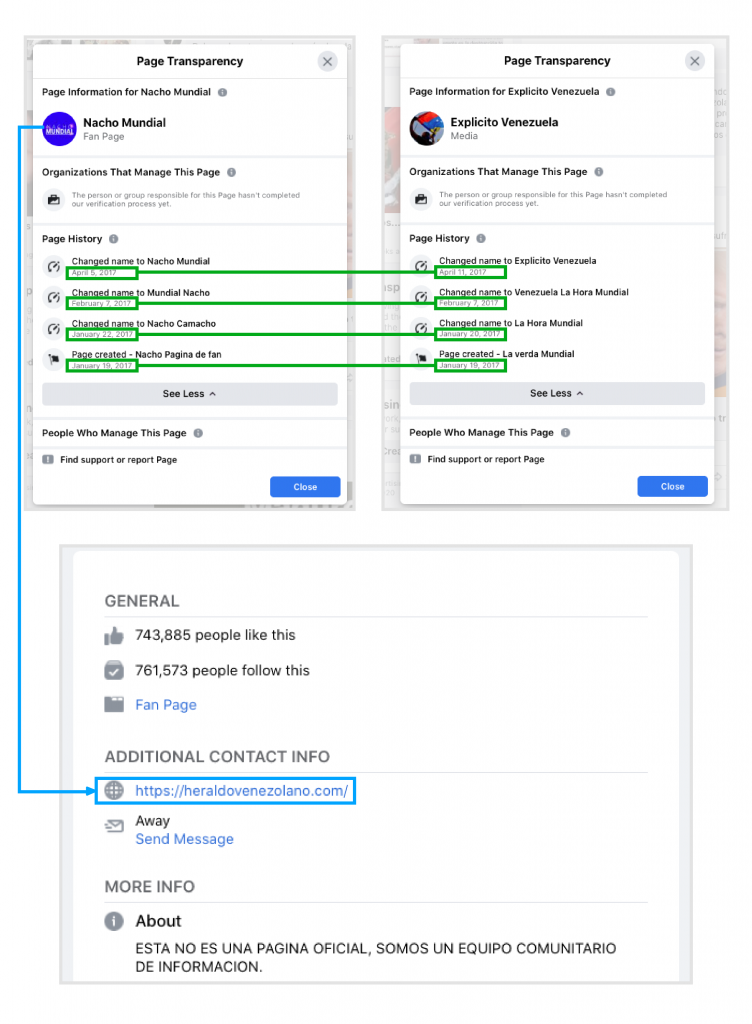 Moreover, the DFRLab found a Facebook page using the same Heraldo Venezolano website's logo and name. This asset was created on April 22, 2020, the same date Heraldo Venezolano's website was also registered, according to a search using RiskIQ. The Facebook page only shows six posts and 15 followers since April 23.
While the country of origin of the various Facebook groups is unclear, the external website heraldovenezolano.com appears to have been registered in Phoenix, Arizona, on April 23, 2020.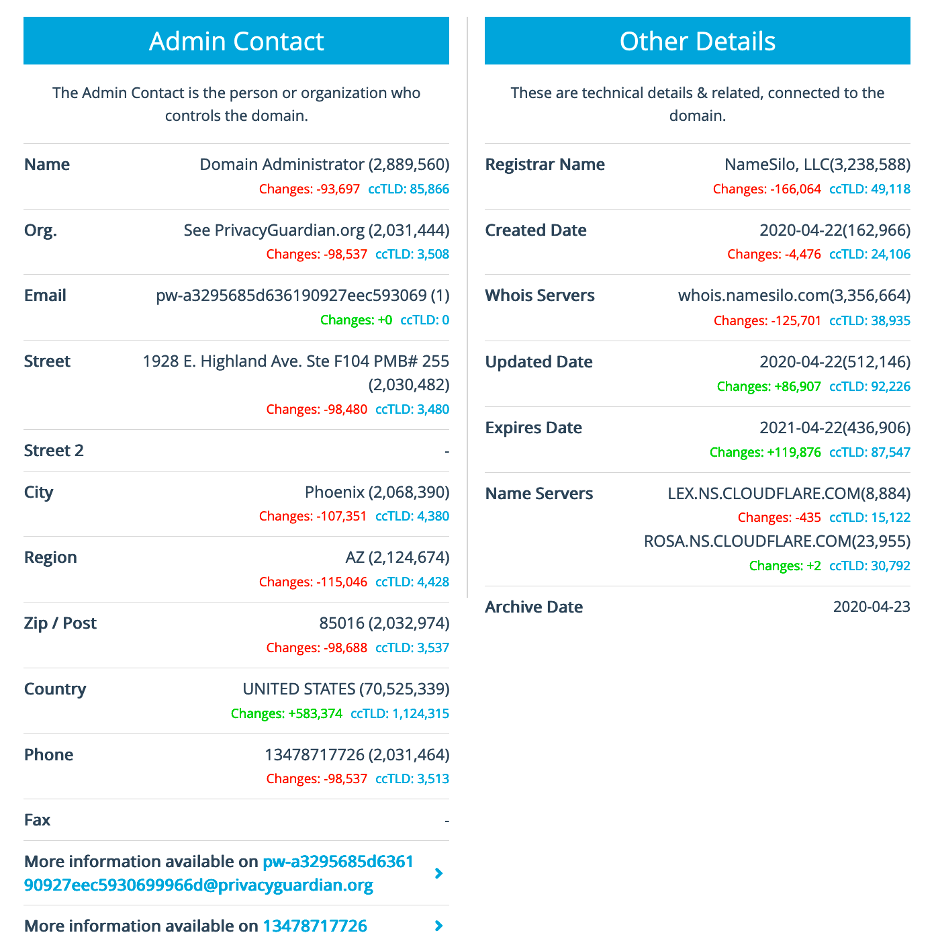 Talk of the Country
In the Media
On September 29, British news outlet BBC Mundo published "Coronavirus en Venezuela: el personal médico que combate el coronavirus ganando 4 dólares al mes"  ("Coronavirus in Venezuela: medical personnel that fight the coronavirus earning $4.00 a month"). BBC Mundo interviewed health workers in Venezuela who claimed their medical centers do not have running water, functional sanitary infrastructure, nor sufficient personal protective equipment to attend COVID-19 patients. The article said doctors earn $4.00 a month but highlighted that the amount is insufficient even to pay for their transportation to work or to buy personal protective equipment; one mask, for instance, costs $1.00. Rubén Duarte, a nurse in the Venezuela's state of Táchira, told BBCMundo that, after his 12-hour work shift, he has to work on farming his own food. Duarte also said that Maduro's security forces detained and interrogated him for a day after Duarte and other colleagues publicly called for improved conditions in the press. BBC Mundo described that almost 200 health workers in Venezuela have died due to the COVID-19 pandemic, one-third of the country's total deaths. BBC Mundo's article garnered 2,500 interactions on Facebook and Twitter combined between September 29 and October 5, according to a search using CrowdTangle.
In Venezuela on October 1, fact-checking website Cazadores de Fake Newspublished, "Sobre las estafas con medicinas ofrecidas a los venezolanos en redes sociales" ("About the drug scams offered to Venezuelans on social networks"). Cazadores de Fake News investigated accounts on Twitter and Instagram that offered false medicine donations and scammed patients and their relatives in Venezuela. On Twitter, Cazadores de Fake News identified these suspicious accounts had been in operation since 2017 and analyzed 11 accounts linked to a network of scammers. According to Cazadores de Fake News, the network asked its victims for a payment to cover "additional costs" for the transport of the drugs, but the supposed donor disappeared after the first payment was made. Cazadores de Fake News found that the accounts used profile pictures stolen from other accounts and had been recently created. Moreover, Cazadores de Fake News reproduced the testimony of a family that was swindled on Instagram by a supposed doctor. Cazadores de Fake News also identified an account that described itself as a medicine seller. The suspicious account changed its username 37 times and posted pictures of medicines published elsewhere on social media and from external websites.
What's Trending
On Social Media


The hashtag #SputnikVEsEsperanza ("Sputnik V is hope") trended on Twitter between October 3-5, pushed by accounts supporting Nicolás Maduro after the Russian Sputnik V coronavirus vaccine shipment arrived in Caracas on October 2. The most retweeted account using #SputnikVEsEsperanza was Maduro's Ministry of Communications, with 2,800 retweets, which promoted the hashtag using the phrase "Etiqueta del Día" ("hashtag of the day"), a long-term daily campaign by the Maduro regime to push pro-Maduro hashtags to trend on Twitter. Maduro's Ministry of Communications and regime-funded TV broadcaster VTV also used #SputnikVEsEsperanza to amplify claims that the Maduro regime had guaranteed the presence of observers from the European Union (EU) for Venezuela's upcoming parliamentary elections, scheduled by the Maduro regime for December 6, 2020. They also claimed that the U.S. Office of Foreign Assets Control (OFAC) had paid candidates to withdraw from the elections. Jorge Rodríguez, who is overseeing Maduro's preferred slate of candidates for the parliamentary elections, promoted these claims during a press conference on October 4. According to Europa Press, Rodríguez said he would reveal a list of representatives who received $51,000 from the OFAC and called them "criminals." Rodríguez also confirmed that the Maduro regime is not going to postpone the date of the elections for 6 months, as the EU and some leaders of the Venezuelan opposition had suggested.
Official Statements
La cosa no va bien. El Gobierno venezolano no quiere retrasar las elecciones. Está en su derecho, pero en estas condiciones nosotros no podemos enviar una misión de observación electoral. Eso hará que las elecciones no se puedan organizar con un mínimo de parámetros democráticos y el país dará un paso más hacia la desinstitucionalización. Va a ser más difícil buscar una salida democrática a la crisis."
"Things are not going well. The Venezuelan government does not want to delay the elections. It has the right to do so, but under these conditions, we cannot send an electoral observation mission. This means that the elections cannot be organized with a minimum of democratic parameters and the country will take another step toward de-institutionalization. It will be more difficult to find a democratic resolution to the crisis."
– Josep Borrell, the EU's high representative for foreign affairs and security policy, on La Voz de Galicia on October 4, 2020.
Ojalá todo esto lo lleve a ser más reflexive, más humano para la protección del Pueblo de Estados Unidos y para entender a los pueblos del mundo. Expresamos nuestro acompañamiento al Pueblo de los Estados Unidos y al Presidente Donald Trump. Y esperamos que tenga pronta y eficaz recuperación."
"I hope this leads him to be more thoughtful and humane in protecting the People of the United States and in understanding the people across the world. We express our support to the people of the United States and to President Donald Trump. And we hope that he will have a prompt and effective recovery."
– Nicolás Maduro on VTV on October 4.
Subscribe to the #AlertaVenezuela newsletter
To receive future editions of the #AlertaVenezuela newsletter each week, sign up below!