#AlertaVenezuela is leading the way in identifying, exposing, and explaining disinformation within the context of one of the Western Hemisphere's largest crises in recent history, where the fight for control of the information space will continue to pose a challenge for the region.
Top Story
Maduro regime claims picked up by Chilean media outlet and spread on social media
Investigators from the United Nations (UN) published a report on September 16, 2020, with evidence of "unlawful executions, enforced disappearances, arbitrary detentions and torture" in Venezuela that have taken place since 2014. Facebook accounts not aligned to the Maduro regime were the most engaged-with to have shared the report, and accounts originating in Chile appeared among the accounts amplifying a pro-Maduro claim that the UN investigators were backed by governments, such as those in the United States and Chile, that are aligned against the Maduro regime.
The UN Human Rights Council established an independent fact-finding mission on September 27, 2019, to investigate the conditions on the ground in Venezuela, with a goal of presenting its findings during its 45th session in September 2020. The investigators found 220 cases of crimes that "amounted to crimes against humanity" and that involved high-ranking officials in the Maduro regime (including Nicolás Maduro and two of his ministers). The UN published a detailed version of the report on September 16.
The Maduro regime reacted to the report claiming that the findings were false, the investigators did not interviewed face-to-face the sources, and the LimaGroup – a coalition of 12 Latin American countries that supports a democratic process in Venezuela – funded the report. The Maduro regime also tried to discredit the investigation with a claim that Francisco Cox Vial, a Chilean investigator with the fact-finding mission, was a defender of the brutal Augusto Pinochet dictatorship in Chile between 1974 and 1990. In particular, Maduro's Minister of Foreign Affairs Jorge Arreaza and his General Prosecutor Tarek William Saab made these claims during a press conference on September 19. Among the media outlets to amplify the ministers' claims were pro-Maduro media outlets Telesur and VTV, as well as Chilean website 360 Noticias.
360 Noticias describes itself as "the portal of the free press" created by workers to transform the society but mostly posts pro-Maduro content when it reports on Venezuela. The outlet published the article covering the Maduro regime's claims on September 17, 2020, after which point it started to get shared on Facebook. 360 Noticias' article amplified the claims from Arreaza and Saab in which they alleged that the investigators had not visited Venezuela nor interviewed face-to-face the sources, both of which claims that were deliberately misleading. The UN report's press release in Spanish assertedthat the investigators could not travel to Venezuela because of a "lack of government [the Maduro regime] response despite repeated requests, in addition to the travel restrictions imposed by the COVID-19 pandemic." The UN clarified the investigators contacted and made 274 interviews with the victims, their relatives, and witnesses of the regime's abuses.
A separate 360 Noticias article focusing on Cox Vial mentioned that he was connected to the "far right-wing" in Chile. In doing so, as mentioned, the article highlighted that the Maduro regime singled out Cox Vial as a "defender of the Augusto Pinochet dictatorship." On December 2, 2019, the UN described Cox Vial as a "prominent Chilean criminal lawyer" who had represented 2,605 victims of the armed conflict in northern Uganda before the International Criminal Court. Cox Vial, in an interview with La Tercera, however, had previously stated that he had participated in protests against Pinochet. In a separate profile with Emol, the author highlighted Cox Vial's previous work prosecuting the Chilean police. La Tercera and Emol are both parts of separate Chilean legacy media conglomerates.
A DFRLab query using social media listening tool CrowdTangle showed that the article from 360 Noticias was among the most shared links in posts to Facebook groups between September 16 and September 21. The post in the Facebook group "¡Guillier a la Moneda!" ("Guillier to the Moneda," a supportive reference to Chilean presidential candidate Alejandro René Eleodoro Guillier Álvarez) was the second most-shared with 450 shares, while the post in the Facebook group "Daniel Jadue Jadue" (the name of the mayor of the Recoleta commune in Santiago, Chile) was the fourth most-shared with 222 shares.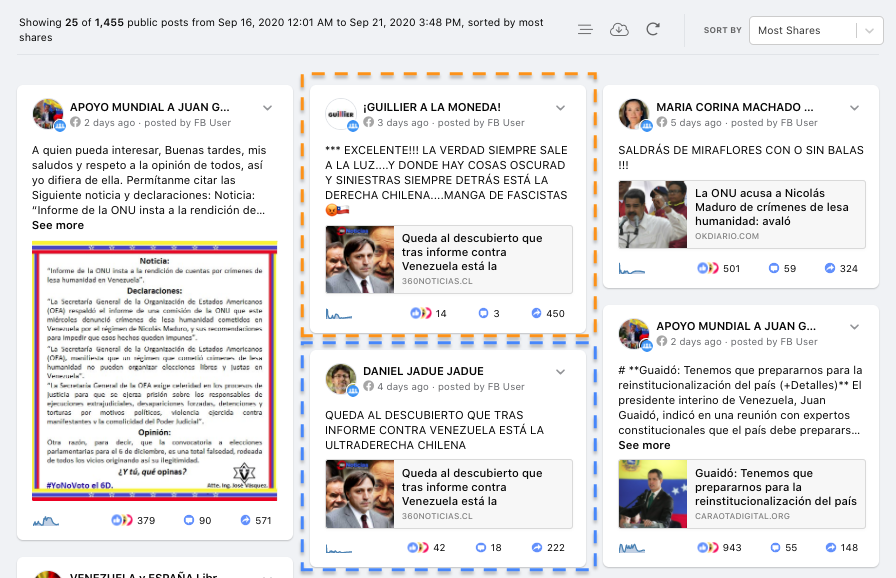 The Facebook account that posted in "Guillier a la Moneda" also posted the same content in other four Facebook groups. All posts were published on September 18, four of them over three minutes. The post claimed the "truth" is that the Chilean "right-wing" was behind the UN report.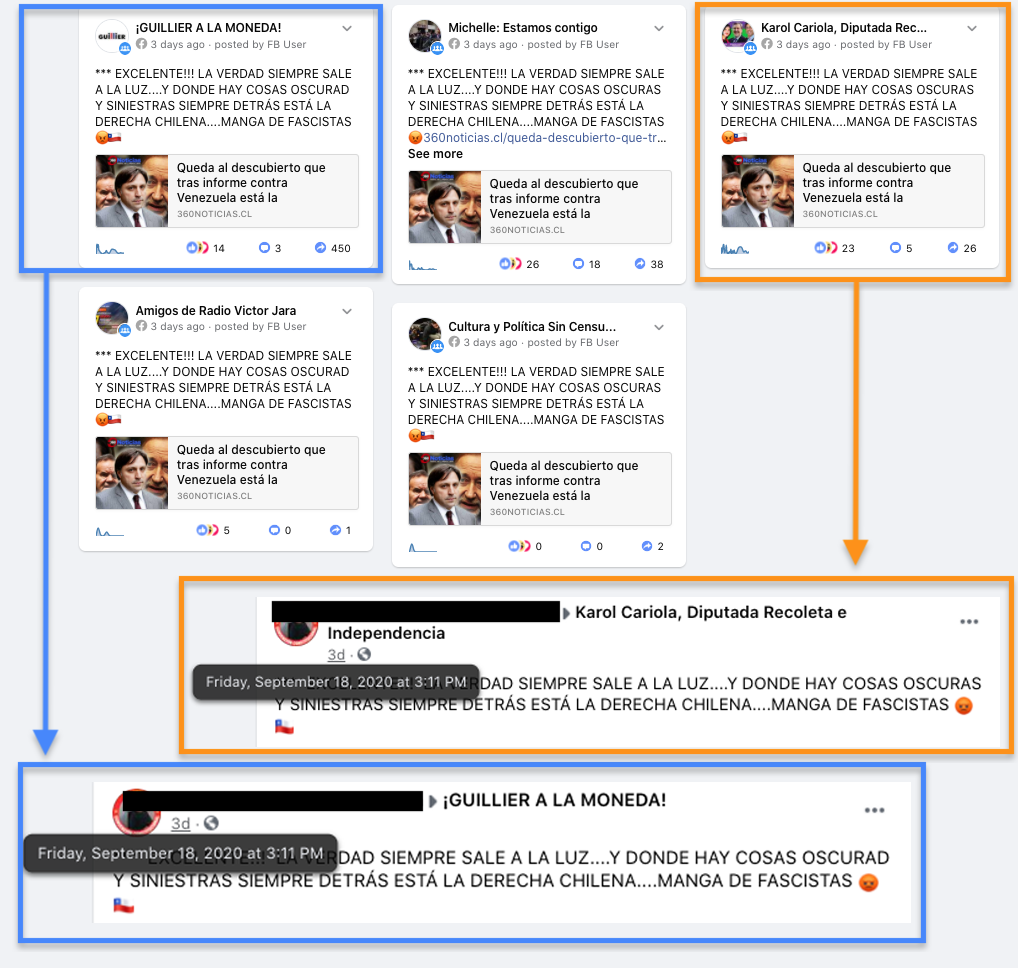 Jorge Gálvez Iturra, the author of 36o Noticias' articles, is also the registrant for the publication's website. Gálvez also appears as the author of other articles on other questionable websites, such as rebelion.org. According to Gálvez's articles, he is aligned to anti-neoliberal, socialist, Bolivarian movements, and Chilean organization Frente Patriótico Manuel Rodríguez. According to a search using CrowdTangle, the 360 Noticias' article about Cox was posted 222 times and garnered 4,083 interactions on Facebook and Twitter combined.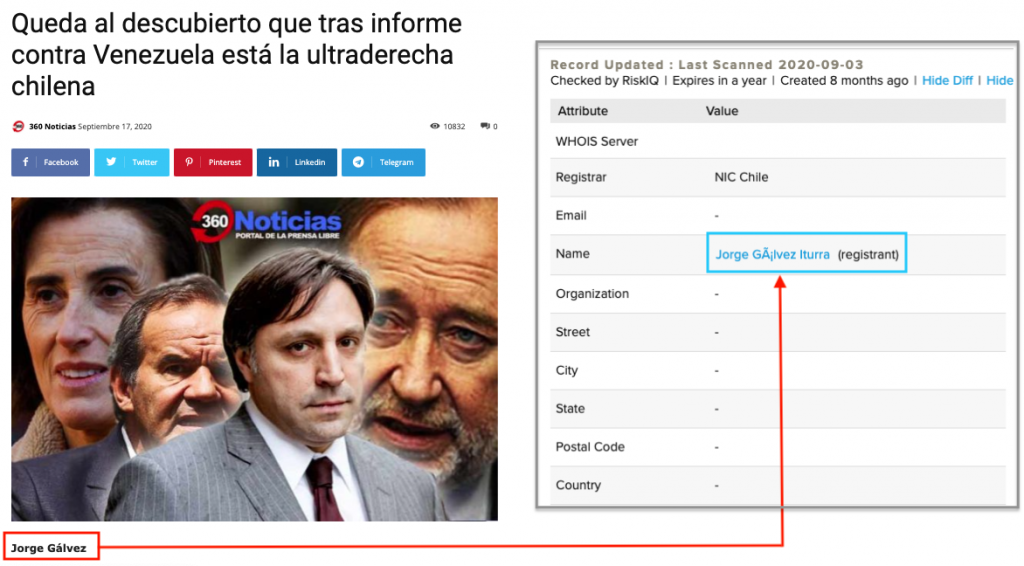 Talk of the Country
In the Media
On September 21, U.S. independent news organization ICIJ published "How banks helped Venezuela's 'boligarchs' extract billions." The article said at least eight wealthy businessmen with close ties to Hugo Chávez and Maduro – known as "boligarchs," a portmanteau of "Bolivarian" and "oligarch" – moved vast sums of public money out of the country. ICIJ found the "boligarchs" used banks in Europe and the United States to move more than $4.8 billion, nearly 70 percent of which was public money. ICIJ described suspicious transactions that involve Alejandro Ceballos Jiménez, a Venezuelan Construction "mogul" based in Miami, who "secretly routed more than $100 million from public housing contracts to recipients including his family members." ICIJ supported its findings in "a cache of secret bank reports" obtained by BuzzFeed Newscalled the FinCEN Files. According to ICIJ, the Office of Foreign Assets Control sanctioned three of at least 26 people, companies, and government entities with suspicious transactions related to public funds cited in the FinCEN Files.
In Venezuela, independent website Tal Cual published on September 21, "Alimentos se quedan en estados productores por caída de demanda y falta de combustible" ("Food abandoned in producer states due to drop in demand and lack of fuel"). Tal Cual described how perishable food (e.g., vegetables, milk, and cheese) is being left to spoil in farms and markets in producer states, such as Apure, Lara, and Mérida. Tal Cual found the produce was abandoned because of a number of factors, including scarcity of fuel to transport the products to other cities, a drop-in demand, lockdowns measures due to the coronavirus outbreak, and extortion of truck drivers by mayoralties and public workers. Tal Cual further described how, at the outset of 2020, truck drivers had been transporting approximately 100 tons of cheese per week from Apure but that, by September, that amount had dropped to between 50 and 60 tons per week. According to Tal Cual, Venezuela is barely producing at a rate of 25 percent of the vegetables harvested in 2010.
What's Trending
On Social Media


The hashtag #MaduroCriminal trended on Twitter between September 16 and September 21, pushed by accounts supporting Juan Guaidó, who is recognized by more than 50 countries as interim president of the country. The hashtag #LesaHumanidadVzla ("Crimes against humanity in Venezuela") was the most used alongside #MaduroCriminal, with 4,592 mentions. Guaidó's official account as well as accounts aligned with him used #LesaHumanidadVzla. The accounts used #MaduroCriminal to claim Maduro and high-ranking officials within his regime should be punished for their crimes against humanity as well as to assert that the Maduro regime has been working with of drug traffickers and terrorist groups.
Official Statements
Se cumplen 14 años del histórico discurso del Comandante Chávez ante la Asamblea General de la ONU, que sigue retumbando en el mundo. Suscribimos cada palabra pronunciada aquel día por nuestro Gigante, cargada de fuerza y dignidad frente a las amenazas del imperio estadounidense que pretende imponer su viejo modelo de dominación colonial."
"It is the 14th anniversary of the historic speech of Commander Chávez before the UN General Assembly, which continues to reverberate throughout the world. We subscribe to every word pronounced that day by our Giant. His words were filled with strength and dignity to face threats from the U.S. empire, which pretends to impose its old model of colonial domination."
– Nicolás Maduro on Facebook on September 20, 2020.
Great call with the President of Venezuela @jguaidotoday. Under President @realDonaldTrump, America stands with President @jguaido & the freedom loving people of Venezuela. The United States will continue to stand with them until their #libertad [freedom] is Restored! Estamos con ustedes! [We are with you!]"
– U.S. Vice President Mike Pence on Twitter on September 21.
Subscribe to the #AlertaVenezuela newsletter
To receive future editions of the #AlertaVenezuela newsletter each week, sign up below!