#AlertaVenezuela is leading the way in identifying, exposing, and explaining disinformation within the context of one of the Western Hemisphere's largest crises in recent history, where the fight for control of the information space will continue to pose a challenge for the region.
Top Story
Colombian website and associated influencer amplify Nicolás Maduro's attack on U.S. Secretary of State Mike Pompeo's tour to Latin America
Following a visit to the Latin America region by U.S. Secretary of State Mike Pompeo, Nicolás Maduro's attacks directed at the secretary and also at current Colombian President Iván Duque gained traction on social media, with an article from dubious website Al Punto receiving the most engagement on Facebook, in particular via a post by a Colombian influencer.
Pompeo visited four South American countries between September 17 and September 19, 2020, including Colombia and Brazil. While the secretary was mid-trip on September 18, Maduro claimed without any evidence in a broadcast on state-owned television station VTV that Pompeo had failed in his attempt to organize all Latin American governments to undertake a war against Venezuela. During the last stop – Colombia – of the tour on September 19, Pompeo and Duque both referred to their countries' joint efforts and objectives in the region, such as a democratic transition to remove Maduro from power. In response, on September 20, Maduro claimed on VTV that Duque's administration was more of a problem for Colombia than the COVID-19 pandemic as well as "all" Brazilian parties rejected that Pompeo used the country as a "backyard."
Maduro's claims about Duque and regarding Pompeo's visit to Colombia and Brazil appeared in a September 23 article on Colombian website Al Punto. The headline of the article quoted Maduro's claim that "Colombia has a bigger problem than covid [sic], its name is Iván Duque." According to a search using social media listening tool BuzzSumo, between September 17 and September 28, Al Punto's article garnered more interactions on Facebook than content from other media websites or blogs covering Maduro's reaction to Pompeo's diplomatic tour. While the article received 25,700 engagements (likes, shares, and comments) on the social media platform, Colombian legacy magazine Semana was not far behind with 22,300 engagements.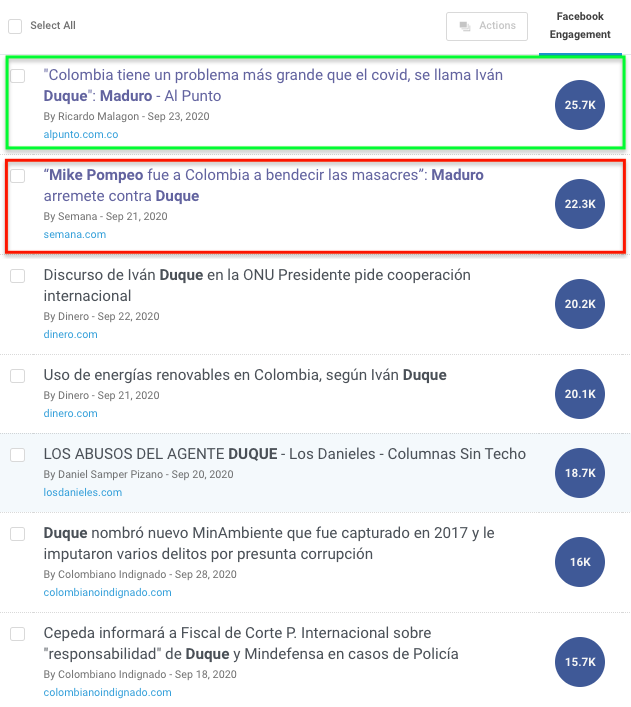 The Al Punto website's "nosotros" (i.e., "About Us") page lacks any description, but its Twitter account explains that it posts "current affairs of Colombia and the world with a critical sense."
Al Punto is connected to Colombian social media influencer Walter Rodríguez. Almost all of the linked stories on "Wally," an associated Facebook page, are to articles on Al Punto's external website. The page has a URL (https://go.atlanticcouncil.org/e/219312/MeDicenWally/c49dx4/992361949?h=p6qrxo-mbk_6SGjzDyJTZjbI6T3jqyFgOdlOXRA2KKg) that matches Rodríguez's Twitter handle (@MedicenWally). The Facebook page also links to a website by the same name, though it is currently a 404 error page. Meanwhile, Rodríguez was labelled as a "negative" social media user on a controversial list maintained by Duque's press office, according to Fundación para la Libertad de Prensa, a nongovernmental organization that monitors freedom of speech in Colombia, as revealed to the press on August 27.
A post to Rodríguez's Facebook page garnered a disproportionately large volume of the interactions sharing Al Punto's article with 14,380 engagements, according to a search using social media listening tool CrowdTangle. The next most engaged-with post garnered a relatively low 908 engagements.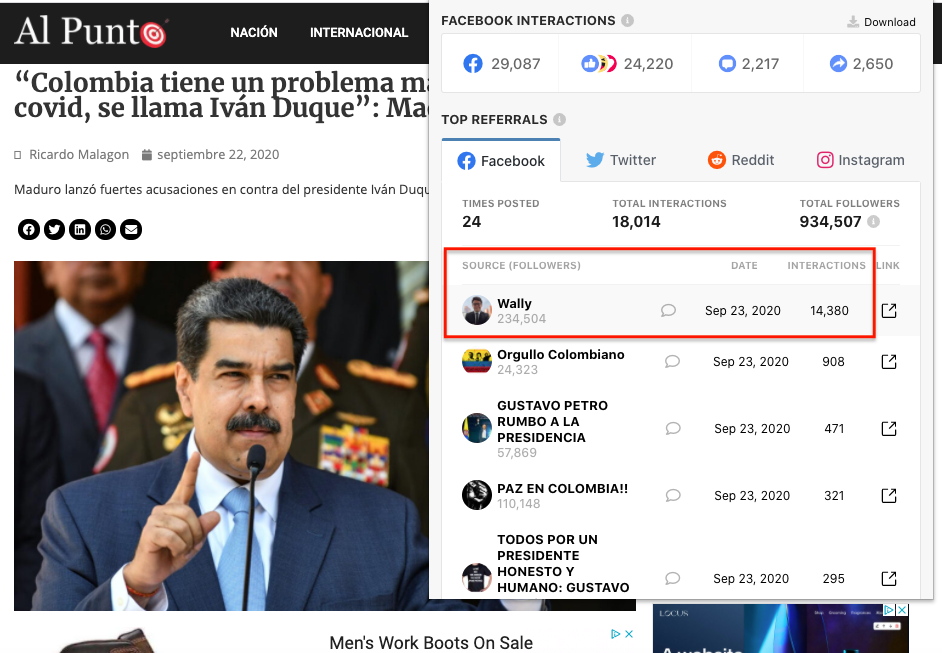 Rodríguez's Facebook page does not directly connect him to Al Punto, despite the highly disproportionate quantity of external links to Al Punto. A search using monitoring and tracking tool DNSlytics showed that Al Punto's Google's publisher ID – found on its website's source code – is connected other four websites, including the website revistapasacalles.com. According to a search using website monitoring tool RiskIQ, Rodríguez registered revistapasacalles.com from the Colombia's state of Boyacá on January 24, 2017, and expired on January 24, 2018.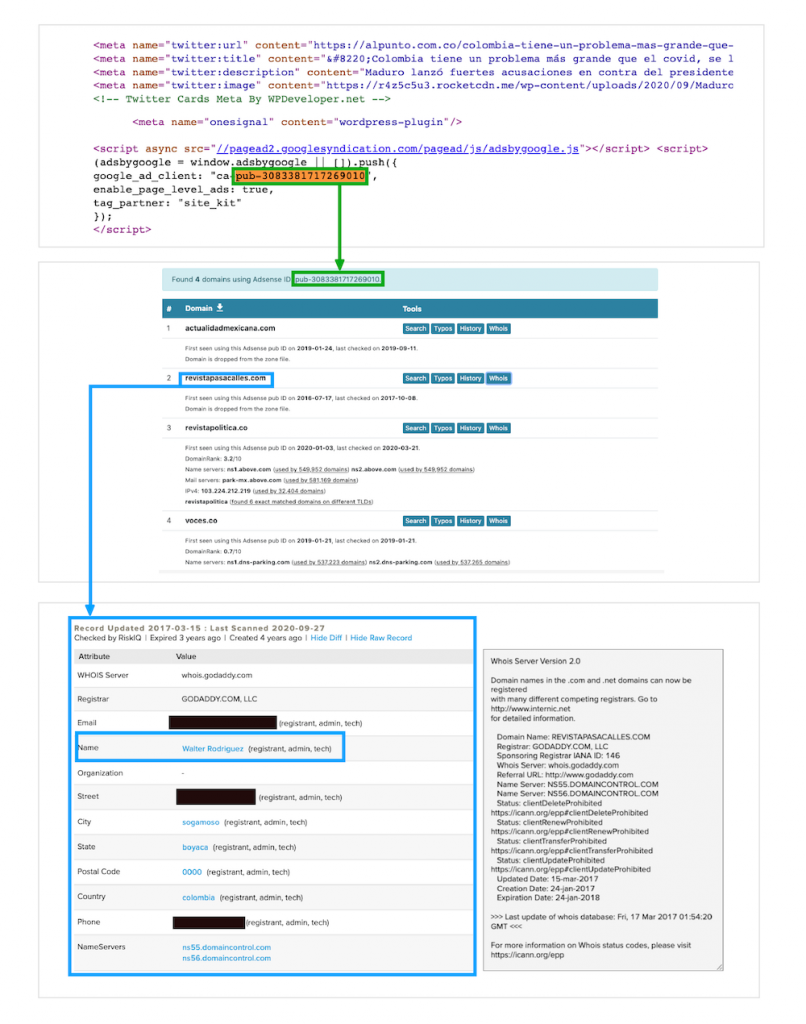 On the "Wally" Facebook page, which has almost 257,000 followers, Rodríguez describes himself as a lawyer who has published opinion articles across different Colombian media outlets, but he only mentions the outlets "Pasacalles" and "RevistaPasacalles," matching the websites he was responsible for registering.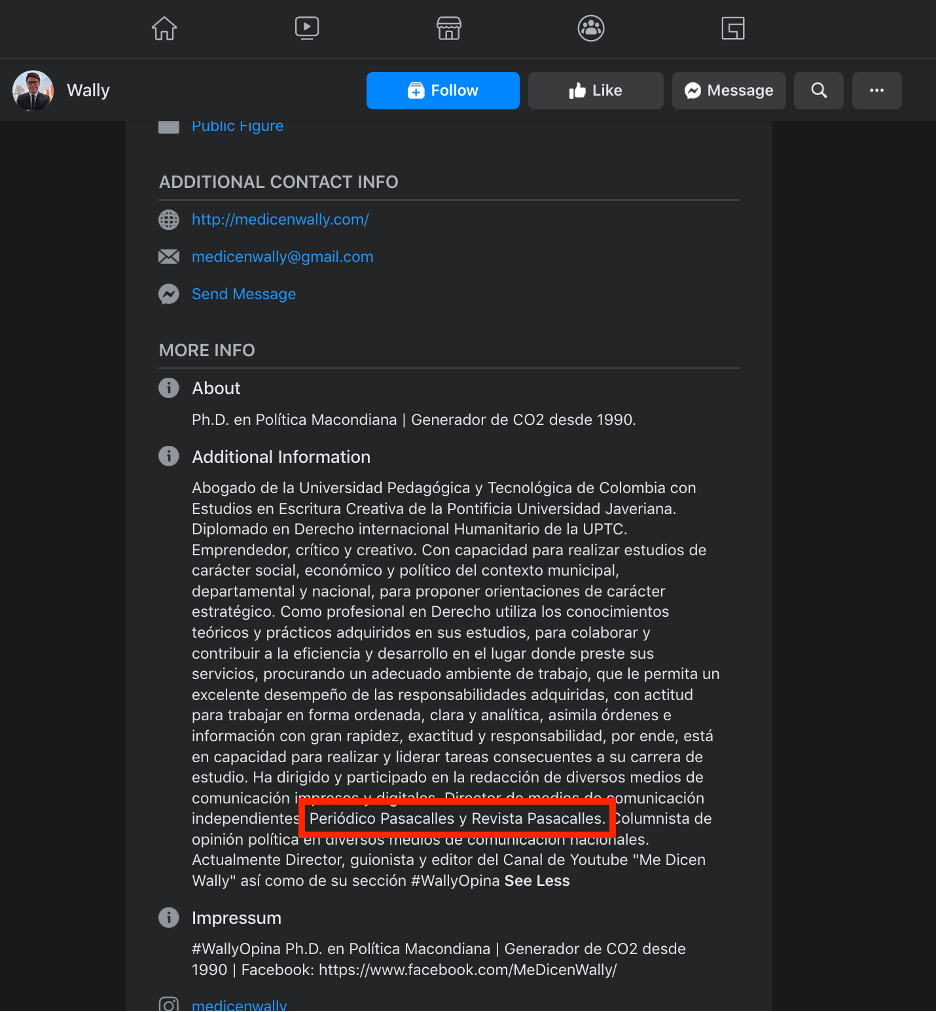 Also connecting Rodríguez to Al Punto was a social media user by the name of Ricardo Malagón, who has written many Al Punto articles, including the article Rodríguez shared. In his Twitter profile, Malagón describes himself as Al Punto's director and Rodríguez's "librettist."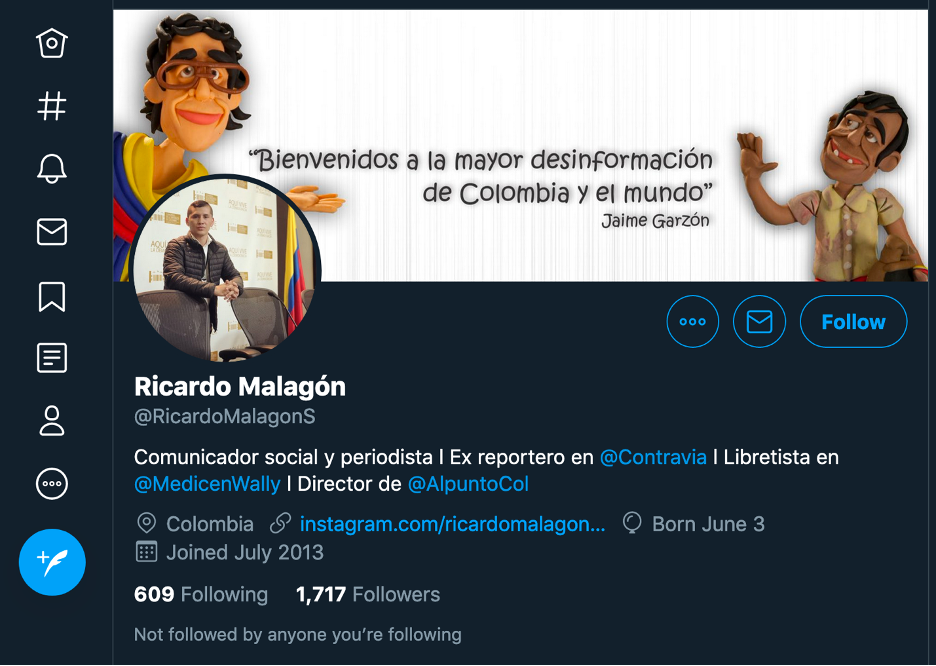 Talk of the Country
In the Media
On September 23, press agency Reuters published "A killing at sea implicates the armed forces in lawless Venezuela." In the story, Reuters investigated the killing of the captain of the oil tanker "San Ramón Jaime Herrera," who was allegedly murdered by members of the Venezuelan armed forces on February 23, 2020. According to Reuters, Herrera's aggressors also stole between $5,000 and $10,000 from a stateroom safe. Reuters found the vessel departed from Guyana on July 25, 2019, and headed toward Herrera's hometown of Cartagena, Colombia, where the ship would be repaired. Venezuela's military counterintelligence unit, known as the DGCIM, then seized the vessel on August 7, according to Reuters, after the tanker had engine trouble and anchored close to the city of Puerto La Cruz in the Venezuelan state of Anzoátegui. Reuters interviewed crew members who told the wire service that the Venezuelan security forces had accused three of them of smuggling fuel, despite the fact that the crew members showed the security forces the vessel's empty fuel tanks. San Ramón crew members were then detained, ostensibly for a judiciary process, until March 13, when prosecutors allowed them to leave Venezuela and almost a month after Herrera's killing. Reuters also reported that, in March, Venezuelan authorities arrested three sailors from the Venezuelan Navy and four soldiers from the country's National Guard, accusing them of the murder and robbery. Reuters concluded that the crime "is part of a troubling trend in which state agents have been accused of complicity in the very crimes they are meant to prevent." Maduro regime members and ministries declined Reuters's requests for comment. The article was among the most engaged-with on Twitter, with 2,342 interactions, according to a search using BuzzSumo.
In Venezuela on September 26, independent website Efecto Cocuyopublished,"Al menos cuatro personas muertas y 214 detenidas durante protestas en lo que va de 2020" ("At least four people killed and 214 arrested during protests during 2020"). The article described reports from Venezuelan nongovernmental organizations Foro Penal, Observatorio Venezolano de Conflictividad Social, and Provea, as well as the United Nations (UN), which revealed that most of the protests in Venezuela have been connected to public infrastructure failures and a worsening quality of life in the country. Foro Penal found 214 of 313 arrests in Venezuela between January 1 and September 25, 2020, were due to protests. Provea, meanwhile, found that four men had died from gunshots during demonstrations between April 23 and July 26 in the Venezuelan states of Bolívar, Mérida, Zulia, and Barcelona. Observatorio Venezolano de Conflictividad Social's finding that 748 protests had taken place in August, an average of 25 per day. Finally, according to Efecto Cocuyo, demonstrators in 302 protests in August were calling for increased access to basic life needs, such as potable water, electricity, and natural gas.
What's Trending
On Social Media


Pro-Maduro accounts pushed #MaduroVictoriosoEnLaONU ("Maduro victorious at the UN") to trend on Venezuelan Twitter between September 24 and September 26. On September 24, the first day #MaduroVictoriosoEnLaONU trended, the hashtag amassed 492,433 mentions (tweets, retweets, and replies) before declining to 70,932 on September 25. Accounts supporting the Maduro regime, such as the Mission of Venezuela to the UN in Geneva and Carnet de la Patria, used #MaduroVictoriosoEnLaONU to promote Maduro's proposals to the United Nations for better access to medicine and food. #MaduroVictoriosoEnLaONU trended after Maduro addressed the UN General Assembly on September 23, and investigators from the UN published a report on September 16, 2020, with evidence of human rights violations in Venezuela that have taken place since 2014. 
Official Statements
Me preocupan los altos números de muertes de jovenes en barrios marginados como resultado de operativos de seguridad. Basado en un análisis de fuentes abiertas, mi Oficina registró 711 muertes de junio a agosto, llegando a más de 2,000 muertes desde enero del 2020."
"I am concerned about the high number of deaths of young people in disadvantaged neighborhoods as a result of security operations. Based on open-source analysis, my office recorded 711 deaths from June to August, reaching over 2,000 deaths since January 2020."
– Michelle Bachelet, UN High Commissioner for Human Rights, in an oral update on the human rights situation in Venezuela during the 45th session of the Human Rights Council on September 25.
Encontrémonos en las calles, con la medidas de protección necesarias para seguir ejerciendo nuestras libertades y peleando por nuestros derechos. #Aragua #Yaracuy #NuevaEsparta ni ningún estado de nuestro país están solos. ¡Acompañemos la protesta y fortalezcamos la movilización!"
"Let us meet in the streets, with the needed preventive measures to continue exercising our freedoms and fighting for our rights. Aragua, Yaracuy, NuevaEsparta, and any state in our country are not alone. Let us accompany the protest and strengthen the mobilization!"
– Juan Guaidó, who is recognized by over 50 countries as interim president of Venezuela, on Twitter on September 28, 2020.
Subscribe to the #AlertaVenezuela newsletter
To receive future editions of the #AlertaVenezuela newsletter each week, sign up below!