What you should know
Quarantine + reopening plans
As COVID-19 cases continue to rise in the region, governments are enacting new measures to contain the virus.
International travel restrictions
Economies in focus
Economic Impact
Economic Relief
Resilience, recovery + renewal
Digitalization is considered the leading strategic priority for companies globally. But how can businesses be agile, innovative, and data savvy, while at the same time addressing concerns around privacy, security, and integration?
In its sixth year, Baker McKenzie's 2020 Digital Transformation & Cloud Survey: The Future of Enterprise Data captures major trends and attitudes toward the use of data through a global lens of respondents in legal, technology and procurement roles, across a large cross-section of major industries.
Some key insights from this year's survey include:
COVID-19 has impacted the speed of digital transformation. Of those surveyed, 58 percent across all sectors, who have not yet begun a digital transformation program, now say that the pandemic has accelerated their plans toward digitalization.
Data privacy and cybersecurity concerns have emerged as drivers to digital transformation, accelerated by COVID-19. Almost half of respondents cited the need to "improve cybersecurity" as one of their top three drivers of accelerating digital transformation, due to the pandemic.
Cloud remains on the top of the list of essential technology for enterprises. Survey results reveal a definite trend in companies moving toward the use of private cloud, highlighting an increase in concerns over data security (which includes cybersecurity) and disaster recovery.
For more information for how business can navigate the future of technology, media, and telecommunications in an unprecedented era, check out Baker McKenzie's TMT Talk, a podcast featuring insights from top legal advisers in strategic technology markets.
Health + innovation
Country Focus
Peru: Francisco Sagasti was sworn in as Peru's newest president on November 17 after Manuel Merino stepped down after less than a week. Sagasti is the fourth Peruvian President in less than five years and will remain in power (barring more political instability) until the country's presidential election in April 2021.
By the numbers
Cases by country: Brazil (5,911,758) #3 worldwide, Argentina (1,329,005) #8 worldwide, Colombia (1,211,128) #10 worldwide, Mexico (1,011,153) #11 worldwide, Peru (939,931) #12 worldwide, Chile (534,558) #19 worldwide, Ecuador (181,104) #38 worldwide, Panama (148,721) #42 worldwide, Bolivia (143,473) #43 worldwide, Dominican Republic (134,697) #46 worldwide, Source: worldometers.info

Prevalence rate (total cases per million people): Aruba (43,726) #9 worldwide, Panama (34,264) #15 worldwide, Argentina (29,303) #21 worldwide, Peru (28,358) #22 worldwide, Chile (27,873) #24 worldwide, Brazil (27,737) #25 worldwide, Costa Rica (24,569) #29 worldwide, Colombia (23,706) #31 worldwide, Bahamas (18,527) #48 worldwide, Saint Martin (16,832) #52 worldwide, Source: worldometers.info

Deaths per capita (deaths per million people): Brazil (166,743) #2 worldwide, Mexico (99,026) #4 worldwide, Argentina (36,106) #10 worldwide, Peru (35,317) #11 worldwide, Colombia (34,381) #13 worldwide, Chile (14,897) #16 worldwide, Ecuador (13,025) #19 worldwide, Bolivia (8,866) #26 worldwide, Guatemala (3,947) #37 worldwide, Source: worldometers.info
Quick take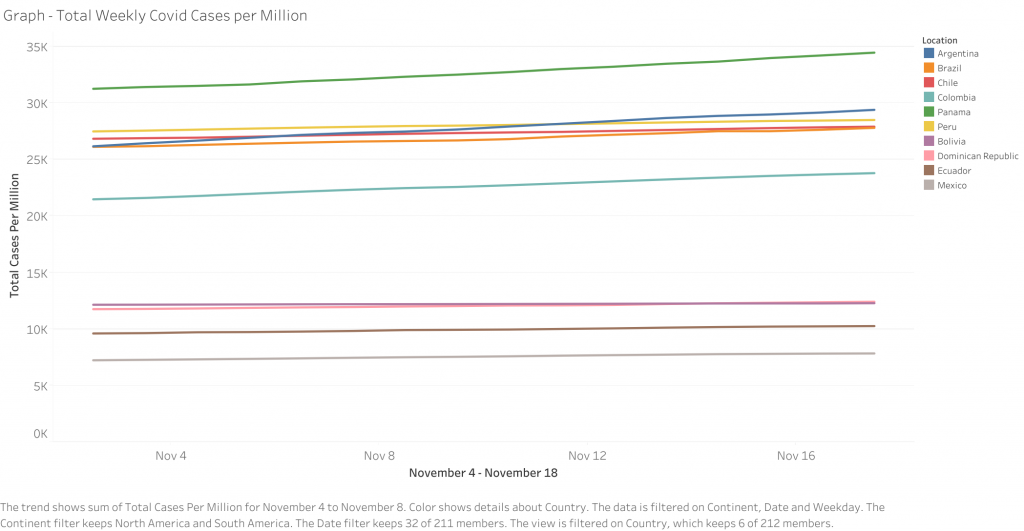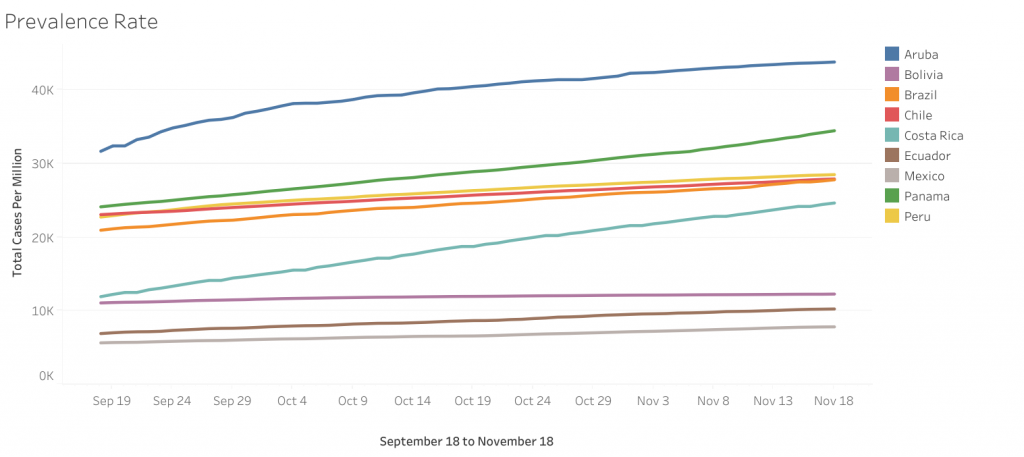 Sponsored By