What you should know
Costa Rican President Carlos Alvarado renewed calls for a global economic recovery plan during his inauguration as president pro tempore of the Economic Commission for Latin America and the Caribbean. The plan would channel $516 billion toward developing countries.
Regional employment contracted more strongly than GDP in the second quarter. From April to June employment declined by at least 20 percent in the region's five largest economies (Brazil, Chile, Colombia, Mexico, and Peru), according to the IMF's new Regional Economic Outlook.
Quarantine + reopening plans
As COVID-19 becomes part of normal life, countries are shifting their focus to international trade and commerce.
International travel restrictions
Economies in focus
Economic impact
E
conomic relief
The Bolivian Senate ratified a proposed law allocating $704 million from the IDB and the World Bank for subsidies.
The IDB approved a $30 million loan to the Brazilian state of Espírito Santo to support the financial sustainability of micro, small and medium-sized enterprises (MSMEs).
Resilience, recovery + renewal
Baker McKenzie's Resilience, Recovery, and Renewal model is helping organizations navigate the business and legal impact of the COVID-19 pandemic. The Beyond COVID-19 Resource Center offers real-time legal and regulatory updates, tracking risks and opportunities across business functions, industries and geographies. Baker McKenzie's Government Intervention Schemes Guide provides a summary of key government intervention measures across jurisdictions around the globe in relation to foreign investment restrictions, debt, equity, and taxation.
To find out how businesses are navigating the shifting landscape of global trade wars and government interventions as well as investment and financing trends, check out the latest episode of Baker McKenzie's Resilience, Recovery & Renewal Podcast Series.
Health + innovation
Country Focus
By the numbers (continued)
Cases by country: Brazil (5,440,9030) #3 worldwide, Argentina (1,116,609) #7 worldwide, Colombia (1,033,218) #8 worldwide, Mexico (901,268) #10 worldwide, Peru (892,497) #11 worldwide, Chile (505,530) #15 worldwide, Ecuador (163,192) #33, Panama (130,422) #28 worldwide, Dominican Republic (125,008) #41 worldwide, Guatemala (106,320) #47 worldwide, Source: worldmeters.info
Prevalence rate (total cases per million people): Aruba (41,501) #4 worldwide, Panama (30,075) #8 worldwide, Peru (26,948) #14 worldwide, Chile (26,372) #16 worldwide, Brazil (25,538) #17 worldwide, Argentina (24,633) #20 worldwide, Costa Rica (20,614) #25 worldwide, Colombia (20,236) #27 worldwide, Bahamas (16,483) #34 worldwide, Saint Martin (14,559) #38 worldwide, Source: worldmeters.info
Deaths per capita (deaths per million people): Peru (1,034) #2 worldwide, Brazil (742) #6 worldwide, Bolivia (740) #7 worldwide, Chile (732) #8 worldwide, Ecuador (710) #9 worldwide, Mexico (694) #11 worldwide, Argentina (656) #13 worldwide, Panama (611) #15 worldwide, Colombia (599) #16 worldwide, Bahamas (345) #29 worldwide, Source: worldmeters.info
Quick take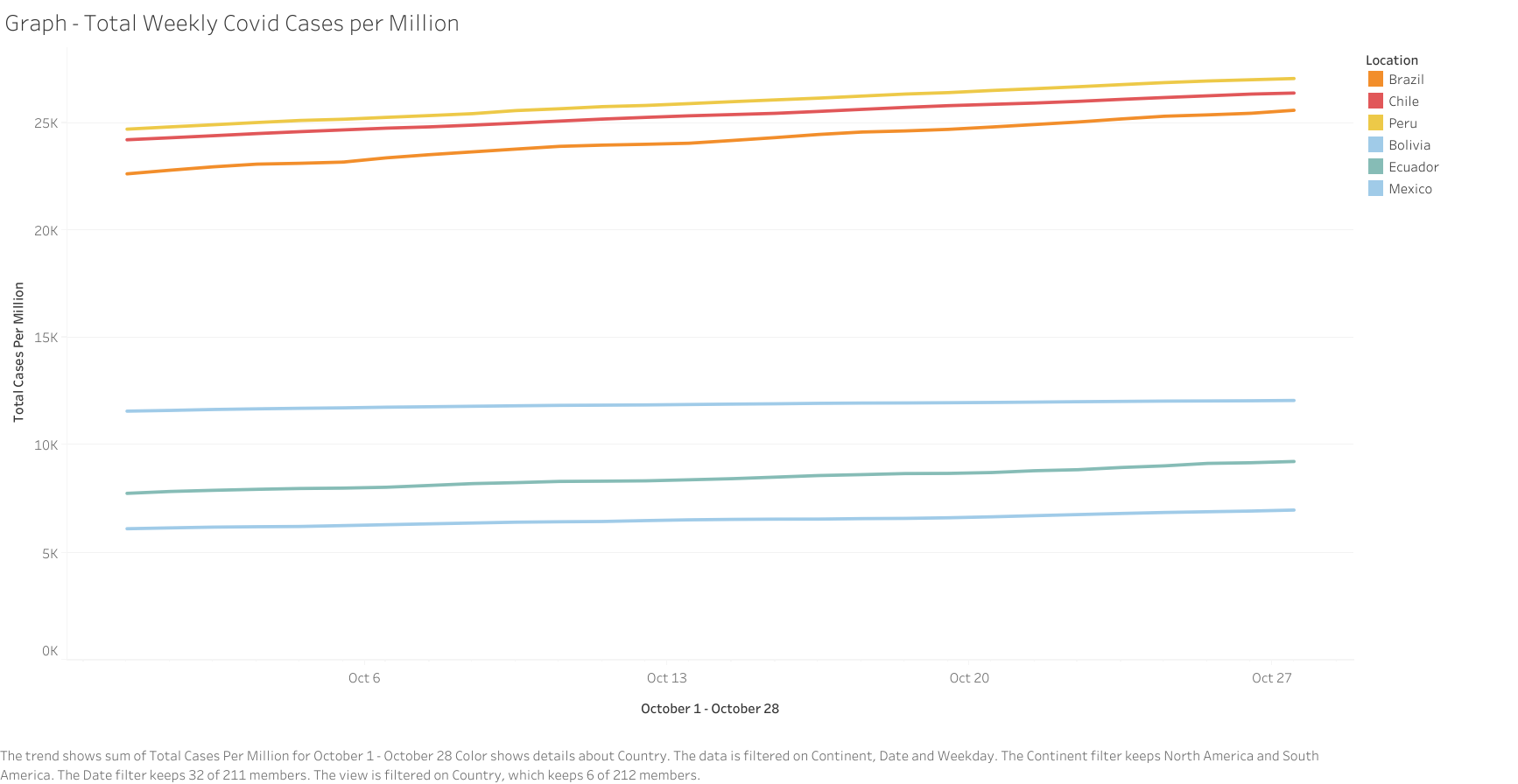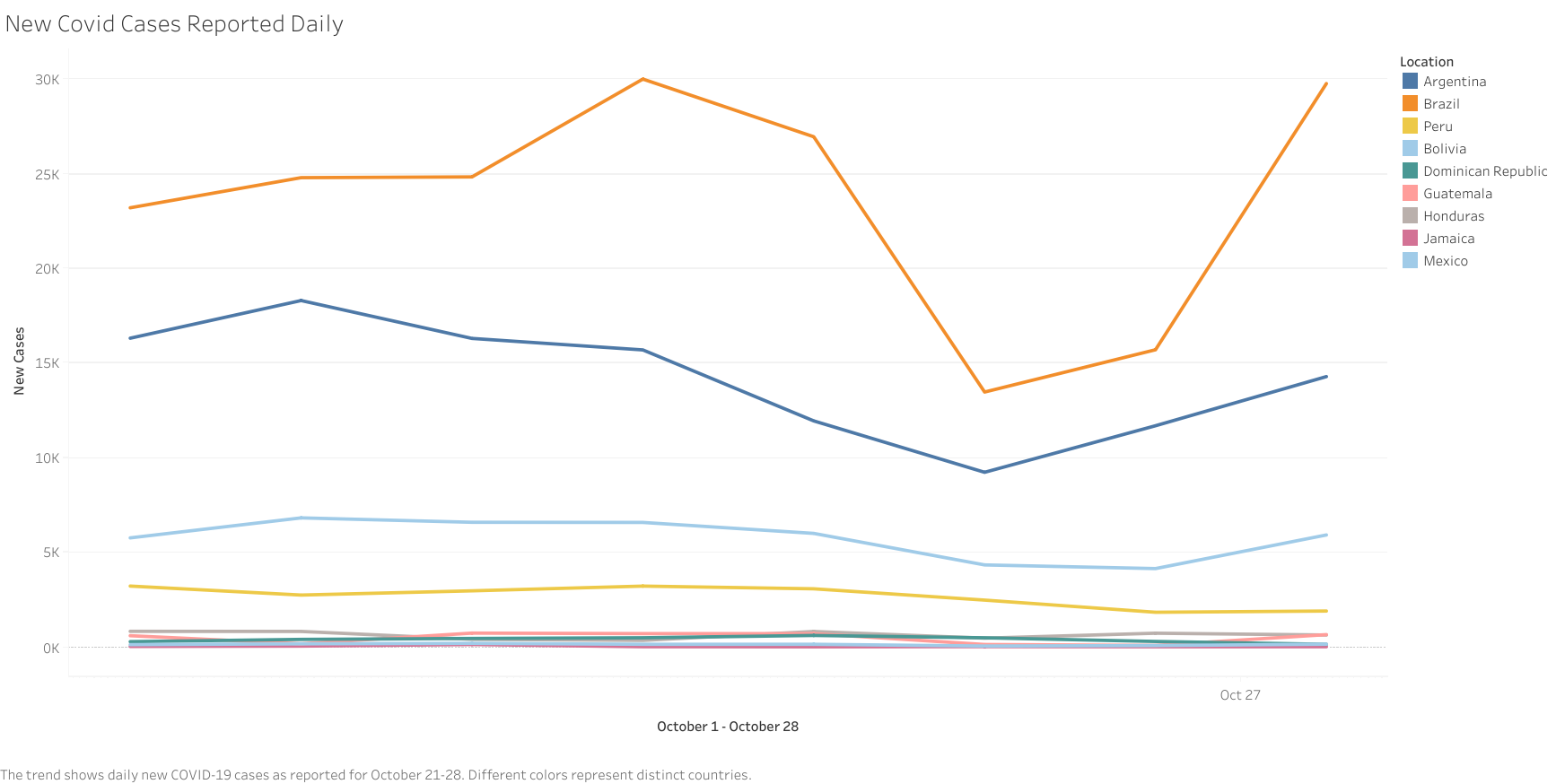 Sponsored By