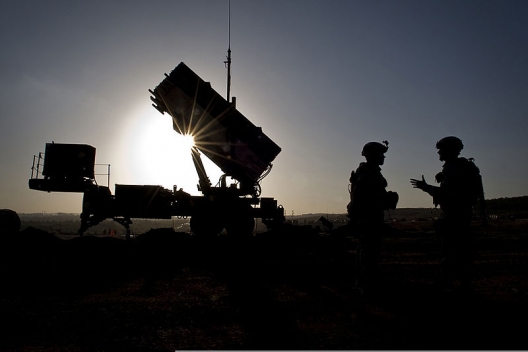 On Friday, the Turkish government announced that China Precision Machinery Import and Export Corporation (CPMIEC) had won the country's T-LORAMIDS program for a new, long-range, high-altitude air defense system. The company's FD-2000, the export version of its HQ-9, appears to have beaten Raytheon's Patriot, Almaz-Antey's S-400, and Eurosam's SAMP-T (with land-based Aster 30 Block 1s) with a roughly $3 billion bid. The system has been described as roughly analogous to Almaz's S-300; according to Defense Update, the FD-2000 consists of a Type 120 low-altitude search radar, a Type 305A AESA search radar for countering ballistic missiles, and a YLC-20 passive sensor for improving its capability against stealthy targets". Fairly, CPMIEC is only the marketing arm for the state-owned arms industry—in this case, the actual missiles are built by China Aerospace Science and Industry Corporation (CASIC)—but given the opacity of Chinese industrial structures, the shorthand is convenient.
While the deal may not be done (see below), even the announcement is a big deal, and for several reasons:
The government's cost target was $4 billion, so CPMIEC's reportedly $3 billion bid suggests that at least one Chinese arms maker is seriously undercutting its international competition.
It's a cooperative development program, so presumedly the Chinese will be transferring some technology. This issue has at least once before precluded an American sale, when the US government refused to grant access to source codes in 2006, and the Turks then chose AgustaWestland for coproduction of new attack helicopters.
It's a sale from a somewhat schifi source, as CPMIEC was sanctioned some time ago (I've seen the date variously reported as 2003, 2006, and 2013) by the US government for selling missiles to the Iranians.
This third point is the awkward one: because no one in the US government is about to approve grafting its cryptographics onto a Chinese system, the FD-2000 probably would never be fully interoperable with the air defenses of the rest of NATO. Much of Turkey's air defense today rests on its allies, as its radars are run jointly, and the country currently lacks its own long-range air defense weapons, apart from its rather aging F-4s, which weren't even impressive fighter aircraft in the 1960s. Indeed, the Turks are benefiting even now from deployments of six Patriot batteries–two American, two Dutch, and two German, of six launchers each—along the Syrian border, in case Mr. Assad decides to do something rather more hostile than shooting down a straying Phantom jet.
Thus, quite apart from any technical comparisons, the Patriot could have been considered a sentimental favorite. The system is not quite a NATO standard, but Spain and Greece bring the list of fielding member states to five. With that level of integration at risk, Reuters noted how the US State Department conveyed Washington's concerns to Ankara about the full implications of buying Chinese missiles. And as the Hurriyet Daily News related today, President Abdullah Gul has seemed to back off the earlier announcement, telling a reporter on a homeward plane:
That purchase is not definite. There is a shortlist, and China is at the top of it. We should look at the conditions, but there is no doubt that Turkey is primarily in NATO. These are multi-dimensional issues, there are technical and economic dimensions and on the other hand there is an alliance dimension. These are being evaluated. Turkey needs a defense system.
Mr. Gul's prime minister, Recep Erdogan, has himself been remarkably off-message a few times recently, so it seems also possible that a remarkable miscalculation underlay the decision. The Turks may sort this out in the next few weeks, and at that point, we'll know more.
But even now, there is one more point of alliances and arms transfers to consider: the story of the S-300s in NATO. Three member states—Bulgaria, Greece, and Slovakia—operate Alamaz's anti-aircraft system. The Hellenic Air Force thus has its six Patriot and two S-300 batteries serving alongside one another (if mostly pointed in the direction of Turkey). What NATO has learned about how S-300s and S-400s might be operated in adversaries' hands is presumably very valuable. Depending on how forthcoming the Turks would be with the rest of the alliance–and a strong presumption may be made for that case—the benefits to the NATO's armed forces and even the transatlantic defense industry could be considerable.
James Hasik is a senior fellow with the Brent Scowcroft Center on International Security.