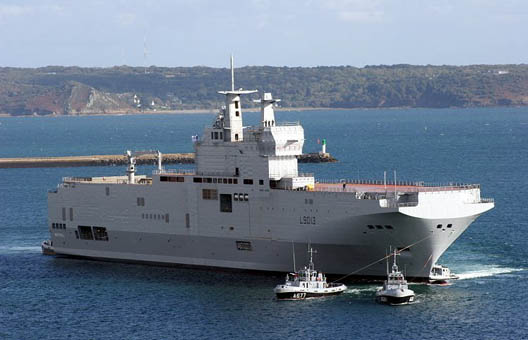 Arms sales to Moscow have been more embarrassing than alarming, but it's time to stop.
Now that Ukraine has surrendered Crimea after the most perfunctory fight, attention has turned to what the Russian Army might invade next. Estonia? Molodova? In the latter case, SACEUR worries that they Russians will just drive through Kyiv on the way. Perhaps even Poland is worried. But there was a time when Poland and much of the rest of NATO were so much less concerned that they were actually selling Russia weapons. And while that hasn't mattered much, it's time to stop.

These days, in all fairness, the Polish Armed Forces have much more combat experience—earned in Iraq and Afghanistan, by the way—than the Russian. Consider how, in 2003, the Polish Navy took its support ship the Xawery Czernicki to the Euphrates delta to seize Iraqi oil platforms with heliborne commandos. But in 2001, the Navy was buying that vessel out of a cancelled sale to the Russian Navy. While selling warships to Russians seemed a good idea at one time, there was something there that never quite sat well. That the Poles named their new ship after an admiral murdered in the Katyn Forest by the NVKD was perhaps a nice touch.
This cooperation with post-Soviet aerospace and armaments enterprises stretches back over 20 years. After the demise, Boeing quickly established its Moscow Design Center to scoop up underemployed aircraft engineers. The warm memory of the Apollo-Soyuz program helped spawn what is now United Launch Alliance's sourcing of rocket engines from NPO Energomash. Boeing, Alenia, and SNECMA all worked with Sukhoi and NPO Saturn to build and sell the Superjet 100 and its engines. But of late, three painful examples have really aroused attention in the press.
Two French aircraft carriers. Most egregious seems to be those two helicopter carriers of the Mistral class that the French shipyard DCNS has been building for the Russian Navy. The defense minister insists that these are "civilian vessels" just yet, as they'll only be armed by the customer. That's a stretch, as they're hardly built to the specifications of container ships. The program has been important for the Russian Navy because Russian shipyards have never built anything that large—the Soviet Navy's Moskva, Kiev, and Kuznetsov-class carriers were all built at yards in Unoccupied Ukraine. Today, French reticence over canceling the contract may be on a collision course with truly a dreadful future press release—the second Russian ship, to be delivered in 2016, will be named the Sevastopol.
That German training range on the Volga. Rheinmetall signed a contract in 2011 to build a 500-square kilometer training range for the Russian Army, broadly similar to the US National Training Center (NTC) in California, or the British Army's Training Unit Sheffield (BATUS) in Alberta. Like those ranges, Rheinmetall's would be able to train a brigade at a time, but with greater sophistication in the monitoring. Again, this is a deal that the Russian Army must have greatly valued, as synthetic simulation and training is not a field for which Russian industry is well known. And the ring of the Reichswehr lent a bad tone to this deal as well.
Italian troop trucks, built under license. During the invasion, Italian-designed armored troop carriers were spotted on the streets of Simferopol. Iveco had licensed production of its 4×4 'Lynx' vehicle to Kamaz for sales to the Russian Army, as the company had already sold them outright to the armies of Austria, Belgium, Britain, Norway and Spain. But the Russian deal is running its course, and is unlikely to be extended. Wheeled armored vehicle design is now a Russian Army priority, which makes sense, given the challenge of running maintenance-intensive tracked vehicles across the great expanses of Russia.
What is the net-net of these business deals? The Russians would have rolled over the Ukrainians with or without Iveco's trucks. But Swedish submarine skippers might start practicing with silhouettes of helicopter carriers against the background of Gotland Island. And perhaps worst could have been that training range. The move on Crimea was "classic maskirovka," so there's no reason to help make the Russian Army more efficient.
So where do the members of the alliance go from here? Rome at this point has little to do. Paris is prevaricating, calling cancellation an "extreme measure". Washington is considering sanctions against the Russian arms industry, though actual Russo-American cooperation in armaments is negligible. Thankfully Berlin last week definitely halted all military exports to Russia. Moscow found all of that "not constructive", sneering about "Atlantic solidarity". Here at the Council, we do tend to favor Atlantic solidarity. If NATO is effectively saying one thing and doing nothing, we're at least happy to see the ranks closing to isolate Russian industry.
James Hasik is a senior fellow in the Brent Scowcroft Center on International Security