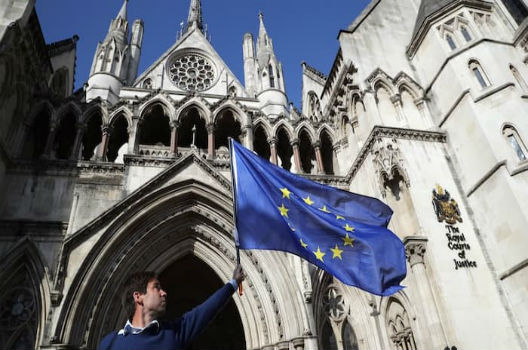 THIS WEEK'S KEY TAKE-AWAYS
UK Court rules Article 50 must be approved by Parliament
Uber faces employment challenge in the UK
CETA deal signed after Wallonia agrees

BRUSSELS IN BRIEF

British High Court says Parliament must approve Article 50
One of the UK's top courts ruled on November 3 that Prime Minister Theresa May cannot begin the process of leaving the European Union without Parliament's approval. The claimants in the case argued that May's intention to trigger Article 50, the provision allowing withdrawal from the EU, through executive action alone subverted the core principle of parliamentary sovereignty, a claim which judges backed in the official opinion. Most observers had expected the court to side with May, particularly in light of an October 28 ruling in Northern Ireland, which concluded that parliamentary consent was not necessary. The ruling, if it stands on appeal, could severely complicate the Brexit process, especially if it leads to a decision that Parliament must also have a say on an eventual Brexit deal. Leaders of the Labour, Scottish Nationalist, and Liberal Democrat parties hailed the ruling, and the pound surged as investor confidence grew that the UK may avoid a "hard Brexit." The case will now go to the UK Supreme Court in an expedited appeal set to begin on December 7.
Read more:
New York Times: Brexit will require a vote in Parliament, UK court rules
Wall Street Journal: UK lawmakers must vote on Brexit, court rules; pound surges
Washington Post: British court delivers blow to EU exit plan, insists Parliament has a say
Uber loses employment suit in London
A London tribunal struck a blow to American ride-hailing app Uber on October 28 by ruling that UK drivers are not "self-employed" contractors to the technology app, but employees entitled to workers' benefits. Uber has maintained that it is a technology application which allows drivers to self-employ by connecting with customers through the app, but the tribunal said this definition was "faintly ridiculous" and ordered the company to grant the two claimants certain rights such as breaks, holidays, and a minimum wage. While labor groups and rival taxi services celebrate the ruling, Uber emphasized that it only affects the two drivers who brought the suit forward and that the company plans to appeal. The ruling comes amid ongoing regulatory struggles Uber has faced in the European market.

Read More:

EU breaks CETA deadlock, signs trade deal
On October 30, EU officials hosted Canadian Prime Minister Justin Trudeau at a summit in Brussels to formally sign CETA. The EU-Canada free trade agreement had been delayed for over a week while EU negotiators worked to reverse a veto by the Walloon region in Belgium over investor protections and environmental concerns. EU leaders celebrated the "ambitious" agreement, but many analysts believe the controversial approval process has damaged the bloc's credibility in implementing future trade deals, such as in upcoming Brexit talks and the ongoing negotiations for TTIP, the US-EU trade deal. CETA will now go before the national governments of all 28 EU member states and the European Parliament for approval, expected sometime in December.
Read More:
Click here to read the full edition of EUSource.