THIS WEEK'S KEY TAKE-AWAYS
Large differences still an obstacle for TTIP as Kerry promises Euro tour
EU regulator recommends Single Market access for US hedge funds
French government under pressure after deadly attack in Nice

BRUSSELS IN BRIEF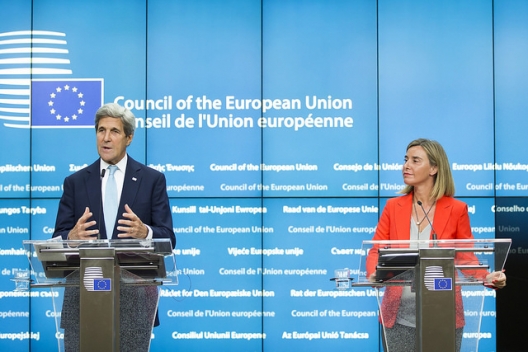 TTIP progress slow as Kerry promises European TTIP tour
After the conclusion of the 14th round of TTIP negotiations, EU and US negotiators say that many key differences still need to be sorted through if an agreement is to be completed by the end of President Obama's term. While progress was made on tariff elimination and regulatory cooperation, the two sides continue to struggle to compromise on public procurement and services. Chief US negotiator Dan Mullaney noted that Brexit would force the US to rethink some aspects of the agreement, especially related to services. Meanwhile, as anti-TTIP sentiment grows in France and Germany, John Kerry has promised to make a TTIP tour Europe in the coming months educating Europeans about the benefits of the agreement.
Read More:
Reuters: EU and US seek trade deal this year, knowing large hurdles remain
Euractiv: Kerry to embark on EU roadshow to promote TTIP
European Commission: Statement by Ignacio García Bercero EU chief negotiator for TTIP
US Trade Representative: Statement by Assistant USTR Dan Mullaney
Vestager lays down record fine on European truck cartel
EU Competition Commissioner Margrethe Vestager has fined 5 truck companies a total of 2.93 billion euro for colluding on prices and passing costs of meeting environmental standards on to consumers. The record breaking fine comes after the Commission found that the companies (Iveco, DAF, Volvo, Daimler and MAN), responsible for 90 percent of medium and heavy trucks produced in Europe, colluded for over 14 years. MAN has been spared the fines for blowing the whistle on the cartel, while the other companies have agreed to settle with the Commission in return for a 10 percent reduction in sanctions.
Read More:
Politico: Truckmakers hit with record cartel fine
BBC: Truck firms hit with record 3bn EU fine for price fixing
EU Observer: EU hits truck firms with record 3bn fine

The blame game begins after deadly attack in Nice
The unity shown by the French people and politicians after the Charlie Hebdo and Paris attacks seems to be gone after the deadly attack in Nice that killed 84 people. French PM Manuel Valls was booed at a ceremony in Nice, as blame begins to fall on the Socialist government. A recent poll reveals that two-thirds of the French public don't trust the government to fight terrorism, and a report last week from a National Assembly committee criticized the government's organization of its intelligence and its rules for various security organizations. Conservative presidential hopefuls, Nicolas Sarkozy and Alain Juppé, publicly criticized the Hollande administration's efforts to prevent terrorism. The president of the Provence region and former mayor of Nice Christian Estrosi accused the government of failing to provide requested police reinforcements and of lying about the number of policemen present on the Promenade des Anglais on the night of the attack.
Read More:
Politico: Nice upends French politics
New York Times: Moment of silence turns into outcry against government after Nice attack
BBC: Attack on Nice: Why the French PM was booed
EU regulator backs operation of US hedge funds in EU
The European Securities and Market Authority (ESMA) has recommended that the EU Commission allow hedge funds from the US, Japan, Canada, Hong Kong, and Singapore, among others, to offer services to investors in the EU. A new EU law requires ESMA to determine if the markets for alternative investments from non-EU countries are equivalent, that is whether the rules governing those markets are as strict as those in the EU. Previously, ESMA was not able to recommend equivalence for the US because of competition concerns. The UK as a major center for hedge funds would have to undergo the same process if it leaves the Single Market post Brexit.
Read More:
Reuters: EU watchdog backs 'passport' for US hedge funds in Europe
International Advisor: Esma gives AIF passport opinion for 12 non-EU jurisdictions
ESMA: ESMA advises on extension of funds passport to 12 non-EU countries
London, Brussels push ahead with trade agendas
The new British government is testing the water for post-Brexit trade deals. Australia expressed interest while the US government said it was open to initial discussions. But all sides agreed that any such talks could only begin in earnest after a UK departure from the EU had been completed. Meanwhile, the European Commission announced EU bilateral talks for a trade agreement with Indonesia, Southeast Asia's largest economy, with the first round expected before the end of the year.
Read More:
ICTSD: Following leadership change, UK officials test waters on future trade deals
European Commission: EU and Indonesia Launch Bilateral Trade Talks
Click here to read the full edition of EUSource.