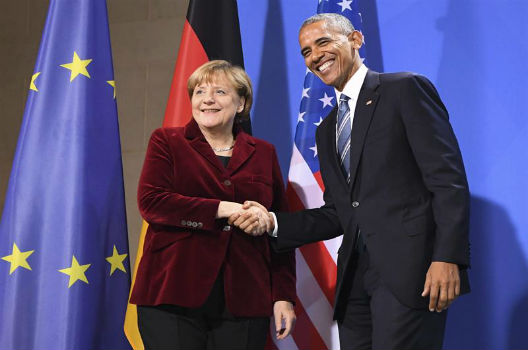 THIS WEEK'S KEY TAKE-AWAYS
Obama tries to reassure European allies
Europe moves to intensify defense cooperation
Uncertainty clouds EU-Turkey relations

BRUSSELS IN BRIEF

Obama attempts to ease alliance anxieties in European trip
On his last overseas trip in office, US President Barack Obama sought to allay widespread anxiety among European allies over the surprise result of the US election as he visited Greece and Germany this week. Obama penned a joint editorial in the German newspaper Wirtschaftwoche with Chancellor Angela Merkel in Berlin on November 17, pressing the need for continued transatlantic cooperation on issues such as climate change, security, and trade. In Athens, Obama acknowledged the downsides of globalisation and argued for a "course correction" to avoid increasing inequality. The President also reassured his European audience that president-elect Trump would uphold NATO commitments despite his campaign rhetoric.
Read more:
White House: Op-Ed by President Obama and Chancellor Merkel: The Future of Transatlantic Relations
BBC: Obama defends globalisation on Germany visit
Washington Post: After Trump win, Obama warns against taking democracy 'for granted'
EU foreign ministers brace for new US administration
EU countries this week moved to improve defense cooperation among themselves amid concerns that US president-elect Donald Trump may draw back from NATO. On November 14, EU foreign ministers agreed to increase defense cooperation in a plan which includes provisions for a rapid-response force that could deploy abroad, increasing funding for military research by 1.6 percent in 2017, and a joint "mini" military headquarters. Some called the plan a "small but important step," while UK Foreign Secretary Boris Johnson derided the "whingeing" of EU officials, stating that countries should instead ramp up spending within the NATO alliance. In a separate meeting, European diplomats met with a Trump campaign foreign policy advisor to urge the president-elect to uphold US commitments within Europe and regarding the Iran nuclear agreement.
Read more:
EU Observer: EU crafts defence plan in Trump's shadow
Foreign Policy: In private meeting, Euro diplomats beseech Trump to uphold transatlantic pacts
Wall Street Journal: European Union backs plan to expand military coordination

Erdogan wants referendum on EU membership
On November 14, Turkish President Recep Tayyip Erdoğan threatened to hold a referendum on whether to continue EU accession talks early next year, telling the EU to "make up its mind" on Turkey. In a meeting of EU foreign ministers the same day, several EU countries warned against alienating Turkey for the sake of European security, and rejected an Austrian attempt to indefinitely halt negotiations. The statements come amid flaring tensions between both sides in recent weeks, after an annual progress report condemned Turkey for its crackdown on journalists, civil servants, and opposition politicians.
Read more:
EurActive: Tensions flare as Turks head to referendum on new Erdogan powers
Politico: Erdoğan backs referendum on EU membership talks
Reuters: Turkey could put EU talks to a referendum next year: Erdogan

Click here to read the full edition of EUSource.