FAST THINKING: A diplomat to lead the CIA
Joe Biden's pick to lead the CIA is finally in. The choice is conventional and unorthodox at once: Bill Burns has never held an intelligence role but is one of the nation's most respected diplomats. Biden hopes that Burns's thirty-plus years of experience working with Democrats and Republicans alike will help to stabilize and depoliticize the US intelligence community after the Trump years. Can Burns make it work?
TODAY'S EXPERT REACTION COURTESY OF
Mat Burrows (@matburrows): Former senior official at the CIA and National Intelligence Council and director of the Atlantic Council's Foresight, Strategy, and Risks Initiative
What a career diplomat can bring to the CIA
Mat, who spent decades working in the intelligence community, thinks that Burns can turn his diplomatic background into an asset. "His diplomatic skills will be in high demand in delivering bad news, bruising egos, and undercutting policymakers' plans," he tells us.
And Burns can help rebuild morale within the CIA after its experience with a US president who frequently dismissed inconvenient information from intelligence professionals or tried to weaponize intelligence for partisan purposes. "In making the appointment, President-elect Biden talked about the urgency for intelligence to be 'apolitical.' But just as important is the need for career officers in the CIA to feel they are relevant," Mat says.
The "personal relationship" Burns forged with Biden during Burns's diplomatic career will be "vital for getting the ear of the president, particularly when having to speak truth to power," he adds.
Subscribe to Fast Thinking email alerts
Sign up to receive rapid insight in your inbox from Atlantic Council experts on global events as they unfold.


A different tone than other Biden appointees
Here's a distinction many observers have missed. Burns, Mat notes, may have a more measured view of America's role in the world than some other Biden appointees: "If his characterization in his memoirs of a pre-Trump United States that was already overdosing on 'hubris' are anything to go by, Burns comes to his new appointment with a different perspective than other Biden foreign-policy picks who see the United States [returning to] its seat at the head of the international table."
Burns, Mat notes, correctly raised alarms about George W. Bush's Iraq War policy, and he may similarly "worry about the United States overplaying its hand with China and Russia."
What he'll need to learn on the job
Mat notes that Burns has deep experience with Russia and the Middle East, traditionally the two most important parts of the world for the agency, after serving as ambassador in Moscow and Amman. But "one gap is the lack of the same personal experience on China"—the new focus for US national-security policy.
Some critics have said that a lack of familiarity with China is a shortcoming of the Biden team so far. But one thing Burns will have learned as a diplomat, Mat notes, is how to get familiar with a new problem set quickly. "His various roles, including director of policy planning at the State Department and deputy secretary of state, along with his [more measured] view of US power, prepare him well for getting the CIA up to speed on China, which will be the new administration's thorniest patch."
Further reading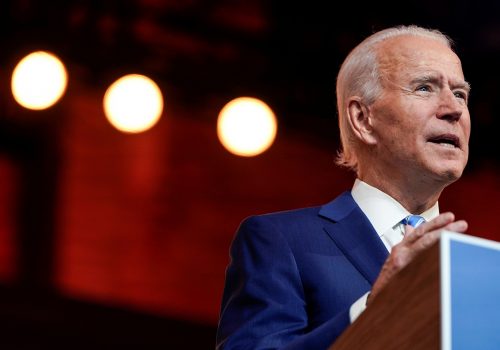 Mon, Nov 30, 2020
Fast Thinking By Atlantic Council
Joe Biden has selected a slate of economic advisers that just might please his party while also (mostly) surviving confirmation in a potentially Republican-controlled Senate.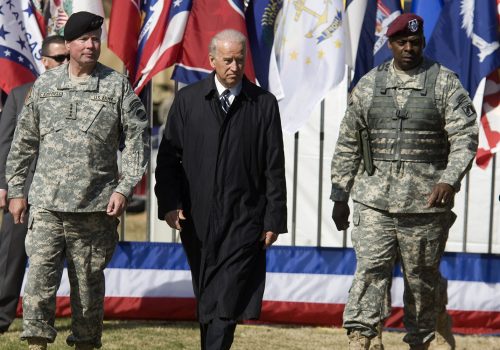 Tue, Dec 8, 2020
Fast Thinking By Atlantic Council
The biggest surprise of the Biden transition so far is here: The president-elect has picked retired general Lloyd Austin as his nominee for secretary of defense. Is he the right person for the job? And what does the historic selection mean?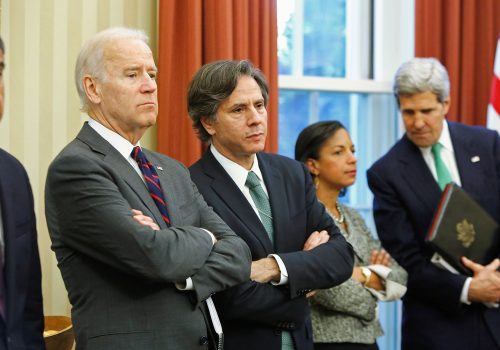 Mon, Nov 23, 2020
Fast Thinking By Atlantic Council
Joe Biden is reportedly about to make his first major foreign-policy move by announcing that he'll nominate Tony Blinken, his longtime advisor and a veteran of the Clinton and Obama administrations, as secretary of state. To answer the big questions about who Blinken is and how he might serve in the role, we turned to Dan Fried, a former US ambassador who spent forty years in the foreign service and has known Blinken for decades.