As the evidence grows of war crimes and crimes against humanity committed by Russian forces in their brutal invasion of Ukraine, international legal experts are exploring the options to meaningfully hold Moscow to account. Observers agree that Russia's privileged position in many global institutions, chief among them on the United Nations Security Council (UNSC), is a threat to global security and the application of international law. Russia's permanent member status on the UNSC has been a major hindrance to stopping Russian aggression and holding it accountable for its crimes in Ukraine. Civic Hub, a Ukrainian-German NGO, has started an initiative, #unRussiaUN, calling for Russia's removal as a permanent member of the UNSC and the recognition of Russia's presence at the UN as illegal. Some observers consider this a pipe dream. Others point out that, as Russia violates numerous UN principles, its permanent member status on the UNSC raises questions about the role of the UN in global affairs.
The Atlantic Council's Eurasia Center co-hosts a moderated conversation with Civic Hub to explore how to hold Russia accountable for its crimes in Ukraine. Is it realistic to talk about removing Russia from the UNSC and question Russia's presence at the UN?
Speakers
Maksym Baryshnikov
Co-Founder
Civic Hub Initiative;
Partner
BKB Law Firm
Thomas Grant
Senior Fellow
Lauterpacht Centre for International Law, University of Cambridge
Sir Geoffrey Nice
British Barrister and Judge;
Former Prosecutor
International Criminal Tribunal for the Former Yugoslavia
Lesia Vasylenko
Member of the Parliament of Ukraine
Amb. Volodymyr Yelchenko
Former Ambassador of Ukraine to the United States;
Former Ambassador of Ukraine to the United Nations
Oleksii Zhmerenetskyi
Member of the Parliament of Ukraine
Moderator
---
This event will not feature an in-person audience. You will be able to join via desktop or mobile app, through your web browser, or by phone. To join the question and answer period, you must join by app or web.

Register below for details on joining the virtual audience.
---
Follow us on social media
and support our work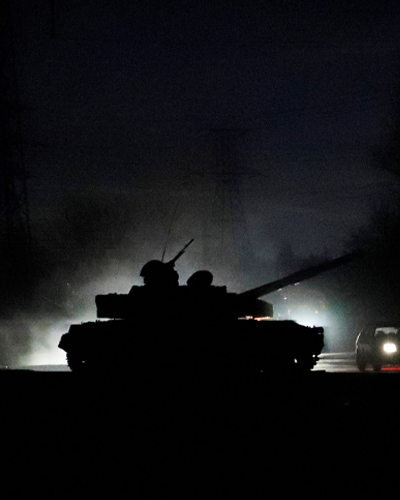 Europe in crisis
War in Ukraine
In February 2022, Moscow launched an all-out invasion of Ukraine after a months-long military build-up, threatening the country's sovereignty and its future. This existential moment for the country follows the 2014 Maidan revolution, a nexus for Ukraine's Europe-focused foreign policy and reform efforts. The ensuing Russian invasion and occupation of Crimea, aggression in Ukraine's east, and Kremlin disinformation efforts, cast a shadow over Ukraine's independence.


The Eurasia Center's mission is to enhance transatlantic cooperation in promoting policies that strengthen stability, democratic values, and prosperity in Eurasia, from Eastern Europe in the West to the Caucasus, Russia, and Central Asia in the East.