Vladimir Putin's grand offensive in Ukraine has suffered three defeats—the failure to take Kyiv, the halted artillery offensive in Donbas, and lost significant territorial gains in Ukraine's Kharkiv counteroffensive. As a result, Putin faces growing criticism at home and aboard. The Kremlin has most recently turned to conscripting Russians en masse, conducting sham referenda in occupied areas of Ukraine, and threatening the use of nuclear weapons to "defend" those territories, should Moscow decide to annex them.
Against this backdrop, Prime Minister Anders Fogh Rasmussen, former secretary general of the North Atlantic Treaty Organization (NATO) and former prime minister of Denmark, and Andriy Yermak, head of the Office of the President of Ukraine, led a distinguished group of experts and former officials to consider the security guarantees Ukraine needs to deal with the continued threat of Russian aggression. The Kyiv Security Compact lays out a range of commitments made by guarantor countries to provide Ukraine with the resources to defend itself from Russian forces and their proxies.
The Honorable Amy Klobuchar, US senator (D-MN), and The Honorable Jim Costa, US representative (D-CA), deliver keynote remarks on continuing US support for Ukraine's security and prosperity. Melinda Haring, deputy director of the Atlantic Council's Eurasia Center, moderates a discussion with one of the authors of the Kyiv Security Compact, Prime Minister Anders Fogh Rasmussen, on Ukraine's post-war security. This event is co-hosted with the Victor Pinchuk Foundation and the Atlantic Council's Transatlantic Security Initiative.
---
This event will not feature an in-person audience. You will be able to join via desktop or mobile app, through your web browser, or by phone. To join the question and answer period, you must join by app or web.

Register below for details on joining the virtual audience.
---
Follow us on social media
and support our work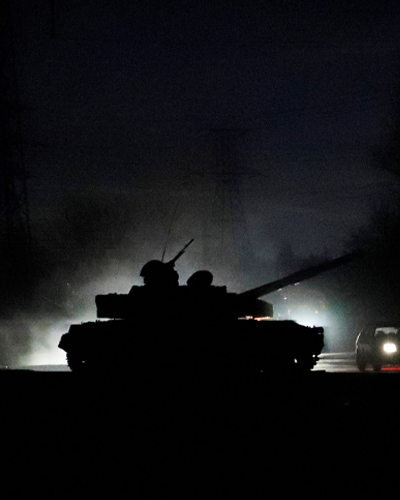 Europe in crisis
War in Ukraine
In February 2022, Moscow launched an all-out invasion of Ukraine after a months-long military build-up, threatening the country's sovereignty and its future. This existential moment for the country follows the 2014 Maidan revolution, a nexus for Ukraine's Europe-focused foreign policy and reform efforts. The ensuing Russian invasion and occupation of Crimea, aggression in Ukraine's east, and Kremlin disinformation efforts, cast a shadow over Ukraine's independence.


The Eurasia Center's mission is to enhance transatlantic cooperation in promoting policies that strengthen stability, democratic values, and prosperity in Eurasia, from Eastern Europe in the West to the Caucasus, Russia, and Central Asia in the East.