As the global community continues to grapple with COVID-19 (coronavirus), the Atlantic Council is open for business. Our business, meetings, and events, however, are occurring virtually. For more information, please read a statement from our President and CEO.

Please join the Atlantic Council Global Energy Center for the next episode of EnergySource: Innovation Stream. The series highlights new energy technologies with the potential to reshape the global energy system through discussions with companies and individuals working diligently to bring those innovations to market at scale. On Friday, November 13, from 3:30 – 4:00 p.m. EST, the Global Energy Center will host Dr. Emily Reichert, chief executive officer of Greentown Labs, who will discuss how Greentown Labs provides climatetech startups the knowledge, connections, and equipment they need to thrive.
As the largest climatetech startup incubator in North America, Greentown Labs brings together startups, companies, investors, and policymakers, with a focus on scaling climate solutions. Dr. Reichert will explain how Greentown Labs offers prototyping and wet lab space, shared office space, a machine shop, an electronics lab, software and business resources, and a large network of corporate customers and investors. The incubator is home to more than 100 startups and has supported nearly 300 startups since its founding in 2011. Dr. Reichert will talk about how these startups have collectively created more than 6,500 direct jobs and have raised more than $1 billion in funding. She will also provide an update on Greentown Labs' expansion with a second location in Houston. This location will provide approximately 30,000 square feet of prototyping lab and office space for about 50 startups.
Please join this conversation via the web application Zoom, which is accessible through your web browser, the Zoom desktop or mobile app, and by phone. If you wish to join the question and answer period, you must join by app or web. You must register to receive further information on how to join the virtual audience.
Featuring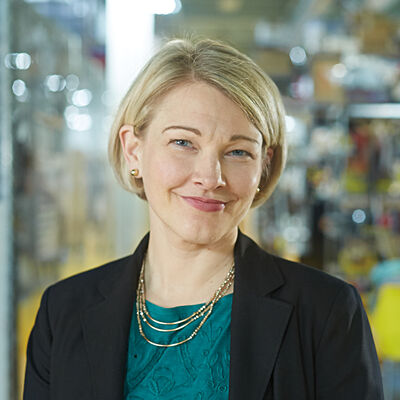 Dr. Emily Reichert, chief executive officer, Greentown Labs
Dr. Emily Reichert serves as chief executive officer of Greentown Labs, the largest clean technology startup incubator in North America. As the company's first employee, Emily has spearheaded the rapid growth of Greentown Labs into a global center for clean technology innovation, attracting visitors and partners from around the world.
Emily started her career at Arthur D. Little as a Ph.D. scientist and progressed into R&D, business development and general management roles. Prior to Greentown Labs, she was the director of business operations at the Warner Babcock Institute for Green Chemistry, where she helped grow the angel-funded startup into a sustainable contract R&D business with a mission to minimize environmental impact of chemical products.
Emily also served as an MIT Sloan Fellow in Innovation and Global Leadership as well as a Venture Labs Fellow at Flagship Ventures, a Boston-based Venture Capital firm. Emily has been appointed to leadership positions on innovation, economic development, entrepreneurship and clean technology commercialization at the city, state, and federal level, including the Massachusetts Governor's Economic Development Planning Council and the U.S. Secretary of Commerce's National Advisory Council on Innovation and Entrepreneurship.
Globally, Emily serves as a member of the World Economic Forum's Futures Council on Advanced Energy Technologies. Emily has served as a board member or as an advisor for a number of entrepreneurship and clean technology-focused organizations including the MIT Energy Club, Northeast Clean Energy Council, Cleantech Open Northeast, Cyclotron Road, the Incubatenergy Network, the MIT Enterprise Forum, the Museum of Science Board of Trustees and Overseers, and the Alliance for Business Leadership Energy and Environment Council. Emily was profiled in Forbes Magazine as "The Woman Who Runs the Fastest Growing Cleantech Startup Hub on the East Coast" and listed as one of Mashable's "15 People Shaping Boston's Tech Scene." The Northeast Clean Energy Council named Emily "Startup Supporter of the Year" in 2015 and honored her with the "Decade of Influence Award" in 2017. Mass High Tech named her a "Woman to Watch" in 2014, and the Boston Business Journal presented her with the "Women Who Mean Business" Award in 2017 and the Power 50 Executive Award in 2018.
Emily has earned international recognition for her leadership in cleantech innovation and entrepreneurship and has received invitations to speak at international conferences such as the World Economic Forum Global Future Council in Dubai, World Efficiencies Solutions Conference in Paris, France; Les Rencontres Economiques d'Aix-en-Provence, France, and the Japanese Women's Leadership Initiative Summit in Tokyo, Japan. She holds a Ph.D. in Physical Chemistry from the University of Wisconsin-Madison and earned her MBA from MIT Sloan School of Management.

Related experts
Learn more about the Global Energy Center
Subscribe to DirectCurrent
Sign up for the Global Energy Center newsletter to stay up to date on the program's work.