As the global community continues to grapple with the coronavirus (COVID-19), the Atlantic Council is open for business. Our business, meetings, and events, however, are occurring virtually. For more information, please read an update from our President and CEO.
Event recap
On November 13, 2020, the Atlantic Council Global Energy Center hosted Emily Reichert, chief executive officer of Greentown Labs, as part of EnergySource InnovationStream, an online series that highlights new energy technologies with the potential to reshape the global energy system. Reichert delivered a presentation detailing how Greentown Labs provides climatetech startups the knowledge, connections, and equipment they need to thrive. Randolph Bell, Richard Morningstar chair for global energy security and director of the Atlantic Council Global Energy Center, provided introductory remarks and moderated the discussion.
Reichert began the presentation with a top-level overview of how Greentown Labs functions as a climatetech startup incubator. The majority of startups that reach Greentown Labs start their lifecycle in a university laboratory. Graduate students and faculty members may enter tech competitions, which not only help to refine an academic idea into a sound business plan, but also open the door to startup accelerator programs. Accelerator programs essentially serve as startup bootcamps that bridge the academic environment with incubator programs and enable startups to raise seed funding.
Successful climatetech startups may continue on their journey to an incubator like Greentown Labs, which specializes in helping entrepreneurs test physical products designed to decarbonize the largest greenhouse gas-emitting sectors, such as agriculture, manufacturing, and electricity. As North America's largest climatetech incubator, Greentown Labs has enabled more than three hundred startups to test their innovations at scale by providing the hardware and space needed to prototype, pilot, and begin small-scale manufacturing. Startups belonging to Greentown Labs' community of entrepreneurs are able to access a wide array of services provided in collaboration with corporate partners and universities, including a machine shop, wet chemistry lab, and electrical shop. Greentown Labs also prepares startups to succeed after graduation by connecting entrepreneurs with relevant corporations and investors, on top of providing legal services and business strategy support.
The audience Q&A session focused on the future challenges and opportunities for climatetech against the backdrop of a dynamic political environment and rapid greentech advancement. Reichert emphasized that climatetech startups currently suffer from a lack of business experience and hardware access, rather than inadequate technical expertise. Climatetech startups often present well-developed technologies but struggle to navigate a complex corporate environment and connect with suitable investors—a problem that Greentown Labs works to mitigate for its community of entrepreneurs. Reichert highlighted three successful startups that graduated from Greentown Labs, including utility-scale energy storage developer Form Energy, microgrid services provider Heila Technologies, and the Shark Tank-winner and portable charging system developer Spark Charge.
Reichert continued to describe the decision-making process of Greentown Labs' planned expansion to Houston in 2021. At present, there are no cleantech-specific incubators or ecosystem conveners in the city of Houston despite tremendous appetite and strong political support. While initially Reichert faced resistance to bring Greentown Labs to the "oil and gas capital of the world," she underscored that it is impossible to "solve climate change from the coasts" and that the clean energy transition will need to mobilize all parts of the country to achieve climate solutions. According to Reichert, traditional energy companies "see the writing on the wall" that long-term dependence on oil and gas will prove unsustainable, as already evidenced by climate measures taken by the European Union, China, Japan, and Korea. From a logistical standpoint, Reichert expects Greentown Labs' Houston location to host more carbon capture- and hydrogen-related technologies than in Massachusetts. Reichert also expressed enthusiasm that Houston industries' unique aptitude for scalability will allow Greentown Labs' startup community to flourish.
By Emma Smith, Global Energy Center Fall 2020 Intern.
Featuring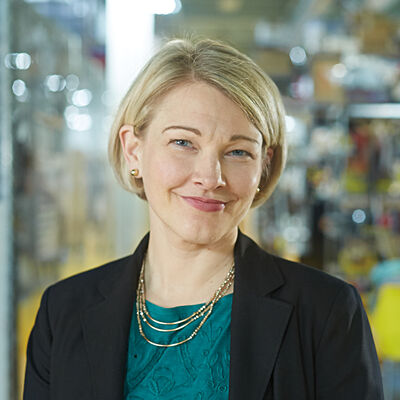 Dr. Emily Reichert, chief executive officer, Greentown Labs
Dr. Emily Reichert serves as chief executive officer of Greentown Labs, the largest clean technology startup incubator in North America. As the company's first employee, Emily has spearheaded the rapid growth of Greentown Labs into a global center for clean technology innovation, attracting visitors and partners from around the world.
Emily started her career at Arthur D. Little as a Ph.D. scientist and progressed into R&D, business development and general management roles. Prior to Greentown Labs, she was the director of business operations at the Warner Babcock Institute for Green Chemistry, where she helped grow the angel-funded startup into a sustainable contract R&D business with a mission to minimize environmental impact of chemical products.
Emily also served as an MIT Sloan Fellow in Innovation and Global Leadership as well as a Venture Labs Fellow at Flagship Ventures, a Boston-based Venture Capital firm. Emily has been appointed to leadership positions on innovation, economic development, entrepreneurship and clean technology commercialization at the city, state, and federal level, including the Massachusetts Governor's Economic Development Planning Council and the U.S. Secretary of Commerce's National Advisory Council on Innovation and Entrepreneurship.
Globally, Emily serves as a member of the World Economic Forum's Futures Council on Advanced Energy Technologies. Emily has served as a board member or as an advisor for a number of entrepreneurship and clean technology-focused organizations including the MIT Energy Club, Northeast Clean Energy Council, Cleantech Open Northeast, Cyclotron Road, the Incubatenergy Network, the MIT Enterprise Forum, the Museum of Science Board of Trustees and Overseers, and the Alliance for Business Leadership Energy and Environment Council. Emily was profiled in Forbes Magazine as "The Woman Who Runs the Fastest Growing Cleantech Startup Hub on the East Coast" and listed as one of Mashable's "15 People Shaping Boston's Tech Scene." The Northeast Clean Energy Council named Emily "Startup Supporter of the Year" in 2015 and honored her with the "Decade of Influence Award" in 2017. Mass High Tech named her a "Woman to Watch" in 2014, and the Boston Business Journal presented her with the "Women Who Mean Business" Award in 2017 and the Power 50 Executive Award in 2018.
Emily has earned international recognition for her leadership in cleantech innovation and entrepreneurship and has received invitations to speak at international conferences such as the World Economic Forum Global Future Council in Dubai, World Efficiencies Solutions Conference in Paris, France; Les Rencontres Economiques d'Aix-en-Provence, France, and the Japanese Women's Leadership Initiative Summit in Tokyo, Japan. She holds a Ph.D. in Physical Chemistry from the University of Wisconsin-Madison and earned her MBA from MIT Sloan School of Management.

Related experts
Learn more about the Global Energy Center