For months, more than 100,000 Russian troops have been surrounding Ukraine from three sides as the Kremlin threatens to escalate its 8-year war there and the West works to deter Moscow's forces. If Putin decides to go in again, what would this Russian offensive look like? Experts have assembled likely scenarios, from the capture of strategic territory to create a land bridge from Russia to occupied Crimea, to escalated hybrid warfare that mixes information operations with false flag terror attacks, to a wholesale blitzkrieg of Russian tanks and planes sweeping through Ukraine and potentially Belarus. How should Ukraine and the West best safeguard against Kremlin aggression, and what is the reality on the ground?
Melinda Haring, deputy director of the Atlantic Council's Eurasia Center, moderates a panel discussion on what comes next in the Kremlin's aggression against Ukraine with Ambassador John Herbst, senior director of the Atlantic Council's Eurasia Center, Michael Kofman, research program director in the Russia Studies Program at CNA, John Sipher, nonresident senior fellow at the Atlantic Council's Eurasia Center, Lieutenant Colonel Tyson K. Wetzel, senior US Air Force fellow at the Atlantic Council's Scowcroft Center for Strategy and Security, and Minister Andriy Zagorodnyuk, former minister of defense of Ukraine.
---
This event will not feature an in-person audience. You will be able to join via desktop or mobile app, through your web browser, or by phone. To join the question and answer period, you must join by app or web.

Register below for details on joining the virtual audience.
---
Follow us on social media
and support our work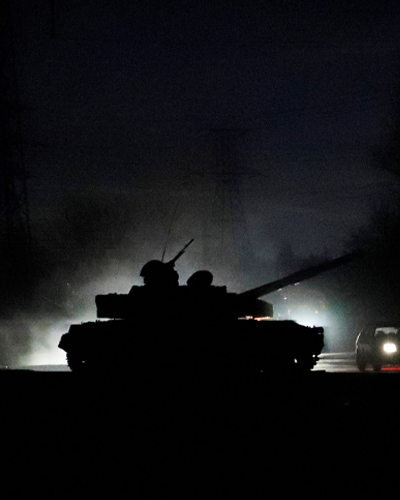 Europe in crisis
War in Ukraine
In February 2022, Moscow launched an all-out invasion of Ukraine after a months-long military build-up, threatening the country's sovereignty and its future. This existential moment for the country follows the 2014 Maidan revolution, a nexus for Ukraine's Europe-focused foreign policy and reform efforts. The ensuing Russian invasion and occupation of Crimea, aggression in Ukraine's east, and Kremlin disinformation efforts, cast a shadow over Ukraine's independence.