The United States has been the world's technology leader since the end of World War II, and its innovation edge has provided substantial economic, geopolitical, and military advantages for decades. As we enter a contested period of great-power competition, however, the Chinese Communist Party (CCP) has made controlling the commanding heights of 21st-century technology a top priority, and it may already enjoy an edge over the United States and its democratic allies in several key technologies, including artificial intelligence, quantum computing, and hypersonic missiles. The stakes of this new tech arms race could not be greater, as the nation to emerge victorious could enjoy significant geopolitical advantages for decades to come.
In the forthcoming Atlantic Council Strategy Paper, Global Strategy 2023: Winning the Tech Race with China, Peter Engelke and Emily Weinstein posit that the United States and its allies and partners need a renewed effort to ensure they maintain their technological edge in the 21st century. This will entail continuing to strengthen domestic sources of innovation, while pushing back in a coherent and unified fashion on China's unfair technology practices. It will also require a clear-eyed assessment of the geopolitical stakes of technological competition with China and an understanding of the strengths and weaknesses of US and allied versus Chinese innovation models. To coincide the launch of the report, our speakers and panelists will discuss a strategy, that takes into account allies and partners across both the public and private domain, to win the tech race.
Authors

Peter Engelke
Deputy Director of Foresight, Scowcroft Strategy Initiative, Atlantic Council

Emily Weinstein
Research Fellow, The Georgetown University Center for Security and Emerging Technology;
Nonresident Fellow, Global China Hub, Atlantic Council
Agenda
Opening remarks

Matthew Kroenig
Vice President and Senior Director, Scowcroft Center for Strategy and Security, Atlantic Council
Moderator

Kate Marino
Business Editor, Axios
Kate covers markets and the economy at Axios. Prior to that, she was an editor and reporter at Debtwire covering bankruptcy and leveraged finance.
Panelists

Charles Barnett
Vice President, China and Transformational Exports Program, EXIM Bank
Charles Barnett is a Vice President in the China and Transformational Exports Program (CTEP) at the Export-Import Bank of the United States (EXIM) where he helps lead efforts to support U.S. exporters competing against export subsidies supported by the People's Republic of China. Before that, Charles served as a loan officer, business development officer, and in other capacities at EXIM. In 2019, Charles took leave from EXIM to advise the management consultancy Kearney on their development of the greenfield Saudi EXIM Bank. Before joining EXIM, Charles managed business operations in China in the 1990s to early 2000s: at Meet China, a US-Chinese joint venture and early Alibaba.com competitor, and ESO-ASIACOM, where he oversaw product-sourcing operations. He has a Master of International Public Policy from Johns Hopkins SAIS and a BA in Asian Studies from the University of Michigan.

Brendan Groves
Vice President of Regulatory & Policy Affairs, Skydio
Brendan Groves is the Vice President of Regulatory and Policy Affairs at Skydio, the largest U.S. drone manufacturer and a world leader in autonomous flight.
Before joining Skydio, he held senior positions in the federal government, most recently as Associate Deputy Attorney General in the U.S. Department of Justice (DOJ). In that role, he managed DOJ's national security policy portfolio and led–and scaled–DOJ's drone program. He led the effort to counter the threat posed by malicious drones, spearheading the development and passage of pathbreaking Counter-UAS legislation. Brendan formerly served as Special Counsel to the General Counsel of the National Security Agency. He began his career as an Air Force JAG Officer, where he worked with remotely piloted aircraft and deployed to Afghanistan with joint special operations forces.
Brendan is a graduate of Yale Law School and Pepperdine University. He serves as a Technology, Security, and Global Affairs fellow at the University of Texas at Austin's Strauss Center. He has received the Bronze Star Medal, the Attorney General's John Marshall Award, and individual and team awards from the Office of the Director of National Intelligence.

Emily Weinstein
Research Fellow, The Georgetown University Center for Security and Emerging Technology;
Nonresident Fellow, Global China Hub, Atlantic Council

Helen Zhang
Co-founder, Intrigue Media
Helen is the Director of Quad, a program focused on developing next-generation STEM leaders from the Quad countries. She is also the Director of the International Strategy Forum, which aims to forge an interdisciplinary network of rising leaders to strengthen progress and security amid technological innovation and a changing world order.
Prior to Schmidt Futures, Helen worked as a global public policy manager for Google Search, and was responsible for overseeing the product's content regulatory priorities. Prior to Google, Helen served as an Australian diplomat and was posted to Tel Aviv, Israel, and Hong Kong, where she worked on national security, political, and economic files. Helen also co-founded Intrigue Media, which provides expert but irreverent briefings on global affairs issues at the intersection of geopolitics, business, and technology.
Helen holds a Bachelor of Laws (Hons) and Bachelor of Asian Studies (Specialist), and Graduate Diploma in Legal Practice from the Australian National University. She graduated with a Master in Public Administration from the Harvard Kennedy School as a Fulbright Scholar, and now lives in Washington DC.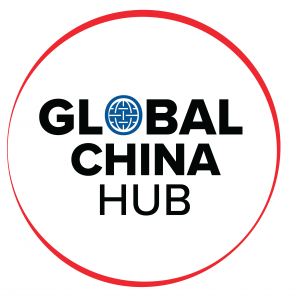 The Global China Hub researches and devises allied solutions to the global challenges posed by China's rise, leveraging and amplifying the Atlantic Council's work on China across its 15 other programs and centers.