Event Summary
On October 21st 2019, the Atlantic Council hosted a public conversation with H.E. Dr. Tawfiq-e Elahi Chowdhury, power, energy, and mineral resources affairs adviser to the prime minister of Bangladesh, who spoke about Bangladesh's energy prospects and priorities in an increasingly interconnected region. Dr. Chowdhury highlighted that since the dawn of the 21st century, Bangladesh had lifted more than 50 million people out of extreme poverty and sustained consistent efforts of development. The development of Bangladesh, he claimed, was a result of the micro focus on uplifting individuals instead of institutions.
His opening remarks focused on the energy responsibility of individual countries and how each country should not allow cumulative affordability to drive consumption, thereby keeping efficiency as the first priority. According to Dr. Chowdhury, Bangladesh is one of the only countries that enshrines rural electrification in its constitution; likewise, it has one of the largest markets for solar home systems in the world. He highlighted the disparity between availability of new energy sources, such as natural gas, and Bangladesh's ability to generate financing for such projects. He argued the need to fund social welfare by associating it with a merit good, rather than a private good. He concluded by speaking about Russian investments in nuclear energy, access to electricity in lower economic groups, and future transitions in the automobile industry. In assessing Bangladesh's prospects for growth, Dr. Chowdhury emphasized the role of government-backed efforts to promote energy generation would benefit Bangladeshi society at the individual level.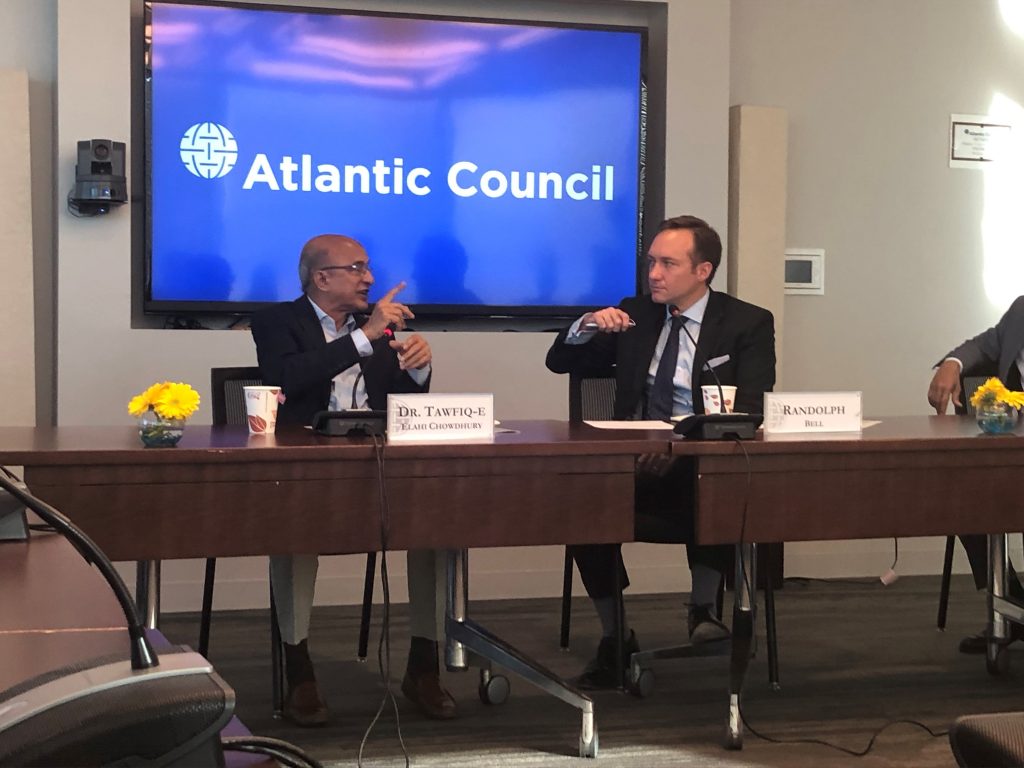 Bios
Dr. Tawfiq-e-Elahi Chowdhury, born in British India, grew up in East Pakistan, studied at Dacca and Leeds Universities, and earned his PhD from Harvard University. He began his career as a lecturer at Dacca University and later joined the Civil Service of Pakistan (CSP). He subsequently quit his job to join the Bangladesh Liberation War and was commissioned in the Bangladesh Defense Forces. He served as one of the main organizers of the Proclamation of Independence and inauguration of the Government of Bangladesh on April 17, 1971.
Dr. Chowdhury served as secretary to the Government of Bangladesh for nearly a decade in the Ministries of Food, Statistics, Power, Energy & Mineral Resources, and Planning. After his retirement in 2002, he was made adviser to the prime minister of Bangladesh in 2009. His recent book, "Chariot of Life" published by Penguin Random House India, has been widely acclaimed.
Randolph Bell is the director of the Atlantic Council's Global Energy Center (GEC), where he oversees the Center's research and programs in Washington and elsewhere, including the annual Atlantic Council Global Energy Forum in Abu Dhabi. He also serves as the co-director of the Atlantic Council's Task Force on US Nuclear Energy Leadership. He joined the Global Energy Center in 2017 as its director of business strategies. From 2014–2016, Mr. Bell led the launch of the Center in his capacity as director of business development and new ventures for the Atlantic Council.
From 2011–2014, Mr. Bell was managing director at the International Institute for Strategic Studies (IISS)–US, where in addition to holding overall responsibility for the operations and programming of the IISS's Washington, DC office he published extensively on African, South Asian-, and cyber security issues. From 2010–2011, he was manager of national security at the Markle Foundation, where he worked on cyber security, intelligence community information sharing, and technology policy issues.
Mr. Bell has an MPP from the John F. Kennedy School of Government at Harvard University, where he was a Public Service and Belfer International and Global Affairs Fellow, and graduated magna cum laude from Harvard College.