The world has been shocked by the devastation of Russia's full-scale war on Ukraine and inspired by Ukraine's military successes. But the digital and information space is an overlooked element of this war. While soldiers defend Ukraine on the battlefield, Ukraine's Ministry of Digital Transformation and the country's IT community are developing a sustainable digital rear.
What is the Ministry of Digital Transformation's role in combating Russia's aggression? How does the Ukrainian IT industry manage to remain a globally trusted IT vendor and why is it crucially important for the victory of Ukraine and the post-war recovery? How can international financial institutions, global development agencies, leading tech companies, and foreign government institutions support Ukraine and the Ministry of Digital Transformation in their fight against Russia's invasion?
StrategEast's Ukrainian Digital Resistance to Russian Aggression report, prepared with the support of the Ministry of Digital Transformation of Ukraine and NewAge, tackles these questions.
Mykhailo Fedorov, Vice Prime Minister and Minister of Digital Transformation of Ukraine, delivers remarks on Ukraine's digital future. Anatoly Motkin, founder and president of StrategEast, presents the new Digital Resistance to Russian Aggression report, before joining Oleksandr Bornyakov, Deputy Minister of Digital Transformation for IT Development of Ukraine, Viktoriya Tigipko, founding partner and managing director of TA Ventures, Giorgi Aleksidze, CEO of NewAge, and Denis Gursky, founder and CEO of SocialBoost NGO, for a panel discussion on the challenges facing Ukraine's digital sector moderated by Andrew D'Anieri, assistant director at the Atlantic Council's Eurasia Center.
---
This event will not feature an in-person audience. You will be able to join via desktop or mobile app, through your web browser, or by phone. To join the question and answer period, you must join by app or web.

Register below for details on joining the virtual audience.
---
Follow us on social media
and support our work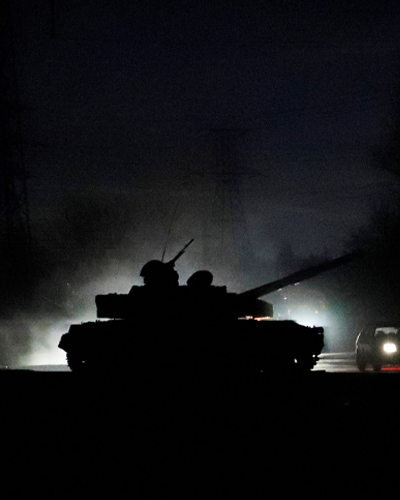 Europe in crisis
War in Ukraine
In February 2022, Moscow launched an all-out invasion of Ukraine after a months-long military build-up, threatening the country's sovereignty and its future. This existential moment for the country follows the 2014 Maidan revolution, a nexus for Ukraine's Europe-focused foreign policy and reform efforts. The ensuing Russian invasion and occupation of Crimea, aggression in Ukraine's east, and Kremlin disinformation efforts, cast a shadow over Ukraine's independence.