The international community's attention was riveted by news of the Russian massacre in Bucha this week. The atrocities took place as Ukrainian forces were taking back suburbs around Kyiv while Moscow was shifting forces away from the Ukrainian capital. Nearly six weeks into his full-scale invasion of Ukraine, Russian President Vladimir Putin's troops have largely been stopped by Ukraine's defenses. Now, the Kremlin is looking for more troops and possibly a new strategy to resume the fight.
The Russian military has recently claimed that its war aims are confined to eastern Ukraine, yet Putin himself has in no sense endorsed his generals' statements. At the negotiating table, Russian representatives have suggested they might concede on some significant points, including Ukraine's accession to the European Union, but Putin has not publicly backed that proposal either. Putin remains the sole decisionmaker in Russia, so there is no reason to assume that Russia's maximalist war aims have changed.
Are the atrocities in Bucha a grave harbinger of the next phase of Russia's war against Ukraine? How should the international community respond to Russian war crimes? What scenarios could force Putin to earnestly negotiate for peace?
Ambassador John Herbst, senior director of the Atlantic Council's Eurasia Center, moderates a discussion with Oleksandr Danyliuk, former secretary of the National Security and Defense Council of Ukraine, Lt. Gen. (Ret.) Keith Dayton, retired lieutenant general in the US Army, Alyona Getmanchuk, nonresident senior fellow at the Atlantic Council's Eurasia Center, and Vladimir Milov, Russian opposition politician, on the latest developments in Russia's war against Ukraine
---
This event will not feature an in-person audience. You will be able to join via desktop or mobile app, through your web browser, or by phone. To join the question and answer period, you must join by app or web.

Register below for details on joining the virtual audience.
---
Follow us on social media
and support our work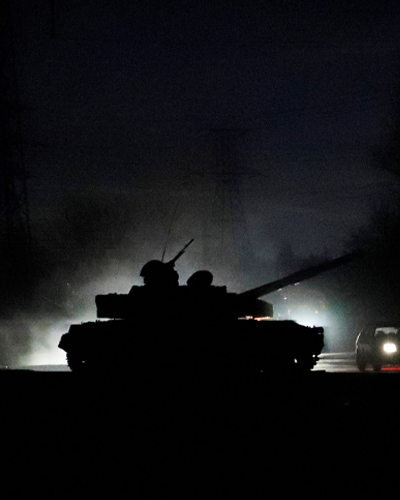 Europe in crisis
War in Ukraine
In February 2022, Moscow launched an all-out invasion of Ukraine after a months-long military build-up, threatening the country's sovereignty and its future. This existential moment for the country follows the 2014 Maidan revolution, a nexus for Ukraine's Europe-focused foreign policy and reform efforts. The ensuing Russian invasion and occupation of Crimea, aggression in Ukraine's east, and Kremlin disinformation efforts, cast a shadow over Ukraine's independence.