Secretary General, Organization of the Petroleum Exporting Countries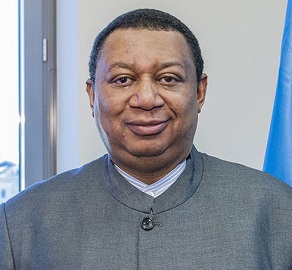 H.E. Mohammad Barkindo began his tenure as Secretary General of the Organization of the Petroleum Exporting Countries (OPEC) on August 1, 2016. Over the years he also worked in several key roles at OPEC. In 1986, he was appointed to Nigeria's delegation to OPEC, and from 1993 to 2008, served as Nigeria's national representative on the organization's economic commission board. In 2006, he was acting OPEC secretary general, and represented Nigeria on OPEC's board of governors from 2009 to 2010.
From 2009 to 2010, he was group managing director and chief executive officer of the Nigerian National Petroleum Corporation. Before that, he served as deputy managing director of Nigerian Liquefied Natural Gas. Earlier in his career, he was special assistant to former minister of petroleum resources and OPEC secretary general, H.E. Dr Rilwanu Lukman Kbe.
Mr. Barkindo has also been leader of Nigeria's technical delegation to the United Nations climate change negotiations since 1991. He served as chair of the Group of 77 and China at the United Nations Framework Convention on Climate Change and was elected to serve three terms as vice president of the Conference of the Parties – COP13 (Bali, Indonesia), COP14 (Poznan, Poland), and COP15 (Copenhagen, Denmark), where he chaired the opening session. Since his assumption of office as Secretary General, he remains a leading voice in the long-standing quest for more OPEC and non-OPEC cooperation for stable oil markets on a sustainable basis.
Subscribe to our newsletter