Tue, May 8, 2018
In an age of transatlantic tensions over the Iran deal, trade balances, and steel tariffs, digital policy is uniquely poised to offer opportunities for greater US-EU cooperation. At the same time, the digital arena also has the potential to be a policy minefield, with issues such as privacy, digital taxation, and competition policy still unresolved. […]
Report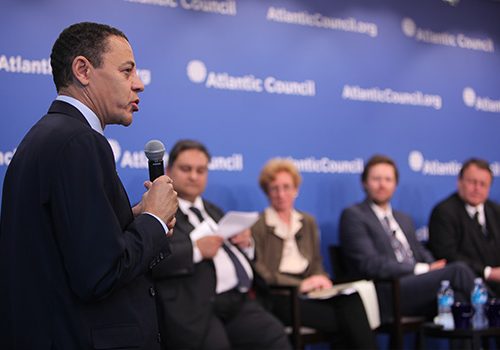 Wed, May 18, 2016
When it comes to the transatlantic digital marketplace, confluence is key, panelists agreed at the Atlantic Council on May 17. The United States and the European Union must work together in a "holistic manner" to promote innovation and protect privacy, said David O'Sullivan, the EU's ambassador to the United States. "The way forward is interoperability," […]
New Atlanticist
Frances G. Burwell is a distinguished fellow at the Atlantic Council and a senior director at McLarty Associates. Until January 2017, she served as vice president, European Union and Special Initiatives, at the Council. She has served as director of the Council's Program on Transatlantic Relations, and as interim director of the Global Business and Economics Program, and currently directs the Transatlantic Digital Marketplace Initiative. Her work focuses on the European Union and US-EU relations as well as a range of transatlantic economic, political, and defense issues. She was the principal US-based organizer of the Wrocław Global Forum, held annually in Poland, which is the European home of the Atlantic Council's Freedom Awards. She is a member of the Advisory Board of Allied for Startups.
Her most recent report is The European Union and the search for digital sovereignty: Building "Fortress Europe" or preparing for a new world? (co-authored). Among her other publications are: Making America First in the Digital Economy: The Case for Engaging Europe (2018); After Brexit: Alternate Forms of Brexit and their Implications (co-authored); Europe in 2022: Alternative Futures (co-authored with Mathew Burrows); A Transatlantic Approach to Europe's East: Relaunching the Eastern Partnership; Shoulder to Shoulder: Forging a Strategic US-EU Partnership; Rethinking the Russia Reset; and Transatlantic Leadership for a New Global Economy. She was the principal US-based organizer of the Wrocław Global Forum, held annually during 2010 to 2016 in Poland. She is also a frequent commentator on European politics and transatlantic relations, with interviews and op-eds appearing in the Huffington Post, Handelsblatt Global Edition, Financial Times, al-Jazeera, BBC, National Public Radio, CNBC, CCTV, among others.
Prior to joining the Council, Dr. Burwell was executive director of the Center for International and Security Studies at the University of Maryland and also served as founding executive director of Women In International Security. She has a doctorate from the University of Maryland, an M. Phil from Oxford University, and a BA from Mount Holyoke College.