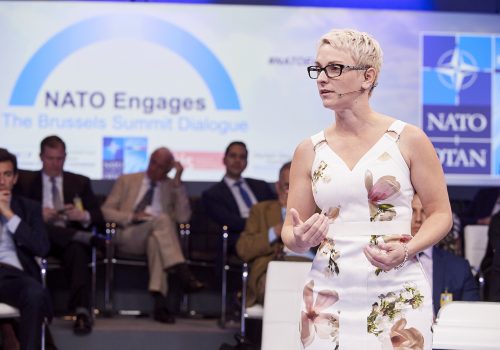 Mon, Mar 8, 2021
In celebration of International Women's Day and in continuation of our mission to foster the next generation of global leaders and change agents, the Atlantic Council's Millennium Leadership Program asked women leaders in politics, finance, energy, non-profit management, and philanthropy to highlight the importance of women in leadership roles and share the lessons they have learned over the course of their careers.
New Atlanticist by Sweta Chakraborty, Rumaitha Al Busaidi, Jaclyn Levy, Nicola Johnson, Anna Wieslander, Kara Mangone, Kathy Baughman McLeod, Carrie Kolasky, Ivy Lau, Catherine Kolimas, Maggie Vidal, Gina E. Wood, Miyeon Oh, Hanar Marouf,
Mary Prakas is the program assistant for the Millennium Leadership Program at the Atlantic Council. In this role, Prakas orchestrates programming for the Millennium Fellowship and the Young Global Professionals Program. Prior to joining the Atlantic Council, Prakas conducted business development projects for a social enterprise start-up in the United Kingdom; headed independent research for a grassroots nonprofit in Uganda; advocated against human trafficking and police brutality across Eastern Africa with an international human-rights nonprofit; and assisted in senatorial fundraising efforts in Washington, DC. Prakas holds a master's degree in international development from the University of Edinburgh, with a focus in Africa and gender relations, as well as a bachelor's degree in international studies with a minor in nonprofit organizational management from the University of Florida.