Edgar Buckley and Kurt Volker, members of the Strategic Advisors Group (SAG), outline four crucial areas of the NATO decision-making process that require immediate consideration for reform in the SAG issue brief "NATO Reform and Decision-Making."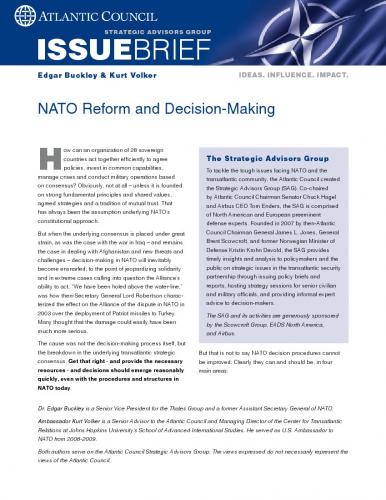 How can an organization of 28 sovereign countries act together efficiently to agree policies, invest in common capabilities, manage crises and conduct military operations based on consensus? Obviously, not at all – unless it is founded on strong fundamental principles and shared values, agreed strategies and a tradition of mutual trust. That has always been the assumption underlying NATO's constitutional approach.
But when the underlying consensus is placed under great strain, as was the case with the war in Iraq – and remains the case in dealing with Afghanistan and new threats and challenges – decision-making in NATO will inevitably become ensnarled, to the point of jeopardizing solidarity and in extreme cases calling into question the Alliance's ability to act. "We have been holed above the water-line," was how then-Secretary General Lord Robertson characterized the effect on the Alliance of the dispute in NATO in 2003 over the deployment of Patriot missiles to Turkey. Many thought that the damage could easily have been much more serious.The cause was not the decision-making process itself, but the breakdown in the underlying transatlantic strategic consensus. Get that right – and provide the necessary resources – and decisions should emerge reasonably quickly, even with the procedures and structures in NATO today.
Strategic Advisors Group:
To tackle the tough issues facing NATO and the transatlantic community, the Atlantic Council created the Strategic Advisors Group (SAG). Co-chaired by Atlantic Council Chairman Senator Chuck Hagel and Airbus CEO Tom Enders, the SAG is comprised of North American and European preeminent defense experts. Founded in 2007 by then-Atlantic Council Chairman General James L. Jones, General Brent Scowcroft, and former Norwegian Minister of Defense Kristin Krohn Devold, the SAG provides timely insights and analysis to policymakers and the public on strategic issues in the transatlantic security partnership through issuing policy briefs and reports, hosting strategy sessions for senior civilian and military officials, and providing informal expert advice to decision-makers.
The SAG and its activities are generously sponsored by the Scowcroft Group, EADS North America, and Airbus.