The Adrienne Arsht Latin America Center today released a report advocating that Latin America, North America, and Europe should build a stronger, more equal trilateral partnership based on a community of shared interests and values. The report by the Transatlantic Task Force on Latin America—co-chaired by former Prime Minister of Spain José María Aznar and former Senator Christopher J. Dodd—specifically argues for building an open transatlantic marketplace and initiating a stronger resource partnership through the launch of comprehensive trilateral dialogues on trade and investment and energy.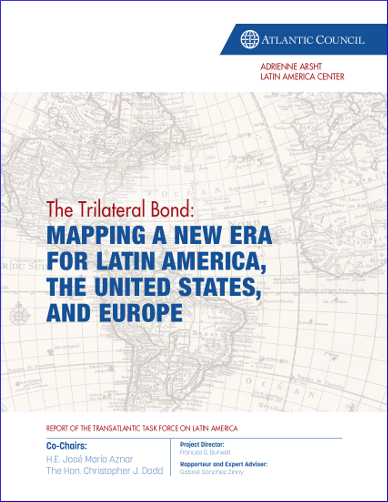 "Latin America is a region of growing importance, expanding markets, rich resources, and boundless opportunity. And it is only to the benefit to us in the United States and Europe to embrace a stronger transatlantic partnership with the nations of Latin America in our increasingly globalized world," said Senator Dodd, who serves as co-chair of The Transatlantic Task Force on Latin America. "I hope that this report will serve as a blueprint for policymakers in all three regions to follow in taking on this promising, albeit complex, endeavor and I look forward to continuing to do what I can to ensure that the full potential of this important trilateral relationship is realized in the days and years ahead."
The report—The Trilateral Bond: Mapping a New Era for Latin America, the United States, and Europe—advocates a fundamental rethinking of the traditional transatlantic relationship. Despite Latin America's expanding markets, rich energy and natural resources, and newfound confidence on the geopolitical stage, the region has not been sufficiently visible within the transatlantic relationship. Establishing a new era of dialogue and trilateral partnership will bring significant dividends for each region, both economically and strategically. Latin America and the United States reached more than $770 billion in trade in 2011, making the United States Latin America's number one trading partner. The European Union remains the leading foreign investor in the region, having invested more than $30 billion per year in the region for the last decade.
"The United States and the European Union recently began important negotiations on the Transatlantic Trade and Investment Partnership, or TTIP," said Atlantic Council President and CEO Frederick Kempe. "But it is crucial that such trade and investment efforts expand to include Latin America as an equal partner in order to make the transatlantic relationship more dynamic and more complete."
Among the recommendations of the report, the Task Force calls for:
More collaborative efforts to strengthen education and research linkages as a way to spur innovation and create human capital
Inauguration of a trilateral EU-US-Latin America summit to build a stronger institutional framework
Expanded participation of Latin America in institutions of global governance
Prioritization of law enforcement efforts to bolster citizen security
The report is the result of several months of discussion by prominent political, business, and opinion leaders of the Transatlantic Task Force on Latin America. The Task Force first met in Washington, DC in September 2012.
About the Adrienne Arsht Latin America Center
The Atlantic Council officially launched its Adrienne Arsht Latin America Center at its Distinguished Leadership Awards dinner on May 1, 2013. Founded with a $5 million gift from philanthropist and business leader Adrienne Arsht, the Center will forge a new partnership among Latin America, North America, and Europe based on common values and shared interests. The Arsht Center will be the first organization of its kind dedicated to strengthening this trilateral partnership, with a strategic focus on trade and investment, natural resources and energy, security, democracy and human rights, and developing human capital and entrepreneurship.
Media Mentions