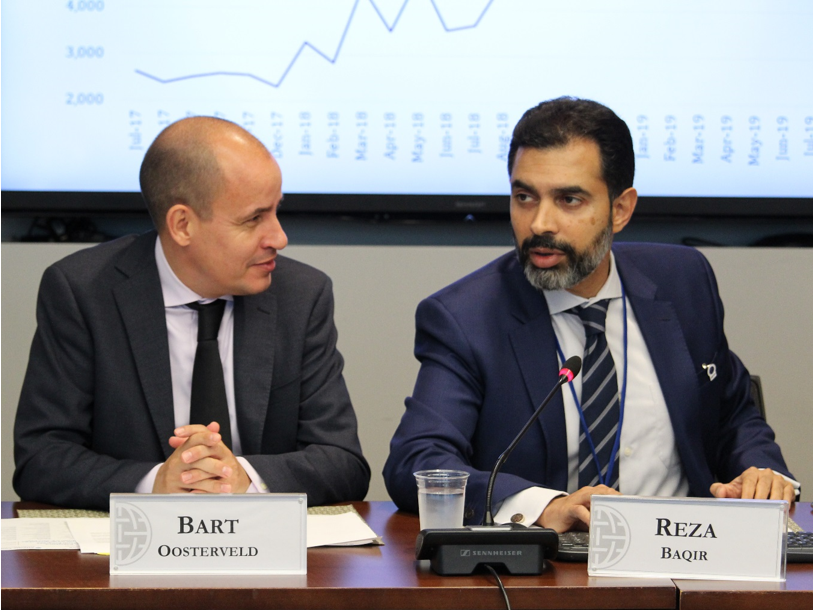 On October 16th, the Atlantic Council's Global Business and Economics (GBE) Program hosted a roundtable conversation with Dr. Reza Baqir, Governor of the State Bank of Pakistan. GBE's Director, Bart Oosterveld, moderated a discussion focused on the future of Pakistan's economic development as the new IMF program is set to roll out.
Dr. Baqir started the conversation by discussing the historical causes that have been stifling consistent economic growth in Pakistan. This included factors such as unsustainable consumption led growth, fiscal deficits, public debt and a historically fixed exchange rate regime which caused the current account deficit to rise to unprecedented levels.
The Governor stressed, however, that the State Bank is taking actions to address the country's economic imbalances and that these are yielding positive results. For instance, the current account deficit halved once the exchange rate had been allowed to float and monetary policy was tightened. Export volumes have been growing since the exchange rate adjustment. Such remedial economic actions have helped Pakistan meet or even exceed its targets for the next IMF program.
Dr. Baqir explained that periods of growth in Pakistan have triggered large current account deficits. He noted that while the focus will be on successfully implementing the IMF program, the State Bank is already looking beyond the program's conclusion. Instead of seeing this current program as a precursor to the next program, due to the aforementioned link between growth and current account deficit, the State Bank is exploring what institutional changes can be made to disrupt this cycle.
Overall, Dr. Reza Baqir shed light on Pakistan's economic reform progress and the changes the State Bank hopes to implement with the assistance of the IMF program to ensure a more sustainable growth path for the country.