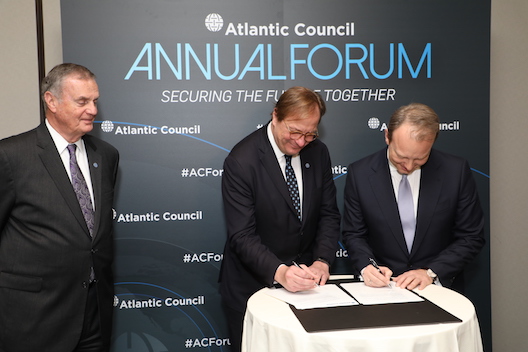 WASHINGTON, DC – On Friday, December 14, 2018, the Atlantic Council and PZU SA signed a multi-year strategic partnership agreement at the Council's Annual Forum in Washington DC. PZU, a publicly-traded Polish insurance company, is the largest insurance group in Poland and stands among the largest financial institutions in Central Europe. Through this partnership, PZU will support the Council's celebration of 100 years of US-Polish partnership and invest in the growing strategic alliance and economic bonds between the US and Poland.
This agreement is a pillar of the Council's "100 Years Together" campaign, an Atlantic Council investment in Poland rooted in common values, shared interests, and commitment to a strong transatlantic community of freedom. This agreement is also a critical element of the Council's Central Europe Initiative, aimed at mobilizing our alliance, developing and implementing strategies to bolster Central Europe, and reinvesting in the special ties between the US and the region.
"The Atlantic Council's enduring mission is working with allies to secure the future, but we cannot execute our vision alone and those allies include leading companies," said Atlantic Council President and Chief Executive Officer Frederick Kempe. "Central Europe—with Poland at the helm—has the potential to be a major powerhouse driving economic growth, innovative policy, and bold ideas for the future—and partners such as PZU are crucial in helping us meet this century's challenges."
As part of its reinvestment in Central Europe, the Council is organizing several key projects with PZU, including:
Partnering with PZU to promote the Three Seas Initiative (3SI) to advance cross-border energy, transportation, and telecom infrastructure projects critical to Central's Europe's economic growth and integration within the European Union. The Council and PZU will work to foster deeper US strategic and economic ties to this region, including through the encouragement of American private sector participation in 3SI projects.
Partnering with PZU to support an annual investment conference in the United States to strengthen the US-Poland economic relationship and advance thinking on the role of business and investment in Central and Eastern Europe. This event will convene top business leaders, investors, entrepreneurs, opinion-shapers, and decision-makers.
Supporting PZU's efforts to be an industry leader in Central and Eastern Europe.

"I am delighted to solidify this new and important partnership with the Atlantic Council," said Paweł Surówka, Chief Executive Officer of PZU SA. "This is a very important time for the US and Poland to continue cooperation, and I look forward to working with the Council to complement and reinforce the strategic narrative of the economic success story of Poland and the entire region of Central and Eastern Europe."
For questions, please email [email protected] or [email protected] (Magdalena Kicińska; +48 785 893 170).
###