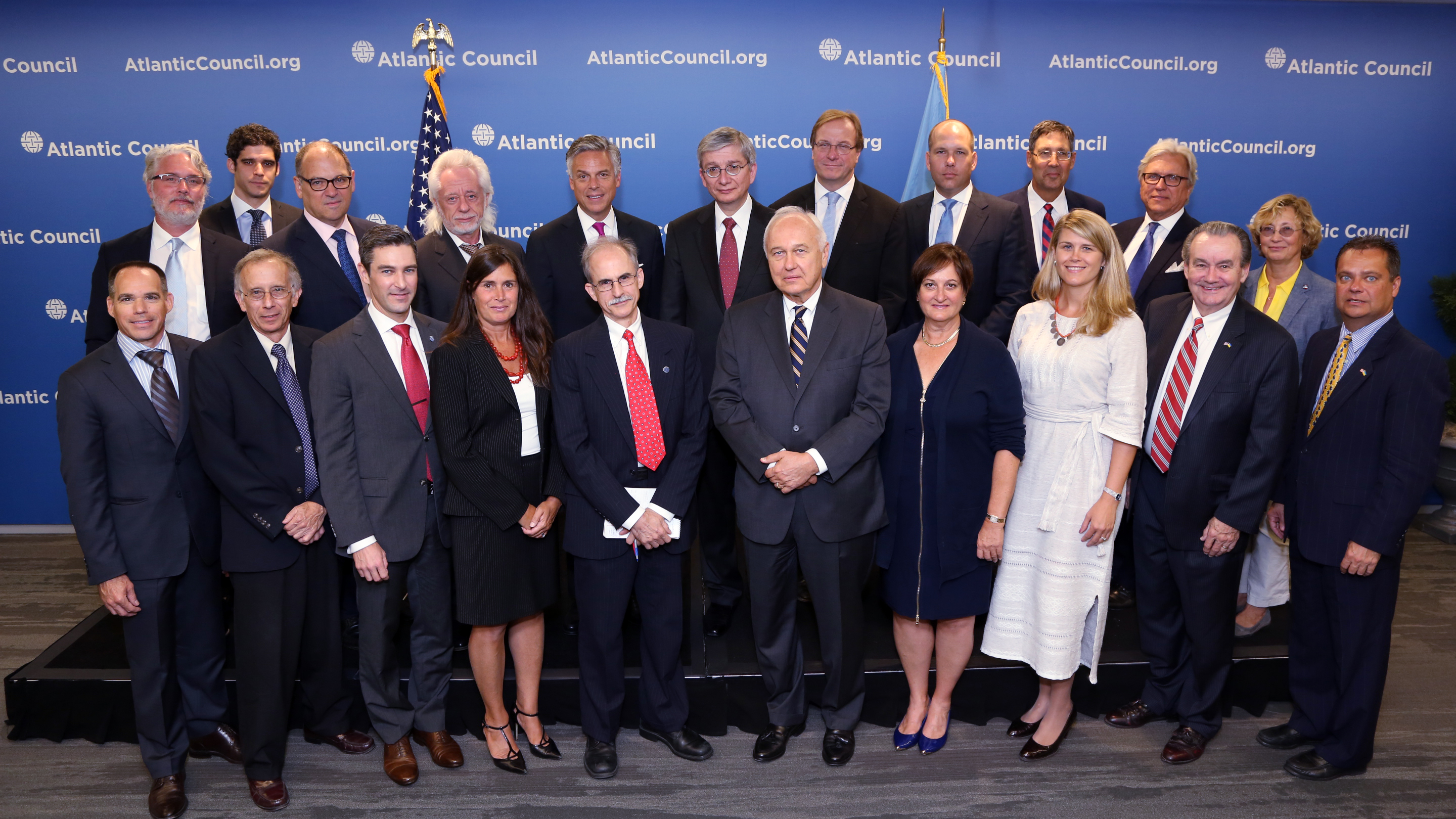 In conjunction with the visit of President Petro Poroshenko of Ukraine to the Atlantic Council on Thursday, September 18, 2014, the Council and the Ukrainian World Congress (UWC) launched a strategic partnership to enhance the Ukraine in Europe Initiative. This flagship Council Initiative galvanizes international support for an independent Ukraine and aims to strengthen Ukraine's security, preserve its territorial integrity, and advance democratic, economic, and governance reforms.

As the premiere coordinating body for Ukrainian Diaspora communities, the UWC represents the interests of over 20 million individuals who trace their heritage to Ukraine. The UWC has member organizations in thirty-three countries and ties with Ukrainians in more than a dozen others. In this new partnership, it is joining forces with one of the world's leading research and outreach programs on Ukraine, and among the most effective strategy institutions based in Washington, DC.
The Council and the Ukrainian World Congress share a common commitment to an independent Ukraine within secure borders whose people will determine their own future. Both organizations recognize not only the importance of Ukraine, but also the implications of the current crisis: Ukraine is on the frontlines of defending the international order that has delivered security and stability in Europe since the end of the Cold War.
The Ukraine in Europe Initiative seeks to bolster immediate action to deter Russia's aggression in Ukraine, and to develop a comprehensive strategy toward Europe's east. Through programming and engagement in Ukraine, Washington, key European capitals, and Ottawa, this partnership will strengthen the Council's efforts to help counteract Russian disinformation campaigns via products such as UkraineAlert and to maintain a spotlight on Crimea.
Launched during the February 2014 visit of Prime Minister Yatsenyuk to the Council, this Initiative responds to the immediate challenge facing Ukraine while also building on the Council's long track record of commitment to Ukraine.
Eugene Czolij, President, of the Ukrainian World Congress, and Fred Kempe, President and CEO of the Atlantic Council initiated this partnership in the presence of Atlantic Council Chairman Jon Huntsman, Council and UWC leaders, and with the support of those individuals who have stood behind this partnership: George Chopivsky and the Chopivsky Family Foundation, Ian Ihnatowycz and Marta Witer, Natalie Jaresko and Lenna Koszarny of Horizon Capital, and Jim Temerty.