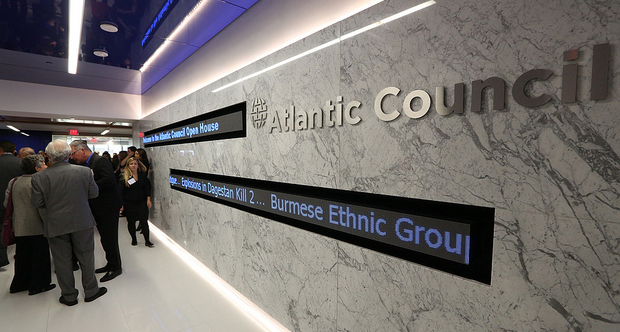 FOR IMMEDIATE RELEASE
October 30, 2013
CONTACT
Taleen Ananian
[email protected], 202.778.4993
WASHINGTON – Nearly 400 leaders from DC's foreign policy and business communities gathered at the Atlantic Council's new headquarters last night to toast the organization's transformational move. Guests sampled food and drink from Africa, Asia, Europe, the Middle East, and Latin America as they toured the 27,000 square feet of open floor plan.

Among the distinguished guests were Atlantic Council Board Directors and former US National Security Advisors Zbigniew Brzezinski, Stephen J. Hadley, and Brent Scowcroft; and Ambassadors from Belgium, Cyprus, Czech Republic, Estonia, Finland, Italy, Kosovo, Liechtenstein, Macedonia, Moldova, Montenegro, Qatar, Serbia, Slovenia, Sweden, and more.
"Our new headquarters is a manifestation of our recent success and reflects what we are: collaborative, effective, and entrepreneurial," said Frederick Kempe, Atlantic Council president and CEO. "This space was designed from the ground up to embody both the core values and global mission of the Atlantic Council."
Since 2009, the Atlantic Council has greatly expanded its staff and added six new programs and centers, including the Rafik Hariri Center for the Middle East, the Adrienne Arsht Latin America Center, and centers covering Africa, South Asia, Eurasia, and global business and economics.
The new headquarters, located at 1030 15th Street NW, boasts dramatically improved staff space and technological capabilities. It is complete with state-of-the-art conferencing facilities designed for dynamic interaction and has transformed the Council's capacity to produce high-quality, high-impact events.
For more details, please contact us at [email protected].
###
The Atlantic Council promotes constructive leadership and engagement in international affairs based on the central role of the Atlantic community in meeting global challenges.