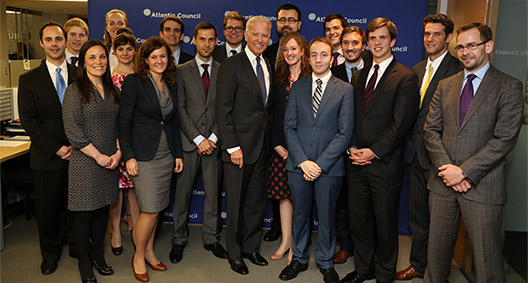 FOR IMMEDIATE RELEASE
May 1, 2014
CONTACT
Taleen Ananian
press@AtlanticCouncil.org, 202.778.4993
UK Invites Atlantic Council to Host Future Leaders Meeting at NATO Wales Summit
WASHINGTON – The Atlantic Council—in collaboration with the British Government, NATO, the Atlantic Treaty Association, and the Atlantic Council of the UK—will organize a future leaders summit on the margins of the NATO Summit in Wales on September 4-5, 2014. British Ambassador Sir Peter Westmacott made official on Tuesday the British government's invitation for the Atlantic Council to lead the future leaders summit at the Council's Toward a Europe Whole and Free conference, capping the first day of a conference that included speeches by Vice President Joe Biden, Secretary of State John Kerry, and European Commission President José Manuel Barroso.
Building on successful future leaders events that the Atlantic Council has organized at five past NATO Summits, the future leaders summit will open the high-level discussions at the NATO Summit in Wales to the next generation of Alliance leaders. The Atlantic Council is working with NATO in the run-up to the summit and has convened a working group of fifteen exceptional emerging leaders at the request of NATO Secretary General Anders Fogh Rasmussen. Additional information about the future leaders summit will be released later this spring.
The members of the NATO Emerging Leaders Working Group on the Transatlantic Bond are:
Rowinda Appelman: President, Youth Atlantic Treaty Association (The Netherlands)
Tobias Bunde: Head of Policy and Analysis (as of July 2014), Munich Security Conference (Germany)
Boris Ecker: Desk Officer for the United States, Slovak Ministry of Foreign and European Affairs (Slovakia)
Scott Erwin: Engagement Manager, McKinsey & Company (United States)
Lars Ragnar Aalerud Hansen: Fulbright Fellow and MA Candidate, the Fletcher School of Law and Diplomacy (Norway)
Michael Hermann: National Security Legislative Assistant, Office of Congressman James Langevin (D-RI) (United States)
Gina Maria Jones: Strategic Planner, Defense Intelligence Agency (United States)
Joanna Kaminska: Advisor/Parliamentary Administrator, Foreign Affairs Committee of the European Parliament (Poland)
Radu Magdin: CEO, Smartlink Communications (Romania)
Martin Michelot: Program and Research Officer, German Marshall Fund (France)
Sergio Ortiz Martin: Director and Project Manager, Youth Mediterranean Dialogue (Spain)
Marta Rzechowka: Captain, Canadian Army (Canada)
Mark Simakovsky: Russia Country Director, Office of the Deputy Assistant Secretary for Russia, Ukraine, and Eurasia, US Department of Defense (United States)
Emre Tuncalp: Managing Partner, Sidar Global Advisors (Turkey)
Claire Yorke: Doctoral Researcher, Department of War Studies, King's College London (United Kingdom)
Working group members are participating in their personal capacity and the views expressed in woking group publications do not necessarily reflect the views of their employers or institutions.
For more information about the Atlantic Council's Young Atlanticist Program or any of its initiatives, please contact us at press@AtlanticCouncil.org. Follow the Young Atlanticist Program on Twitter at @YoungAtlantic.
###
The Atlantic Council is a nonpartisan organization that promotes constructive US leadership and engagement in international affairs based on the central role of the Atlantic community in meeting today's global challenges. For more information, please visit AtlanticCouncil.org and follow us on Twitter @AtlanticCouncil.