The Global Energy Forum is held under the patronage of His Highness Sheikh Mohammed Bin Zayed Al Nahyan, Crown Prince of Abu Dhabi and Deputy Supreme Commander of the UAE Armed Forces. The Forum relies on the support of leading institutions, corporate partners, and individual sponsors to ensure the highest quality experience for policy makers, business executives, and thought leaders in the energy space. By attending and sponsoring the Global Energy Forum, companies and individuals play a crucial role in addressing the energy, political, and economic security challenges of a world in transition.
2021 Partners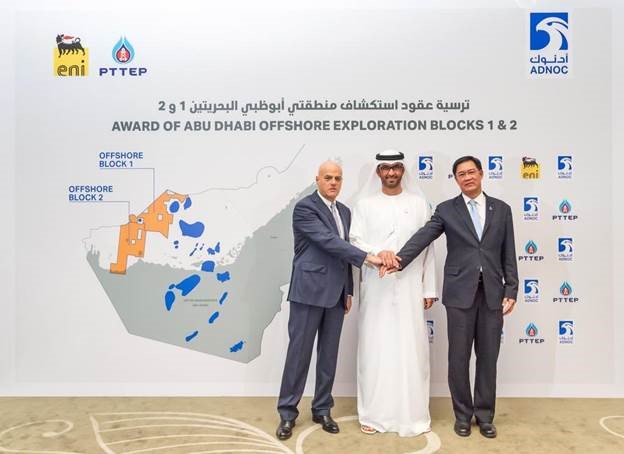 This forum in fact provides a very important platform for industry, policy, and academic leaders to engage on key energy issues in a very complex way.
Pictured from left to right: Claudio Descalzi, Chief Executive Officer, Eni; H.E. Dr. Sultan Al Jaber, Minister of State of the United Arab Emirates, and Chief Executive Officer of ADNOC; and Phongstorn Thavisin, President and CEO, PTTEP.
For more information about partnership opportunities and attendance, please contact Iveta Kruma at ikruma@atlanticcouncil.org or +1 (202) 999-2820.
Subscribe to our newsletter
Sign up to receive our weekly DirectCurrent newsletter to stay up to date on the program's work.