2022 Winners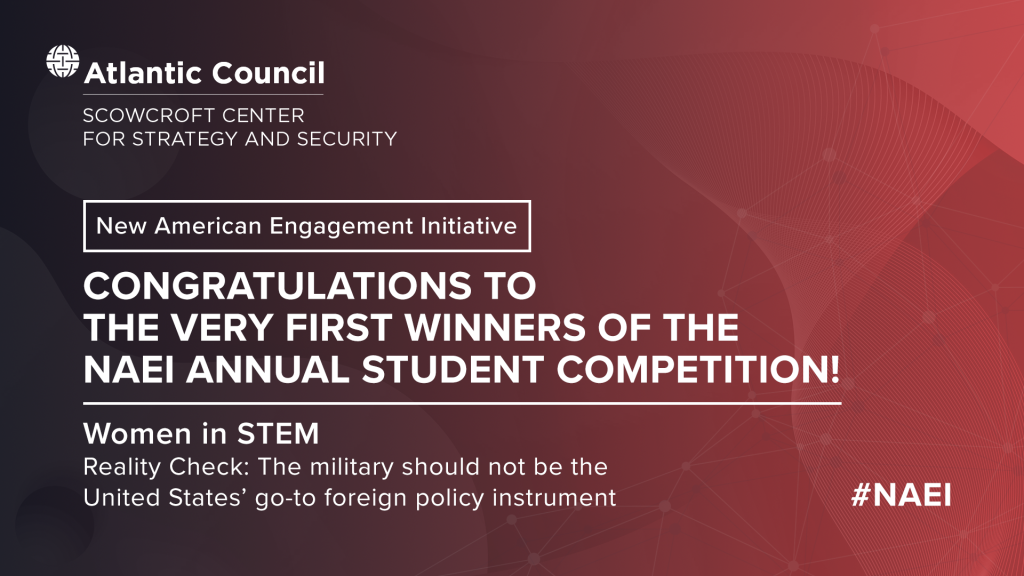 About the competition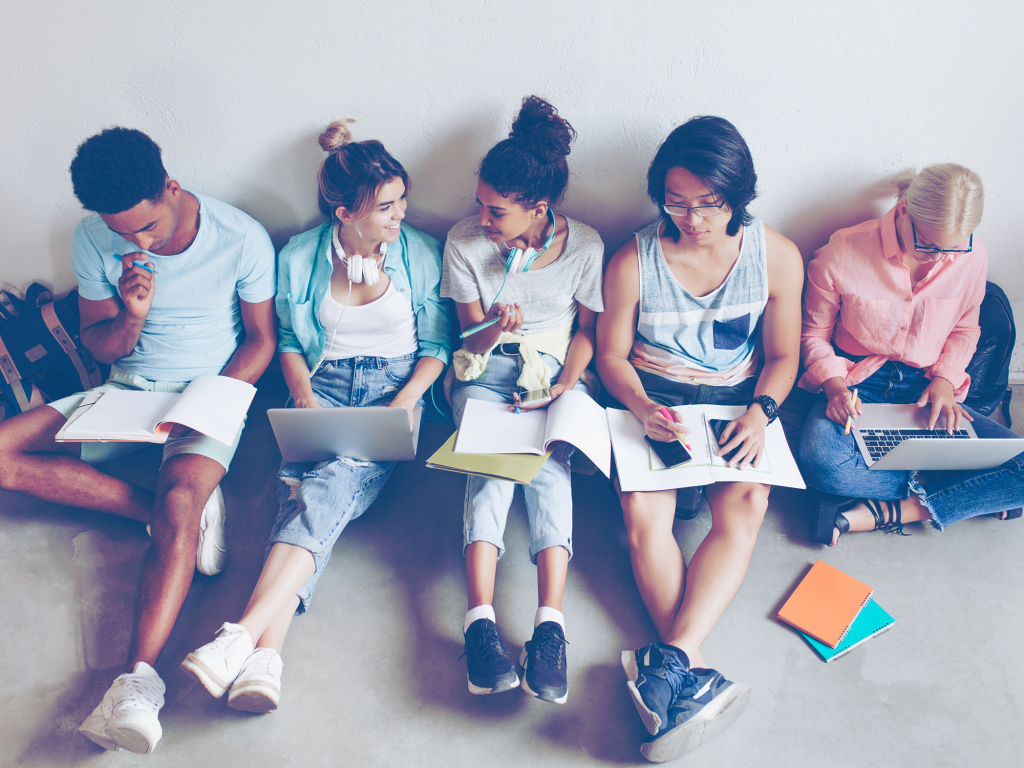 The Atlantic Council established the New American Engagement Initiative (NAEI) within the Scowcroft Center for Strategy and Security to challenge conventional assumptions governing the conduct of US foreign policy and provide a space to offer fresh approaches for US global engagement. To achieve this mission, NAEI believes that it must provide a platform for the next generation of national security decision makers to share creative ideas about US foreign policy options.
In 2021, NAEI launched its inaugural Annual Student Competition to support young people, draw new and innovative talent into the foreign policy space, and provide avenues for young thinkers to engage with leading foreign policy institutions. In addition, NAEI seeks to provide contestants with the tools needed to develop compelling proposals that are tailored for policymakers.
The 2021 application's period has closed, but the competition will return in the fall 2022, and will run until late spring 2023 . Get ready with your team mates, we hope to receive your application then!
See the information below for a description of the competition's format and eligibility criteria. An updated calendar will be published soon.
---
The competition's format
The competition consists of three-stages (outlined below). The format encourages students to develop collaborative skills and effective methods to communicate ideas to policymakers. Students are expected to showcase unconventional ideas and are invited to propose new modes of global engagement for the United States. Contestants will plan how to efficiently convey these ideas through various formats and platforms, including media outlets, think tank websites, and social media. To that end, student teams will be required to develop written policy proposals that include a media component.
First stage: Teams of three-to-five undergraduates (see precise eligibility criteria below) will submit a written concept note to address a US foreign policy-related question

. A limited number of semi-finalists will

be selected to access the second stage of the competition.
Second stage: The selected semi-finalist teams will develop their concept note into an essay and a media product. During this stage, they will benefit from the support of mentors ranging from policy experts to communications specialists.
Third stage: Student teams will present their essay and media product to a panel of jurors, who will evaluate them and select the winning team and two runners-up.
The Atlantic Council reserves the right to use teams' products for promotional purposes.
Awards include:
Cash prizes: The first-place team will win $2,500, the first runner-up $1,000, and the second runner-up $500.
Feature on the Atlantic Council's website: The winning team and the two runners-up will work with NAEI to edit their e

ssays. The winning team's essay will be published on the Atlantic Council's website. NAEI reserves the right to publish the runners-up's essays.

High-quality media production: The winning first-place team will have the opportunity to work with the Atlantic Council's communications staff to create a high-end version of their media production for publication on their own social media platform—and potentially on the Atlantic Council's website—with credits attributed to the winning team.

All content that we publish or help create is subject to the Atlantic Council's editorial and website guidelines.
---
Eligibility criteria
Only teams respecting the following criteria will be considered for the competition:
Students must be enrolled in a US undergraduate program at the time of the submission of their initial application.
This year's competition is fully virtual; competitors may be located anywhere in the world.
Teams are composed of three-to-five undergraduate students.
Diversity and inclusion should be encouraged within teams.
Selection criteria
If several teams from the same university apply, only one team will be selected to advance to the second round of the competition.
Competitors must participate in all mentorship sessions.
NAEI has the capacity to consider up to 100 teams' applications in the first stage of the competition. If we surpass our capacity, we will randomly select the 100 competing teams, which will then be judged on their merits, based on the quality and originality of the applications.
Timeline
Important dates to remember
Process
Until October 11, 2021
Information period
October 11, 2021
Publication of instructions
October 11–December 6, 2021
December 31, 2021
First stage
The selected teams will be notified before the beginning of the second stage
January 14–March 1, 2022
Second stage
March 1–March 25, 2022
Third stage
March 25, 2022
March 28, 2022
Announcement of winners
Contact
For general information about the competition, please send an e-mail to: [email protected]
The NAEI team will answer questions about the competition's eligibility criteria, timeline, and other technical details until October 11, 2021.
The 2021 application's period has closed! Come back in the fall 2022 to submit your team's application.
Engage with us: the New American Engagement Initiative welcomes feedback. Its success or failure hinges on the willingness of leading experts to scrutinize prior assumptions, consider alternative explanations, and be open to new approaches that collectively rethink, reshape, and reinvigorate US global engagement. Explore our program by navigating through our content, past and future events and experts pages.
Follow our work on Twitter with @ACScowcroft and connect with us using #NAEI and #FutureForeignPolicy.