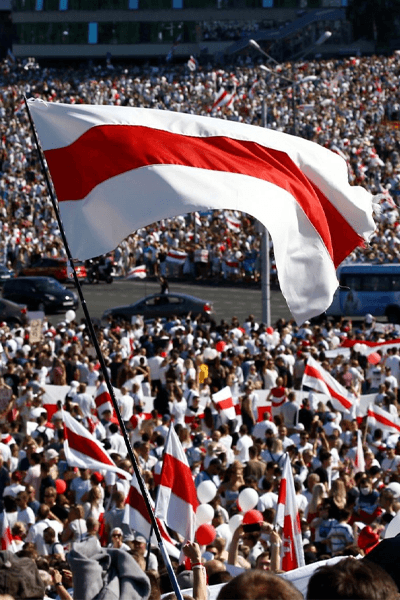 Will democracy prevail?
Belarus
Belarus' August 2020 presidential election saw widespread protests and serious fraud allegations as President Lukashenka claimed victory against popular opposition candidate Sviatlana Tsikhanouskaya. Following a brutal crackdown against protestors by security forces, will Belarus begin its transition to democracy, or will Belarusians face further repression as Lukashenka's rule falters?

Thu, Oct 8, 2020
The leaders of pro-democracy protests in Belarus have repeatedly denied any anti-Russian agenda but this has failed to prevent Moscow from offering its full backing to beleaguered dictator Alyaksandr Lukashenka.
Read More

Mon, Oct 19, 2020
Two months after the contested presidential election, law enforcement has returned to using disproportionate violence against protesters.
Article by Nika Aleksejeva

Tue, Oct 6, 2020
After weeks of delays, the US and EU have finally imposed sanctions on the Lukashenka regime in response to the flawed August 2020 Belarus presidential election and crackdown on protests.
UkraineAlert by Anders Åslund
Subscribe for the latest from BelarusAlert
Receive updates for events, news, and publications on Belarus from the Atlantic Council.