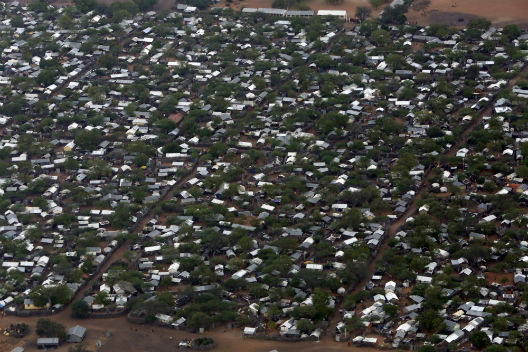 On May 6, the Kenyan government announced that it would cease hosting the estimated 600,000 refugees that currently call Kenya home. Days later, the government scaled back its initial threat, focusing instead on northeastern Kenya's Dadaab refugee camp, the world's largest and home to 350,000 Somali refugees and their progeny. Despite providing little evidence, the Kenyan government maintains that Dadaab's existence threatens Kenya's national security. The United Nations, United States, and international aid organizations have strenuously objected to the announcement, and warn that it may be illegal. But properly closing Dadaab may prove far more complicated and costly than the Kenyan government expects.

The Dadaab complex—five separate refugee camps that together constitute the third largest "city" in Kenya—was set up in 1992 to accommodate Somalis fleeing civil war, and the camps have been sustained by both the 2011 Somali famine and insecurity. The complex contains the infrastructure necessary to support the multiple generations of Somali refugees that live there: markets, schools, and health clinics function much as they would in any other city. Dadaab is governed by elected local leaders, chosen to represent their peers with the aid agencies who coordinate service delivery in the camps.
This is not the first time that the Kenyans have made overtures to close Dadaab, though the call usually comes in the wake of a devastating terror attack, as was the case after both al Shabaab's April 2015 assault on Garissa University College and its September 2013 attack on Westgate Mall in Nairobi. Previous calls for Dadaab's closure were largely dismissed as attempts to score cheap political points with a portion of Kenyan population that harbors an unfavorable opinion of Somali refugees, or to compel international donors to increase funding. This month's announcement may be another such ploy.
There are, however, troubling signs that the Kenyan government may be more serious this time. Hosting more than half a million refugees is no small feat, and Kenya is rightly frustrated by the economic, security, and environmental costs of hosting a massive refugee population, particularly amid an increasingly limited global appetite to fund such humanitarian initiatives in Africa. Unlike in previous cases, Kenya recently disbanded its Department of Refugee Affairs and set aside $10 million for closing Dadaab, announcing that the first waves of resettlement will happen in November, with all repatriation finalized by May 2017.
Kenya points to the growing threat posed by Somali terror group al-Shabaab, including claims that the group operates, recruits, and smuggles contraband through Dadaab, to justify the complex's closure. To some extent, this has been true in the past—in 2011 and 2012, humanitarian aid workers withdrew from Dadaab following a series of kidnappings, attacks, and roadside bombs orchestrated by al Shabaab operatives. But the security situation in the camps has improved since then, and the government has never provided any proof linking Dadaab to the Garissa or Westgate attacks.
More importantly, closing the Dadaab camps is not a silver bullet for Kenya's security woes. Al Shabaab has proven its ability to operate in northeastern Kenya time and again, as well as its appeal to youth—both Kenyan and Somali. Without also significantly improving the political and security atmosphere inside Somalia, there is little to suggest that closing Dadaab would make Kenya safer. If anything, a hasty dismantling of Dadaab, which could forcibly relocate some 350,000 refugees—some of whom have spent their entire lives in Dadaab and never set foot in Somalia—might increase insecurity in Kenya. Nearly 60 percent of Dadaab's refugees are under the age of seventeen, and nearly half of the youth are boys, traditionally the most vulnerable population to extremist recruitment. The difficulty of securing Kenya's porous 425-mile border with Somalia remains a serious challenge for both countries. Notwithstanding a Kenyan proposal to build a physical wall between the two countries, there are few plans to sustainably control migration following a large-scale return of refugees to Somalia.
Already, Al Shabaab employs allegations of discrimination and harassment against ethnically Somali Kenyans and Somali refugees in its recruitment efforts. Closing Dadaab would further exacerbate the existing grievances of Somali communities living elsewhere in Kenya, thereby strengthening al Shabaab's hand.
To justify their decision legally, the Kenyan government cited a Tripartite Agreement between Somalia, Kenya, and the United Nations High Commissioner for Refugees. While this agreement does, as Kenya claims, provide a framework for repatriation of refugees, the agreement stresses the voluntary nature of any refugee returns to Somalia. As forced repatriation violates the non-refoulement principle of the Geneva Convention and Protocol Relating to the Status of Refugees, it is unclear how the Kenyan government would deal with those refugees who do not wish to return (to date, only 5,000 refugees have taken advantage of the agreement to voluntarily return to Somalia), and how it would keep repatriated refugees from re-entering Kenya. Of note is Interior Principal Secretary Karanja Kibicho's defiant statement, "Our national interest is superior to our international obligations."
There are also logistical complexities to closing Dadaab. Families with several generations who have been born, grown up, and acquired property live in the camp, which has its own governance structures and service providers. Moving a city roughly the size of Minneapolis, Minnesota, will be enormously complicated—all the more so if most of the residents do not want to leave. The question of what happens to the camp's basic infrastructure—thousands of buildings, tents, and water, sanitation, and waste disposal infrastructure—is an important one, and how the transition will affect Kenyans living in nearby Dadaab town merits serious consideration.
Closing Dadaab could also prove costly, as many Kenyan businesses supply the international aid organizations working there, thereby contributing to a beneficial ripple effect throughout the Kenyan economy. Estimates suggest that closing the camp could cost the country 10,000 jobs and some $99 million annually in foreign currency flows. From the sale of livestock alone, Kenyan host communities earn around $1.8 million annually from camp consumers. Dadaab itself does some $25 million in internal business every year.
The international community is not blameless in this scenario. Annual financial appeals for humanitarian efforts in Kenya have been consistently underfunded (only 38.9 percent in 2015) and there is no doubt that supporting Dadaab saddles Kenya with a heavy burden. Kenya is clearly taking cues from the West's contentious debate on refugees, noting specifically Europe's "unprecedented efforts to limit refugee flows" from Syria in wake of security concerns and suggesting that Kenya must take the same drastic measures.
Furthermore, while the internal security situation in Somalia remains volatile, in 2013 the United States recognized the country's government for the first time since 1991 and quietly lifted the two-decade suspension on deporting Somalis back to the country. The United Kingdom and France have also recognized the government, and both countries now have Ambassadors to Somalia. This surge in diplomatic relations—at least rhetorically—now presents the international community with a conundrum: Kenya is calling the West's bluff, suggesting that Somalia is safe enough for refugees to return.
Is Kenya serious about dismantling Dadaab this time? The country appears more determined than ever before to move forward with its plan. But it faces an uphill battle not only amid resistance from the international community and Somali refugees, but also from the acute and complex challenges posed by the world's largest refugee camp. More important still, it's unlikely that breaking down the camps will achieve the objective of "securing Kenya." Instead, it will garner substantial international condemnation, especially from Europeans who will be worried that uprooted refugees forced back to Somalia will continue toward Europe, and distract from the broader challenges which terrorism and extremism pose to Kenya.
Kelsey Lilley is Associate Director of the Atlantic Council's Africa Center and Julian Wyss is a Program Assistant with the Atlantic Council's Africa Center.