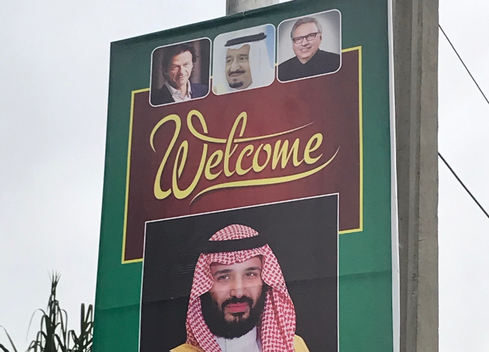 For years, the Pakistani government has avoided taking sides between rivals Iran and Saudi Arabia, but now it may be forced to choose. Pakistan is in dire need of financial support and the Saudis have the means to help. Will Pakistan accept the strings attached to Saudi generosity?
Saudi Crown Prince Mohammed bin Salman (MBS) has viewed Asia as part of "Saudi Arabia's visionfor the future." His trip across Asia this month had a short-term goal as well: repairing a public image badly damaged by the Yemen war and the gruesome murder of journalist Jamal Khashoggi.

MBS went first to South Asia, a region that has been Iran's refuge. Thanks to US and international sanctions over the past forty years aimed at isolating Iran, Tehran has gravitated toward South Asia. The renewal of US sanctions over Iran's nuclear program has pushed Iran further in that direction.
Within South Asia, MBS chose Pakistan as his first stop. This country neighbors Iran in the volatile Baluchistan region. For decades, Baluchistan has been prone to insurgencies on both sides of the Iran-Pakistan border. In fact, just days before MBS's trip to Pakistan, a suicide bombing near the city of Khash killed at least twenty-seven members of Iran's Islamic Revolutionary Guard Corps (IRGC). Iran charges that the Trump administration and Saudi Arabia are supporting armed opposition groups at a time when the Iranian government is already facing dissatisfaction over inflation, unemployment, and other economic woes.
Pakistan, although not subject to the sort of draconian sanctions that throttle Iran, is also in poor economic condition. Islamabad has struggled to obtain financial relief from the International Monetary Fund, has seen Washington reduce its aid because of its failure to rein in terrorist groups, and may be getting too costly for its main foreign benefactor, China. So Prime Minister Imran Khan had no other choice but to turn to Saudis. He has already traveled twice to Saudi Arabia since becoming prime minister last August. He made his first visit at a time when the Saudis were under heavy international criticism over the Khashoggi killing.
The high point of MBS's trip was his unusually warm welcome in Islamabad. Days before his arrival, banners commemorating the fortieth anniversary of the Iranian revolution—which touted the "long and historic friendship between Iran and Pakistan"—were replaced with placards welcoming the Saudi crown prince. This is somewhat ironic, given that Khan and his Pakistan Tehrik-e-Insaf (PTI) party fiercely opposed Pakistani participation in the Yemen war. PTI also opposed the appointment of retired Pakistani General Raheel Sharif to lead a Saudi-based Islamic Military Alliance to Fight Terrorism (IMAFT), arguing that this group could negatively impact the Shia-Sunni divide in Pakistan. PTI also expressed concern that it could affect Pakistan's relations with Iran, Russia and Turkey.
Despite Pakistan's refusal to send troops to Yemen, MBS pledged $20 billion investment in Pakistan.
It seems Pakistan expects Iran to understand the difficult financial position in which Islamabad finds itself. Iran's ambassador to Pakistan stated recently that any investments by Arab states in Pakistan is Islamabad's internal issue and Iran respects Pakistan's sovereignty. However, Iran's understanding and patience are wearing thin, due to the Baluch insurgency, which Iranians increasingly believe is based in Pakistan. Iran has accused Arab Persian Gulf states of supporting insurgencies in its border regions, including Baluchistan, and believes that at the very least elements within the Pakistani government are ignoring the repeated infiltration of Baluch insurgents into Iran from the Pakistani side of the border.
Baluchis, who are Sunni Muslims, struggle with poverty and economic hardship, and have long experienced broad discrimination which has left them vulnerable to radicalization. Many also turn to smuggling and drug trafficking and the Iran-Pakistan border has become a major route for illicit commerce.
Baluchistan has been home to armed insurgent groups including Jundullah and Jaish al-Adl. Both have carried out a number of attacks on the Revolutionary Guards as well as civilians. The leader of Jundullah, Abdul-Malik Rigi, was executed by Iran in 2010.
Instead of investing in Sistan and Baluchistan province and involving religious and local leaders in the fight against insurgencies, the Iranian military and the IRGC have militarized the region. The Iranian government has generally blamed every attack in the province on foreign-backed Wahhabi-Salafi groups ignoring its own responsibility for the rise of insurgencies through discriminatory policies.
Could Iran retaliate by supporting Baluchi insurgents in Pakistan? Perhaps. Neither Tehran nor Islamabad has overtly tried to use the Baluch insurgency to destabilize the other, but if the Iranians believe Pakistan is doing so now they may attempt to retaliate in kind. This would inflame the region further. The degree to which the Iranian government is willing to tolerate Khan's coziness with the Saudis may depend on the extent of Islamabad's cooperation with Iran in fighting these Baluch insurgents.
It's noteworthy that former Pakistani Prime Minister Nawaz Sharif, who was considered one of the most pro-Saudi leaders in Islamabad, left the decision to deploy Pakistan's troops in Yemen to parliament, where it was unanimously rejected. He did so even though the Pakistani constitution gives the prime minister the authority to deploy troops. Now, people close to Khan claim there are no strings attached to new Saudi loans and investments. In fact, the Saudis recently made a couple of additional gestures toward Pakistan, releasing thousands of Pakistani prisoners who had been jailed in the kingdom for minor crimes and increasing Pakistan's Haj quota to 200,000 from 184,000.
The issue of concern to many Pakistanis is that these Saudi investments are not necessarily being made in response to Pakistan's needs but in response to MBS's political crisis. Pakistan needs money and MBS needs international approval. There has been some resistance to these investments in Gwadar port in Pakistan. Some farmers and fishermen in the region have expressed concern over planned projects in Baluchistan, fearing it could prejudice their future livelihood. A planned refinery may also face local opposition.
Pakistan has tried to keep a balance in relations with Iran and its rivals. When Sharif—who resided for many years in Saudi Arabia—became prime minister, many expected a downturnin Iran-Pakistan relations. In fact, Sharif neither strengthened nor weakened these ties. It would be surprising if his successor damaged them now.
Pakistani officials say that the Saudis have no hidden agenda. It would posea dilemma for Khan if there were, and if it had to do with Iran. Pakistan could be asked again to play a role in Yemen, for example. Islamabad did send troops to guard the Saudi-Yemeni border and a year ago, agreed to send additional forces there. Iran will be watching to see if Pakistan's military involvement with the Saudis expands or if Pakistan sends troops into Yemen itself. Such a move would be damaging to Khan's government as well, since the Yemen war is not popular in Pakistan, whose population is as much as 20 percent Shia Muslim.
Fatemeh Aman is a nonresident senior fellow in the Atlantic Council's South Asia Center. Follow her on Twitter @FatemehAman.