The Levinson Act means all Americans must return home—not just citizens
On August 10, US Secretary of State Antony Blinken announced that the United States (US) reached an agreement with the Islamic Republic of Iran (IRI) to release five Iranian-American citizens whom the IRI had detained on unsubstantiated charges: Siamak Namazi, Emad Sharghi, Morad Tahbaz, and two individuals—reportedly a scientist and a businessperson—who have not been publicly named. As a "first step," four of the individuals have been moved to house arrest while the fifth had already been under "home confinement."
According to reports, the US plans to release "several" detained Iranians in return, and will eventually allow the IRI to access about $6 billion in frozen Iranian oil revenue held in South Korean banks. The US government has not confirmed these details, though it has indicated that there would be restrictions on the use of funds if they were released.
The released hostages are victims of the IRI's escalating practice of hostage-taking, and their return is undoubtedly welcome news to their families and loved ones. However, many have criticized the deal as constituting a ransom payment, incentivizing Tehran's hostage-taking model. Furthermore, the State Department made it clear when discussing the deal that American citizens—as opposed to US permanent residents and US residents still detained in Iran—were the priority:
"But let me just be very clear about this so there is no confusion: Every US citizen wrongfully held in Iran has been released on house arrest as part of the news that we shared last week…What this is about, ultimately, though…is about bringing American citizens home. And…we hope that at the end of this process, these five American citizens will be able to come back to the United States, and that's what we're going to continue to work for."
US special envoys for Iran have indicated they have a role in agreements related to US hostages in Iran. However, the Special Presidential Envoy for Hostage Affairs (SPEHA), the Hostage Recovery Fusion Cell (HRFC), and the Hostage Response Group (HRG) generally handle hostage cases for US nationals and establish US policy on the matter. Their roles—and some of the tools at their disposal—were codified under the Robert Levinson Hostage Recovery and Hostage-Taking Accountability Act ("the Levinson Act").
Who was Robert Levinson?

Robert Levinson was a retired Federal Bureau of Intelligence (FBI) agent who was abducted in 2007, presumably by the IRI, after traveling to Iran's Kish Island in the Persian Gulf for business. A US court found that "Iran's kidnapping of Levinson qualifies as a hostage-taking," with "the likelihood that Iran tortured him [at] 'almost one hundred percent.'" The UN's Working Group on Arbitrary Detention likewise found that he had been arbitrarily detained and that it was "clearly impossible to invoke any legal basis justifying the deprivation of [his] liberty." In March 2020, Levinson's family announced that they received information indicating that he died in Iranian custody. In large part due to his family's advocacy, the Levinson Act was signed into law in December 2020.
Why was the Levinson Act introduced?
In 2015, President Barack Obama called for a review of the US policy on hostage-taking. Based on this review, he published Executive Order 13698 (EO 13698) and Presidential Policy Directive 30 (PPD-30).
PPD-30 laid out the US approach to hostage-taking. EO 13698 also established the SPEHA, HRFC, and HRG. These were tasked with coordinating to better secure the release of hostages, support hostages' families, secure criminal prosecutions of hostage-takers, and otherwise promote US national and security interests.
The HRFC was created within the FBI to coordinate with agencies to "secure the safe recovery" of US nationals held hostage abroad and to coordinate the US response to other hostage-takings where the US has a "national interest."
The HRG was to be convened as necessary to help secure the release of "US nationals held abroad" and was tasked with identifying hostage recovery options and strategies and coordinating the development and implementation of policies, strategies, and procedures related to hostage recovery.
The SPEHA was tasked with leading diplomatic engagement on US hostage policy and coordinating "diplomatic engagements and strategy in support of hostage recovery efforts."
The Levinson Act was then introduced to establish a framework for determining what cases fall under the "unlawfully or wrongfully detained" (i.e., hostage) umbrella, as well as to codify the establishment of the SPEHA, HRFC, and HRG, and create the possibility of targeted sanctions for perpetrators of hostage-taking.
What does the Levinson Act do?
First, the Levinson Act lays out the criteria for which the secretary of state can determine whether nationals detained abroad are detained "unlawfully or wrongfully" by either a "foreign government or a non-governmental actor" based on "credible information." This determination is crucial because the secretary of state can then "transfer responsibility for such case" from the Bureau of Consular Affairs to the SPEHA—if the "totality of the circumstances" indicates that a person has been detained unlawfully or wrongfully—ensuring the case receives the expertise and resources required.
Second, the act requires the secretary of state to provide an annual report to Congress on US nationals determined to be unlawfully or wrongfully detained. Additionally, the secretary of state must also supply "resources guidance in writing for government officials and families of unjustly or wrongfully detained individuals."
Third, it codifies the establishment of the SPEHA, HRFC, and HRG. These largely mirror EO 13698, but slight changes exist, especially in further defining responsibilities to support hostages' families.
Finally, the act provides that the president "may" impose targeted sanctions "on those responsible for or complicit in…the hostage-taking…or the unlawful or wrongful detention" of a US national abroad. President Joseph Biden implemented this provision, with minor changes, in Executive Order 14078 (EO 14078) in July 2022.
How has the Levinson Act been used so far?
Since 2020, families of hostages have reported that they have "increasingly benefitted from the US government's 2015 policy reforms," with "the Levinson Act… viewed as a substantial move in the right direction," especially around improved prioritization of wrongful detention cases. The US has publicly indicated that the SPEHA was involved in the release of Brittney Griner and Trevor Reed from Russia, seven hostages in Venezuela, and Paul Rusesabagina from Rwanda. It also released its first and so far only sanctions designation under EO 13078 in April, designating the Islamic Revolutionary Guard Corps Intelligence Organization (IRGC-IO), four IRGC-IO officials, and Russia's Federal Security Service.
Despite these successes, former hostages and their families have also highlighted certain critiques. These include calls to use the term "hostage" instead of "wrongfully detained" individuals and concerns about the disorganization of the US system.
What comes next?
Despite the US's efforts, the five released hostages are not the only US nationals held overseas, nor are they the only hostages in Iran. The James Foley Foundation lists fifty-nine publicly disclosed American hostage and wrongful detention cases. Hostage Aid Worldwide identified at least twenty hostages in Iran besides the five due to be released in last week's deal. Between 2010 and 2022, the IRI detained sixty-six foreign and dual nationals, with forty arrested during the anti-establishment protests that followed Mahsa Jina Amini's death in September 2022.
In fact, the IRI is holding at least three other hostages who may be considered nationals under the Levinson Act: Shahab Dalili, who holds a Green Card, Afshin Sheikholeslami Vatani, a US permanent resident, and Jamshid Sharmahd, a US resident. The Levinson Act defines "United States national" as a US national as defined in 8 US Code § 1101(a)(22) and 8 US Code § 1408, or as "a lawful permanent resident alien with significant ties to the United States." The US State Department has also confirmed this definition applies to non-US citizens.
Dalili and Vatani are therefore nationals under the act. Dalili's lawyer, Jason Poblete, has made clear that Dalili also meets the criteria of a "wrongfully detained" person under the act despite the State Department's failure to classify him as such. In Sharmahd's case, Poblete has highlighted the US's "duty" to secure his release, but the US has said it views it as a matter for Germany, as he is a German citizen. Regardless, Sharmahd's case is especially dire, as he has been sentenced to execution. Inaction in the Sharmahd matter would set a concerning precedent for dissidents everywhere, since he was abducted from the United Arab Emirates and renditioned to Iran due to his exercise of protected political speech.
The Levinson Act provides the government with critical processes and resources. These not only ensure that hostages are returned home but also shape US policies around hostage-taking, support the loved ones of those taken hostage, and promote accountability. However, these tools are limited and imperfect and, unfortunately, much of the information on government decision-making is necessarily confidential.
As the use of state-sponsored hostage-taking by authoritarian states continues to increase, the US government—especially the SPEHA, HFRC, and HRG, but also the president and legislators—must protect current hostages and prevent the taking of others by using the avenues provided under the Levinson Act and by evaluating and revising their methods.

Celeste Kmiotek is a staff lawyer for the Strategic Litigation Project at the Atlantic Council. The Strategic Litigation Project works on prevention and accountability efforts for atrocity crimes, human rights violations, and corruption offenses around the world.
Further reading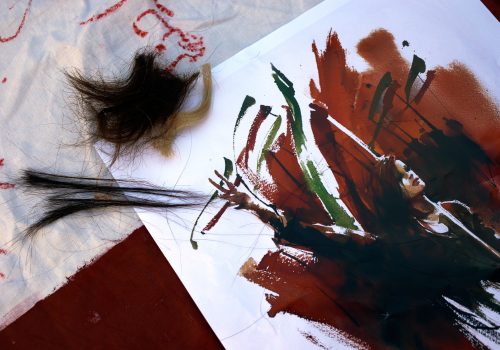 Thu, Oct 13, 2022
IranSource By John Limbert
Iran's obli­vious aging rulers have, like Jason, gone too far. Now they must face a million Medeas with no thought of forgiving and determined to have their revenge.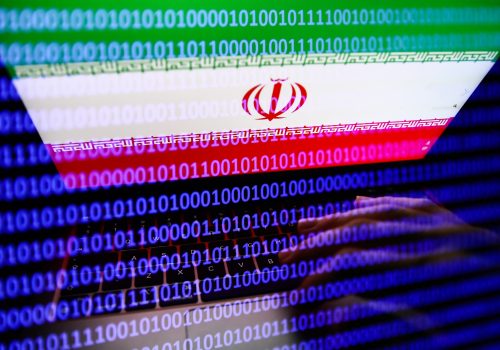 Wed, May 24, 2023
IranSource By Borzou Daragahi
This new form of transnational repression by Iran has alarmed security professionals and governments worldwide.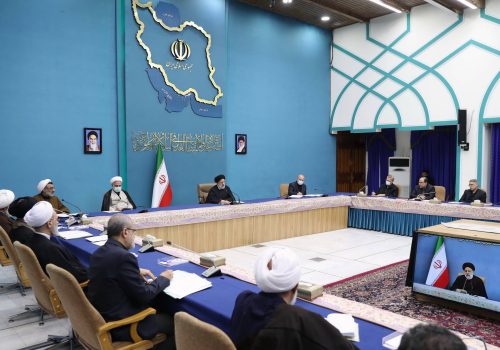 Wed, Jul 26, 2023
IranSource By Celeste Kmiotek, Lisandra Novo
The United Kingdom designated the Supreme Council of the Cultural Revolution and its new secretary, Abdol Hossein Khosrow Panah, on July 6.