Iran targeted human rights sanctions series: UK designates the Supreme Council of the Cultural Revolution
Targeted human rights sanctions are, in short, a tool governments use to freeze the assets of and deny visas to those complicit in human rights violations. While they are generally intended to prompt offenders to change their behavior, they have additional effects. For example, preventing perpetrators from obtaining the tools needed to continue abuses and showing support for victims. However, the Atlantic Council's Strategic Litigation Project (SLP) has heard from multiple sources that many people in affected communities—including the Iranian community—do not have sufficient information, especially in their native language, about these measures and what they mean.
Based on this feedback, this blog series was started to highlight important information about targeted human rights sanctions as they relate to the Islamic Republic of Iran; major updates on Iranian perpetrators who have been sanctioned for human rights abuses and why; and any other information that may be relevant to affected communities. Input is welcomed from readers, particularly in Iranian civil society, for questions and topics that should be addressed.
Background
The Supreme Council of the Cultural Revolution (SCCR) is an unelected body that answers exclusively to Supreme Leader Ayatollah Ali Khamenei. It not only designed and enacted policies to more heavily enforce compulsory hijab, but it also created the morality police and then ordered it to enforce these rules. Since the appointment of a new secretary, Abdol Hossein Khosrow Panah, in January, it has continued to increase surveillance and enforcement. On July 17, authorities announced that the morality police were "resuming public patrols to enforce" Iran's dress code. By that evening, there were reports of morality police patrolling and arresting people.
What the sanctions designations say
The European Union (EU) designated the SCCR and Khosrow Panah on March 20, followed by the United Kingdom (UK) on July 6. The UK found that the SCCR was "responsible for" and "engag[ed] in, provid[ed] support for and promot[ed] violations of the right to liberty and security and the right to freedom of expression through determining and enforcing mandatory dress codes for women, including the use of unreasonable force against individuals they deem to be non-compliant." It further found that Khosrow Panah was "responsible for" and "engag[ed] in, provid[ed] support for and promot[ed] violations of the right to freedom of expression, through his role as Secretary" of the SCCR. The president chairs the SCCR—currently President Ebrahim Raisi—but the secretary is elected from the body's members and holds a leadership role within the institution.
The EU made a similar determination, stating that the SCCR "promoted several projects undermining the freedom of girls and women, setting limits on their clothing and education" and that "[i]ts decisions have also discriminated against minorities, such as the Baha'i." It further found that the SCCR "is a vehicle for promoting the current regime's policies."
These findings are consistent with the SLP's analysis of the SCCR's and Khosrow Panah's roles in human rights violations. Specifically, the SLP found that they were responsible for violating the right to freedom of expression. Additionally, the SLP found that, by instituting policies that they could have reasonably foreseen would be enforced by the morality police with excessive force, the SCCR—and, for violations subsequent to his appointment, Khosrow Panah—were also responsible for violations of the rights to life, to be free from torture, and not to be subjected to arbitrary detention.
Of the countries that regularly issue targeted sanctions for human rights violations in Iran, the United States (US), Canada, and Australia have not yet designated either the SCCR or Khosrow Panah.
Why these designations are important
Designating the SCCR shows that the EU and UK are gathering information on government bodies and the roles they play in the Islamic Republic of Iran's different abuses. By looking at the broader picture of the regime's organization—rather than focusing on discrete cases against a list of individuals—jurisdictions will better understand its overall machinery. They can then form a clear, thorough picture of the responsibilities of each entity and individual, as well as how they interact with one another.
In turn, this allows the EU and the UK to focus on perpetrators beyond those publicly at the forefront of the Iranian government's repression—for example, those on the ground leading security forces—to those playing a critical but less obvious role, such as Khosrow Panah. These actors may be less likely to expect international attention on their actions due to the complex and opaque nature of the bodies on which they sit, despite playing a critical part in the overall apparatus of discrimination and abuse.
With this information, the EU and UK can then expand their efforts vertically—to include other members of the SCCR—or horizontally—to include other government bodies and institutions that work with the SCCR.
What do the designations mean in practice?
The EU and UK sanctions regimes impose similar penalties on sanctioned people and entities. These penalties include asset freezes and immigration restrictions. But what do these restrictions entail? An asset freeze means monetary assets like bank accounts and non-monetary assets like property cannot be made available to the designated person or entity directly or indirectly, like through a third party (such as a business associate or family member). There are certain exceptions to this, like allowing access to funds necessary to cover basic needs (food, water, shelter, etc.). Additionally, EU and UK citizens are forbidden from making funds or assets available to these designated individuals and entities. This means that if the SCCR, Khorow Panah, or any other designated individuals and entities have any assets in the UK or EU member states, they cannot access them anymore. They also cannot acquire any new assets in the UK or EU member states now that they have been sanctioned.
Immigration restrictions only apply to designated individuals—not to entities (or to members of a designated entity, as these people would have to be individually sanctioned for penalties to apply to them). Essentially, these restrictions amount to a travel ban. Designated individuals cannot travel to, or even through, if transiting, the jurisdiction that has sanctioned them. If they already had some sort of permission to be in the country, it is revoked. In this case, this restriction does not apply to the SCCR, as it is an entity, and only members of the SCCR that have themselves been individually designated, like Khosrow Panah, would be subject to these restrictions and banned from traveling to or through the UK and EU member states.
What steps could come next?
In the immediate term, Australia, Canada, the US, and other countries with targeted human rights sanctions regimes should designate the SCCR and Khosrow Panah. Without multilateral coordination between these jurisdictions, anyone designated can simply move their activities to other jurisdictions where they have not been sanctioned.
Additionally, the EU and UK should take care to check whether either the SCCR or Khosrow Panah hold assets within their jurisdictions. For example, Khosrow Panah's predecessor, Seyed Saied Reza Ameli Renani, held a business interest in London until June 14, when he resigned as director. While no reason for the resignation is given, Canada had sanctioned Ameli Renani a few months earlier. Additionally, the UK sanctioned the SCCR and another organization with which Ameli Renani remains affiliated, the Supreme Council of Cyberspace, less than a month after his resignation from the UK business.
Especially if there are assets, authorities should prioritize enforcement (i.e. ensuring that the SCCR and Khosrow Panah cannot access them). They should also pursue other appropriate legal avenues that become available.
Finally, both jurisdictions should use these designations to continue mapping the Iranian infrastructure and institutions developing and enshrining similar harmful policies. This will, first, help inform future designations against other Iranian government bodies. Second, such information can be provided to government bodies in other countries to launch domestic proceedings more swiftly should either designated individuals or their colleagues belonging to designated entities travel to allied countries where they are not yet sanctioned.
Celeste Kmiotek is a staff lawyer for the Strategic Litigation Project at the Atlantic Council.
Lisandra Novo is a staff lawyer for the Strategic Litigation Project at the Atlantic Council.
Further reading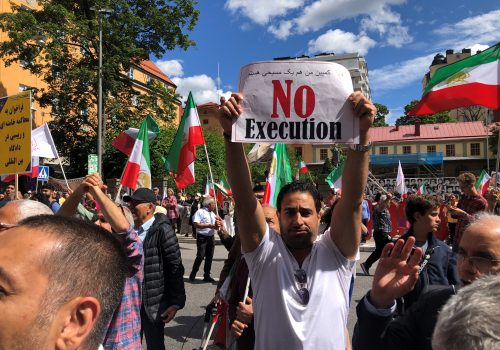 Tue, Jul 26, 2022
IranSource By Celeste Kmiotek
July was bittersweet for human rights lawyers and activists, particularly those working on Iran. On July 14, the Stockholm District Court announced that former Iranian official Hamid Nouri was found guilty of war crimes and mass murder and was sentenced to life in prison.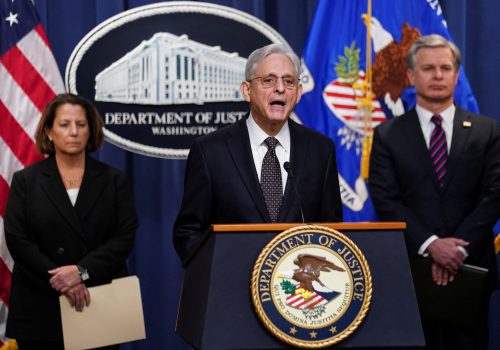 Fri, Jan 27, 2023
New Atlanticist By Atlantic Council experts
The US Department of Justice unsealed charges Friday in an alleged assassination plot directed by Iran against a US journalist. Our experts unpack the ongoing threat.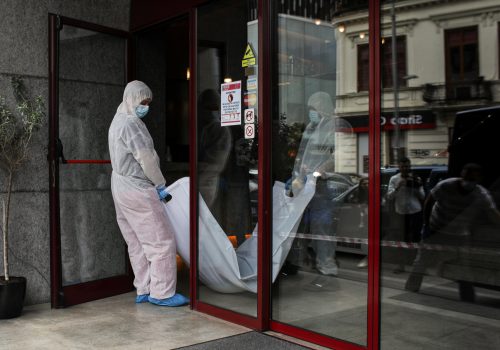 Tue, Jul 21, 2020
IranSource By Gissou Nia and Amanda Ghahremani
It is now time for Europe to renew its commitment to prosecuting international crimes, especially as Iranian survivors increasingly become European citizens and residents.