When it comes to great power competition in Africa, one competitor is missing: Iran
In mid-December 2022, President Joe Biden invited the leaders of African countries to a summit in Washington. There, they discussed cooperation with the United States regarding solutions to the economic, civil, and security problems accompanying the African continent.
The summit and recent visits by high-ranking Biden administration officials to Africa were the culmination of an effort led by the White House to strengthen the relationship between the United States and the African continent in a wide variety of aspects.
This approach by the Biden administration is quite different from the one adopted by the Donald Trump administration, which saw the continent as a playground for superpower rivalry between China, Russia, and the United States. As part of this great power competition, the Biden administration seeks to enhance diplomatic, economic, and security cooperation to block Chinese and Russian influence in Africa.
However, one area both administrations completely ignore is Iran's growing influence on the continent and the need to formulate a policy that will work to limit Tehran's freedom of action in Africa.
Since the Islamic revolution in 1979—and even more so following the heavy political pressure on Tehran—Africa has become an attractive continent for the Islamic Republic. Iran views the African continent as a "battleground" for influence, power, and territory against Saudi Arabia, and has also sought to counter Western influence—particularly that of the United States—within Africa, working with elements that are opposed to colonialism and seeking to chart a more independent course.
Moreover, Iran seeks to utilize their worldwide network of religious and cultural organizations, including universities and charities, to increase its influence over the vast Shia minorities in Africa, using them for political support, fundraising, and even to recruit to terrorist cells.
But Iranian terrorist activities in Africa are not the only problem. Iran is not hesitating to interfere in the internal affairs of many African countries to preserve its interests and protect the individuals who serve its policies. A prominent example is the unprecedented Iranian involvement in 2019 to free Shia cleric Sheikh Ibrahim Zakzaky from his detention in Nigeria, with Iran using its control on Hausa TV to push for his release.
The Iran-West Africa Economic Summit in Tehran, which was held on March 7, is another indication that Iran is seeking to enhance its relations with African countries and strengthen its foothold, especially in the west of the continent. This is part of President Ebrahim Raisi's vision regarding relations between West African countries and Iran, which was exemplified in his visit to Guinea-Biassau in August 2021, when he pledged to continue expanding ties between Iran and the continent. In many regards, this activity resembles the policy of President Mahmoud Ahmadinejad in Africa, which sought to improve relations significantly.
Apart from Iran's traditional interests in Africa, several new ones have emerged that must be considered in the context of preventing Iran from consolidating its interests in the continent.
First and foremost is the campaign that Tehran is waging against US allies in Africa that dared to take part in the normalization efforts with Israel: Sudan and Morocco. In order to achieve this goal, Iran has enhanced its military and diplomatic ties with Algiers and increased military aid to the Polisario Front in Western Sahara. The latter contribution has improved the front's ability to inflict severe damage on the Moroccan army and challenge Moroccan control over the territory. Iran is also working in Mauritania and sees this country as a priority zone for its influence schemes in the Sahara region, which is extremely important for Moroccan security.
In the case of Sudan, Iran's bid to further its influence in the strategic Horn of Africa suffered after Khartoum joined the Abraham Accords. In order to change this negative trend, Iran is blaming Israel for causing political instability in Sudan's domestic issues. Furthermore, Iran is still actively trying to spread its Shia doctrine in the country while conspiring to create a political vacuum in Sudan that will weaken the forces who agreed to sign a normalization agreement with Israel.
Through its actions, Tehran is demonstrating that there is a price for joining the Abraham Accords and that it can pose a direct or indirect threat to Sudan and Morocco. Iran is also conducting a powerful political campaign to prevent Israel from enhancing its relations with other African countries and improving its diplomatic presence in various African institutions, such as the African Union.
In addition to the illegal arms smuggling network that Iran managed to build in the Horn of Africa, which allows Tehran to smuggle weapons to the countries of the continent, it also appears to be planning to significantly increase its sales of Unmanned Arial Vehicles (UAVs) to the African continent. Evidence of this can be seen in Iran's involvement in the civil war in Ethiopia and the sale of Mohajer-6 UAVs to the Ethiopian army.
Against the background of Iranian involvement in Ukraine and Tehran's desire to increase sales of its military equipment in the war in Ukraine, Africa is a natural continent for this desire, and the transfer of these capabilities to the Polisario Front constitutes another indication of that.
Third, there is a need to pay close attention to the plots that were revealed in several African countries after the assassination of Quds Force Commander Qasem Soleimani in January 2020—the foiled plot to assassinate the US ambassador in South Africa, chief among them. During the past year, several plans were discovered in which Iran sought to harm American or Israeli interests in Africa or use its presence in the continent to recruit terrorists.
In order to protect its allies in Africa and preserve its interests in the continent, the Biden administration cannot focus solely on the growing presence of China and Russia. It must also consider Tehran's deepening foothold in Africa, which is a growing challenge to US policy on the continent. The administration must prepare an orderly work plan with the cooperation of African countries—and possibly Gulf countries—that are very disturbed by Iranian expansion. The goal of this would be to reduce Iranian influence in Africa and prevent Iran from using African countries to achieve its interests.
Looking to the future, Africa will continue to be an attractive target for Iranian policy under Raisi. Without a well-thought-out action plan, the US will have minimal ability to push Tehran out of Africa and prevent it from coordinating with China and Russia, with the latter having engaged in an unprecedented rapprochement with Tehran in recent months. Thus, countering Iran's influence in Africa must become a priority for the Biden administration sooner rather than later.
Danny Citrinowicz is a nonresident fellow with the Atlantic Council's Middle East Programs. He served for twenty-five years in a variety of command positions units in Israel Defense Intelligence (IDI) including as the head of the Iran branch in the Research and Analysis Division (RAD) in the Israeli defense intelligence and as the division's representative in the United States. Follow him on Twitter: @citrinowicz.
Further reading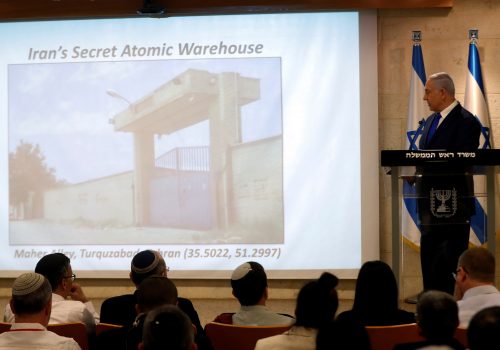 Thu, Mar 30, 2023
IranSource By Danny Citrinowicz  
The Israeli government must understand that there is a need to dissociate between the nuclear issue, which has only a diplomatic solution, and Iranian malign activities.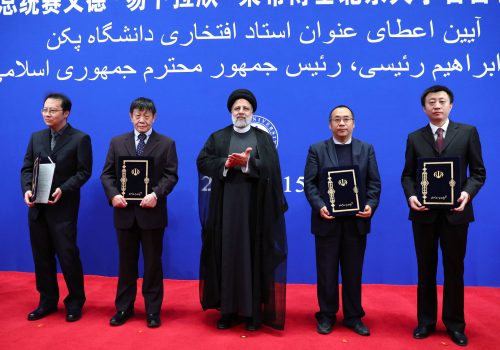 Wed, Feb 22, 2023
IranSource By Jonathan Fulton
From February 14-16, Iranian President Ebrahim Raisi was in Beijing for his first foreign trip of the year and the first official visit to China for an Iranian leader in twenty years.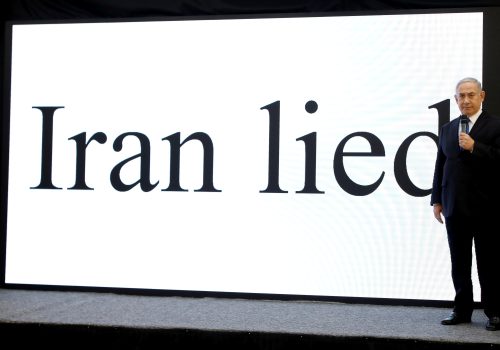 Thu, Jan 19, 2023
IranSource By Danny Citrinowicz  
The biggest problem that Israeli Prime Minister Benjamin Netanyahu has today is the fact that he will have a tough time rallying the Joe Biden administration.