AlDhabi AlMheiri: Meet the nine-year-old driving change in the UAE, one book at a time
In June, the Atlantic Council's Rafik Hariri Center for the Middle East onboarded eighty-six fellows recipients of its 2023 WIn Fellowship for Bahrain, Saudi Arabia, and the United Arab Emirates (UAE). The fellows are set to receive a year-long executive education program from Georgetown University McDonough School of Business, which will be complemented with mentoring and networking opportunities across the region and industries. The fellowship has the support of the United States embassies in the respective countries and PepsiCo in Saudi Arabia. Mouza Aldarmaki, co-founder of Rainbow Chimney Bookshop & Publishing House, has been chosen as one of the distinguished fellows for our UAE cohort this year. Excitingly, her nine-year-old daughter and fellow co-founder, AlDhabi AlMheiri, will join and accompany her throughout the fellowship journey.
AlDhabi is the youngest Emirati entrepreneur and youngest publisher. She also holds a Guinness World Record for being the youngest person to publish a bilingual book. Our MENASource editor, Holly Dagres, talked to her on August 9 to discuss her remarkable entrepreneurial journey and explore her achievements.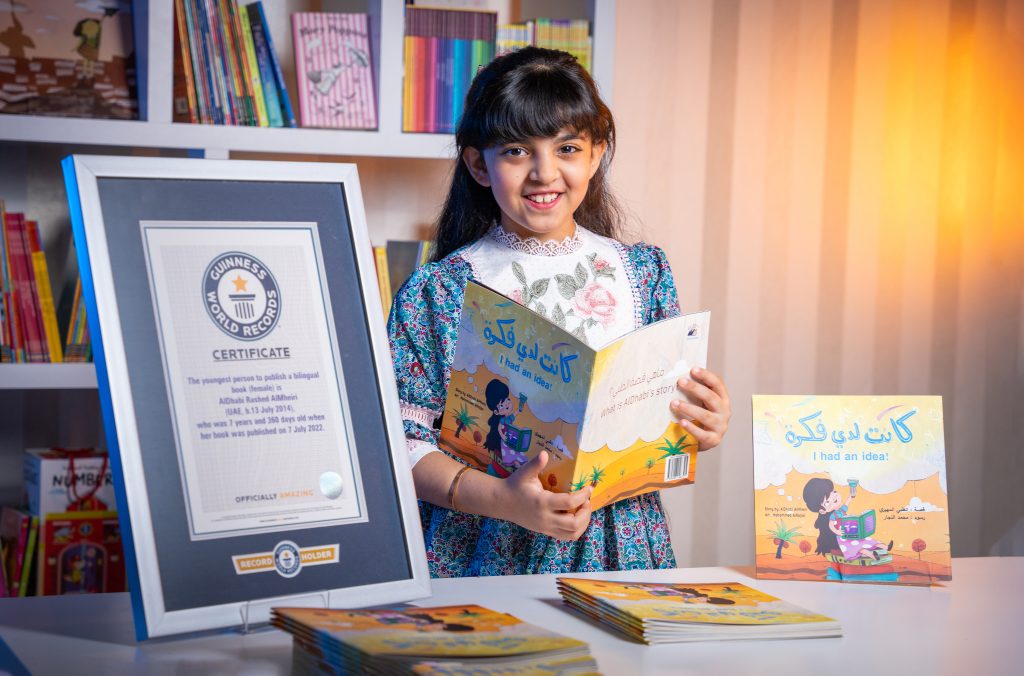 MENASOURCE: How old were you when you started reading?
ALDHABI ALMHERI: So, to be honest, my mom started to read me books when I was still in her tummy. When I was about six to seven months, I started to sound out the words and read along with the story. My mom used to say, maybe a sentence like, "A rabbit went for a walk," and I would sound out the letters. When I was two or three years old, I started to read by myself.
One of the best things is that every time I open a book, I always know there's a meaning, and that's why I enjoy books so much because they have a message. So, I feel that books are really interesting, to be honest. And they're also really fun since there are nonfiction and fiction books.
MENASOURCE: You reportedly read 1,200 books by the time you were six. What were some of your favorites?
ALDHABI ALMHERI: Well, to be honest, when I was six years old I had read 1,200 books, and when I was, I think, seven to eight years old, I had read about 3,000 books and above.
Some of my favorites were Mary Poppins, Rich Dad Poor Dad, Alice in Wonderland, The Gruffalo, Goodnight Moon, and DK Children's Encyclopedia.
MENASOURCE: Tell us about your online platform Rainbow Chimney. What inspired you?
ALDHABI ALMHERI: Rainbow Chimney didn't start as a business. Whenever I went to my grandma's house, I would do activities. And every time I went there, my cousins were on their electronics. They take them wherever they go, whenever they want to. "Why," I used to ask my mother. I would say, "Mom, why don't they play with me? Why are they on their electronics so much?" She told me that they like to use electronics more than having fun, which is kind of weird because, as children, we love to play. And when I say we love, we love to play.
So, when I went home, I thought to myself, "What could I do to fix this?" I took a box, filled it up with activities, books, some crafts, art, and these kinds of things. And when I put books, I didn't put a little. I put a lot. I closed the box and colored it with lines, stripes, and on top of it, I wrote Rainbow Chimney, which is now my business's name. So, you might be thinking, "What did you do next?"
When I took [Rainbow Chimney] to my grandmother's house the next time I visited, I put it on the floor. My cousins all started to look at the box, but they were still on their electronics. So, I told them about the box, and they were curious. They asked, "Is it a puppy? What's inside the box? We want to see what's inside the box." And I said, "If you want to open the box, you need to put all the electronics aside, including my whole family." My grandmother even put it away. My grandfather put it away. They all put it away. So, we opened the box together. They took a book, toy, or activity. And, when I got home, I asked my mother, "Can we have a business?" So, she agreed and we established Rainbow Chimney to make educational aids, and now my business has a bookshop. It also has special books for people with autism and those who are blind.
MENASOURCE: What inspired you to write your bilingual book, which was recorded in the Guinness World Records?
ALDHABI ALMHERI: When I was six years old, I thought to myself, "If I have a bookshop, why don't I have a publishing house?" So, I published a bilingual book. It's called I Had an Idea. It's actually my first book. It's both in English and Arabic so that everybody in the world can understand it.
Then, I thought to myself again, "What if my book became a Guinness World Record?" So, we applied for the Guinness World Records, and I got the Guinness World Record for the youngest female author to publish a bilingual book. So, that was only for my first book. Then, my second book, which is called Here Was the Beginning, got a world record again for the youngest author to write a bilingual book series.
MENASOURCE: How many books have you published right now?
ALDHABI ALMHERI: So far, two. We're working on my third book. I have an initiative called Books from Children to Children, and this initiative is to encourage children from four to ten years old to write—either in Arabic or English. The objective is to raise a new generation of writers and to encourage children to think and become whatever they want to be in the future.
MENASOURCE: Have you considered what you'd like to be when you grow up?
ALDHABI ALMHERI: When I grow up, I want to encourage children to become whatever they want to be in the future. And not only that. But I also want to go to space and discover more things. But not only to be an astronaut but to be an astronaut and scientist at the same time.
I want to go to space because I want to learn. I have wanted to learn about space since I was three years old. I've loved space so much, and I still have lots of books about space. I even have a space encyclopedia.
When I go to space, I not only want to discover more things but [experience] everything I have learned. I want to show children through publishing that they can know more about space and also learn more facts. I also want them to feel the joy and happiness that I feel when I write books and how interesting it is.
MENASOURCE: What do you like to do for fun when you're not reading books?
ALDHABI ALMHERI: So, actually, I love to read books. I don't think I would do anything else. But, like, of course, we need to move around. I like to draw, color, or even sometimes paint. And those things are actually really interesting to me because I love how if you're stressed out, you can paint, and you calm down. Painting is soothing and relaxing. And you can just think of whatever you want at that time.
And, of course, I love to play with my brother and sister. Mostly I would like to play with my youngest brother. So, yeah, I really love to play with my siblings.
One of the things I love the most is going to school. It's because I feel like school is my second home. It gives you the learning that you need. It's always interesting. Maybe people sometimes think it's boring. But that boringness, it becomes interesting, especially Math and English. I really enjoy them very much. Math challenges you and makes you think about something new—something you have never tried before. And, English, I really like to write a lot. Write what you need to, read what you need to write.
MENASOURCE: What has your experience been with the WIN fellowship so far?
ALDHABI ALMHERI: It's been a great experience, and I'm truly honored to be part of this program. I'm really excited about the new connections I'll gain and the new things that I'll learn about businesses. I can be more knowledgeable about what I need to do to support my business, Rainbow Chimney. I'm really excited about the next thing that I'll learn.
MENASOURCE: What is your message to other aspiring young entrepreneurs from the Middle East and North Africa?
ALDHABI ALMHERI: My message to them is that, no matter what, never give up. And to those children out there who don't read books, maybe the cover's nice, but the cover's not the book. So, I really want them to believe in themselves. I want them to be confident. I want them to be brave, and I want them to be confident about what they're seeing and about their knowledge and to care about their knowledge. And sometimes maybe they will want to read a few more books in their home.
MENASOURCE: As the youngest WIn fellow, what message do you have on International Youth Day?
ALDHABI ALMHERI: I would like to say there's a key within you that unlocks a door, and this door is waiting to be opened by you. So, I hope to everybody who's hearing me right now that they can inspire themselves and become whatever they want to be in the future—if they try hard.

Holly Dagres is editor of the Atlantic Council's IranSource and MENASource blogs, and a nonresident senior fellow with the Middle East Programs. She also curates The Iranist newsletter. Follow her on Twitter: @hdagres.