The most watched sporting event in the world is underway, and the global viewers for this year's World Cup will be watching much more than the action on the pitch in Qatar. Fans are also closely scrutinizing what unfolds on the sidelines of the controversial tournament, as concerns about Qatar's human-rights record and FIFA's corruption scandals have come to the fore in recent months and years.
Geopolitics are also playing out on the pitch, as players from the thirty-two teams competing in the tournament look to make a stand against human-rights abuses and discrimination. Our experts will be tracking it all—and handing out cards where they see fit.
---
The latest from Qatar
---
NOVEMBER 25, 2022 | 9:08 PM WASHINGTON | 5:08 AM QATAR
The ties that bind the US and England
The relationship between the United States and England is uniquely close; it's appropriate, perhaps, that the two teams drew when they played in Qatar. The connections are very strong: Nine of the twenty-six-man US squad play in UK leagues, the same number that play in the United States (the remainder play in Spain, France, Germany, Italy, and Turkey). Some even play in the same club teams. 
It goes deeper. US defenders Antonee Robinson and Cameron Carter-Vickers were born and raised in England. Midfielder Yunus Musah lived in England in his teenage years, went through Arsenal's players' academy, and even played for the English youth national team—before making the decision to play for the United States. "It was very difficult because, as I've said, I had such a great time in England. They did a lot for me in that country," he said recently. The United States "obviously took one of ours, which we weren't very happy about," said England coach Gareth Southgate laconically earlier this week. 
Friday's draw means England has yet to beat the United States in the World Cup. They have played only three times at that level, and the United States won the first encounter in 1950, shocking the world's oldest footballing nation; the second and now the third were draws.
—Andrew Marshall is the senior vice president of engagement at the Atlantic Council.
NOVEMBER 23, 2022 | 1:24 PM WASHINGTON | 9:24 PM QATAR
A World Cup for all Arabs, but…
By Sarah Zaaimi
Qatar and its leadership are aggressively branding the 2022 World Cup as an event for all Arab countries: The first event of the sport hosted by an Arab and Muslim-majority country, they claim. The rest of the Arab states, however, may feel differently about such a statement, given the contentious nature of pan-Arabist discourse in an undeniably racially, religiously, and linguistically hybrid region and Qatar's interventionist records in many regional conflicts.
The ongoing World Cup actively included contributions and elements from across the Middle East and North Africa (MENA). Moroccan artist RedOne produced the official music and designed the launching event; the official cup balls were created in Egypt; and Arabs from various countries are providing security for the event, sculpting the iconic globe trophy, or participating in the dozens of artistic performances on the agenda. Doha is also a hub for Arab expatriates who constitute a core component of Qatar's workforce, operating primarily in the government, media, business, and hospitality industries. Despite their tremendous contributions, these migrants possess no pathway toward Qatari citizenship, according to the laws in place.
Beyond the buoyant façade reflected at the launching event, where Arab leaders from Saudi Arabia, the United Arab Emirates, Egypt, Algeria, and Jordan came together to celebrate the kick-off of the World Cup, many structural differences persist between the MENA brothers. It is essentialist and reductionist to label all countries with Arabic-speaking majorities or Arab cultural elements as "Arab." The region is much more complex and has undergone serious revisionist identity quests since the pan-Arab ideology of the fifties and sixties. For example, countries like Algeria, Tunisia, and Morocco, with significant Amazigh communities, find it insulting to be reduced to one component of their complex and multi-layered heritage. Other communities in the region must feel the same, like Kurds, Assyrians, Nubians, etc.
On the political front, Qatar, in its pursuit to widen its geostrategic reach and overcome its "small state syndrome" ended up upsetting many fellow MENA countries. The healing process from the schism with other Gulf Cooperation Countries hasn't been completed yet, especially with the UAE. Qatar's financial and ideological meddling in Libya, Syria, and Egypt is still fresh in the memories of the citizens of these countries. At the same time, Al-Jazeera and Qatari media continue to upset multiple MENA regimes and undermine the territorial integrity of certain sovereign states. A World Cup for all Arabs, yes, but…
—Sarah Zaaimi is the deputy director for communications at Rafik Hariri Center and Middle East Programs. Follow her on Twitter @ZaaimiSarah.
NOVEMBER 22, 2022 | 12:03 PM WASHINGTON | 8:03 PM QATAR
Money talks. And Saudi Arabia's World Cup squad was screaming today.
By Hezha Barzani
Saudi Arabia just defeated one of the World Cup favorites—Lionel Messi led Argentina, with the Saudis breaking the third-highest ranked FIFA team's thirty-six game unbeaten streak. This game is already being regarded as one of the most shocking upsets in World Cup history, but it is also just one piece of an enormous economic and cultural focus placed recently on the sport by the Kingdom of Saudi Arabia.
Last year a Saudi Arabia-led consortium, led by the Saudi sovereign wealth fund (the Public Investment Fund), purchased Newcastle United for over £300 million (over $405 million). This purchase was significant from an economic standpoint, as Saudi Arabia joined Gulf neighbors Qatar (ownership ties with Paris-Saint Germain) and the United Arab Emirates (ownership ties with Manchester City) in the lucrative European soccer investment arena. This purchase also aligned with Saudi Arabia's Vision 2030, which includes revamping the nation's tourism sector and branding the Kingdom as a "football loving nation." In addition to the massive purchase of Newcastle United, it is clear that economically, Saudi Arabia has long-term commitments to the sport, with its sovereign wealth fund recently announcing more than two billion dollars in soccer sponsorship deals.
A large portion of these deals involves the development of Saudi Arabia's domestic soccer clubs. From a cultural perspective, Saudi Arabia getting involved in European soccer will have a profound impact on the Saudi youth population and overall development of their soccer talent. With the Cup being played in neighboring Qatar, Saudi soccer academies are expecting an enrollment spike, while the government is simultaneously promoting more physical activity, showcasing how the Kingdom is laying plans for long-term international success.
With Saudi Arabia bidding to co-host the 2030 World Cup, it is making a strong play to become the capital of the soccer world in the Middle East. This decisive win against Argentina further cements its claim, but only time will tell if this victory was luck or the first sign of an emerging soccer powerhouse—thanks to the government's economic and cultural investment.
—Hezha Barzani is a program assistant in the Atlantic Council's empowerME initiative. Follow him on Twitter @HezhaFB.
NOVEMBER 22, 2022 | 10:18 AM WASHINGTON | 6:18 PM QATAR
How China stands to win from Western attacks on Qatar
By Ahmed Aboudouh
Western media has launched a campaign to criticize World Cup host Qatar for its abhorrent record on LGBTQ+ rights and migrant labor, mainly of Asian origin. While justified, the campaign has been widely castigated as selective, hypocritical, and indicative of a double standard. China has found a chance to exploit this apparent Western grudge against the first Arab and Muslim country to host the World Cup. In addition to a Chinese construction company building Lusail Stadium, which will host the World Cup final, other firms supplied the tournament with everything "made in China"—from LED big screens, a solar power plant, and clean energy shuttle vehicles, to flags and throw pillows.
China knows how this feels. It has been chastened in the past while hosting the 2022 Winter Olympics with diplomatic boycotts and a similar media crusade for its "genocide" against the Uyghurs in Xinjiang. There is no doubt that the reasoning behind such campaigns is entirely just. But going soft on hosts with even worse human rights records, as was the case with Russia in 2018, while scolding Qatar is mindboggling.
These kinds of media campaigns can be self-harming at best for two reasons. First, they signal that Western countries, especially Europeans, will seek to maintain hegemony over soccer by wielding prejudice. Second, they encourage China (and other rivals) to score geopolitical points by doubling down on smaller countries' grievances toward those over-the-top media offensives and positioning China as a viable alternative and trusted leader of the Global South. Years of backbreaking diplomatic work to confront China's soft power expansion in the Middle East is now at risk.
— Ahmed Aboudouh is a nonresident fellow with the Middle East Programs at the Atlantic Council and a senior journalist covering world affairs at the Independent newspaper in London.
NOVEMBER 22, 2022 | 8:39 AM WASHINGTON | 4:39 PM QATAR
Watch for the Iran team's small acts of defiance to continue
By Masoud Mostajabi
In the history of the World Cup, Iran has qualified a total of six times—five under the Islamic Republic. Since the 1979 revolution, Iranians across the globe have agreed on little. But when it has come to supporting Team Melli ("the nation's team"), all have cheered—until now. At the 2018 Cup, Iran's win over Morocco provoked celebration among the likes of exiles and diaspora communities, then Islamic Republic President Hassan Rouhani, and former heir apparent to the throne Reza Pahlavi—an outpouring stemming from a shared membership in a national family.
However, for the first time in memory, this year many Iranians have soured on the team, thanks in large part to Team Melli's meeting with Iranian President Ebrahim Raisi before traveling to Qatar—which came amid the deadly crackdowns by Raisi's security services against protesters. The team's silent protest by refusing to sing the national anthem on Monday was widely seen as too little too late. Iranians expect more from a team they consider a representative of the people. In a country losing its youth, a loss or win in a tournament is meaningless. Unlike most fans enjoying the games, Iranians are in mourning.
However, these players are themselves part of this generation of youth, having grown up watching heroes such as Ali Daei and Ali Karimi, vocal supporters of today's protests. Many of the players have commented in support of the protestors, changed their social media profile photo to black, or covered up the national emblem. It's early in the tournament, so the world can watch for these small acts of defiance to continue—with Friday's match against Wales the next major opportunity.
—Masoud Mostajabi is an associate director at the Atlantic Council's Middle East Programs. Follow him on Twitter @MMostajabi1.
NOVEMBER 21, 2022 | 10:22 AM WASHINGTON | 6:55 PM QATAR
Why Iran's subtle stance is being seen as "meaningless"
By Holly Dagres
Since antigovernment protests began in Iran on September 16 after Mahsa Jina Amini was murdered by so-called "morality police," many Iranian athletes competing in international competitions have taken clear stances that show solidarity with the protesters. But one group of athletes that has disappointed Iranians is Team Melli, the Iranian men's national soccer team. Except for heaving worn black jackets over their kits during a World Cup friendly with Senegal on September 27, Team Melli has not taken a notable stance.
However, what has caught the attention of many Iranians is that Team Melli met with hardline President Ebrahim Raisi last week and took celebratory photos of their World Cup entry. Photographs of both incidents have gone viral, and not for a good reason, as these events took place while protesters were being fatally beaten with batons or shot by security forces. As a result, many Iranians see Team Melli not as their team, but rather as the team of the Islamic Republic. This was best captured by a banner hanging over a bridge in Tehran that read "don't let your foot slip on the blood," referring to the blood of both protesters slain since September 16 and those being killed by security forces while the match between England and Iran took place. Right before the game began, Team Melli finally took a subtle stance by remaining silent during the Islamic Republic's anthem. While their silence and stony faces may seem significant to an outsider, it's a belated gesture that many Iranians interpret as meaningless given how little Team Melli has done to show solidarity with their international platform.
—Holly Dagres is editor of the Atlantic Council's IranSource blog, and a nonresident senior fellow with the Middle East Programs. She also curates The Iranist newsletter. Follow her on Twitter: @hdagres.
NOVEMBER 20, 2022 | 4:15 PM WASHINGTON | NOVEMBER 21, 2022 | 12:15 AM QATAR
Focus on Qatar's human-rights record is justified—but why have other hosts been left unscathed?
By Joze Pelayo
Despite the loud beats of FIFA anthem "Tukoh Taka," World Cup watchers can still clearly hear the outrage against Qatar.
The significance of the first World Cup in the Arab world has been overshadowed by legitimate criticism about the country's track record on minority rights and treatment of migrant workers. Serious abuses need to be addressed.
But Western coverage so far has been based on double standards and selective outrage; were the calls for a boycott of Russia's World Cup in 2018 and the Beijing Olympics in 2022 this loud? The Biden administration had announced a diplomatic boycott of the Beijing event due to China's ongoing genocide against Uyghurs. Russia used its 2018 World Cup, and also its 2014 Winter Olympics in Sochi, to sportswash and distract the world from Vladimir Putin's invasion of Crimea—a prelude to today's invasion—and the Russian leader's increasingly imperialistic ambitions. Where was the outrage from European critics then?
Qatar is the first Arab and Muslim-majority country to host the World Cup—so one wonders whether that is the variable that makes Qatar the target of critical countries. Or, will countries critical of Qatar this year similarly scrutinize the 2026 host countries—Canada, the United States, and Mexico—regarding migrants' rights?
Qatar's mistreatment of predominantly South Asian workers is deplorable, and criticism is justified. But the selective outrage shown mainly from some countries in Europe is also borderline arrogant and racist.
On a brighter note, the United States' Nicki Minaj, Colombia's Maluma, and Lebanon's Myriam Fares are bringing the Arab-Latin relationship and a shared passion for soccer to a new level with "Tukoh Taka," which features English, Spanish, and Arabic lyrics. The song briefly reached number one in iTunes in the United States, making it the highest-charting FIFA World Cup song ever—and Fares the first Arab artist to reach such a spot in the United States.
—Joze Pelayo is an assistant director at the Scowcroft Middle East Security Initiative/Middle East Programs.
Further reading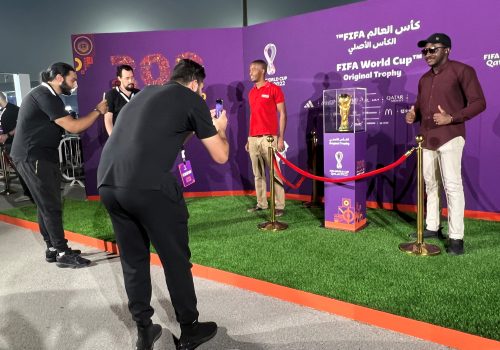 Fri, May 6, 2022
MENASource By Joze Pelayo, Hamad Abbas
The integration of politics with the World Cup goes beyond the Russian invasion, as the choice of Qatar as the host nation invited significant backlash.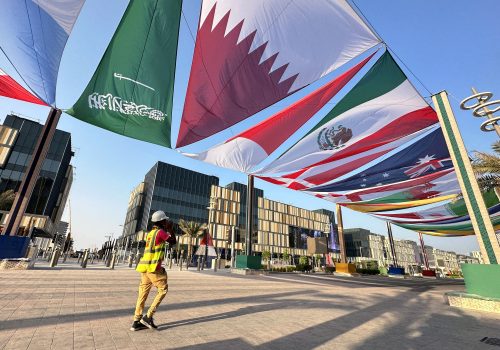 Tue, Oct 25, 2022
MENASource By Madeline Hart
The workers responsible for making this event happen continue to face death and abuse each day, while risking deportation if they protest.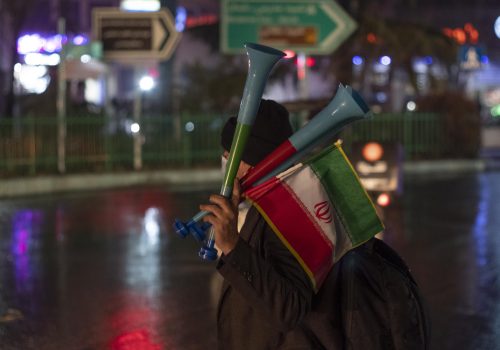 Tue, May 31, 2022
IranSource By Abbas Qaidari
The soccer match between Iran and Canada was an opportunity to repair the damage, but it is now just another missed opportunity.