Iraq is at a crossroads. Will it choose its Shia militias or relations with the US?
In the heart of the tumultuous Middle East, Iraq finds itself at a crossroads, grappling with the complex dynamics of the Hamas-Israel conflict while trying to navigate the intricate relationships between its Shia militias and the United States. As history demonstrates, geopolitics and domestic considerations converge, with Iraq facing a high-stakes balancing act that carries profound implications for its relations with the United States and regional stability.
Iraq stands out as the sole Arab state that has steadfastly refused to sign an armistice agreement with Israel since the 1948 Arab-Israeli War. Technically, Iraq remains in a state of war with Israel—a historical enmity that significantly influences its stance in the present conflict. Iraq not only refuses to recognize Israel as a state but has also passed laws criminalizing any ties with the country. This long-standing antagonism forms the backdrop against which Iraq's current position on the Hamas-Israel conflict is crafted.
Amid the surprising attack by Hamas on October 7, Iraq faced conflicting positions. The official stance of the Iraqi government is centered on diplomatic efforts to end the conflict, advocating for Palestinian statehood in the long term, and creating open humanitarian corridors for Gazans. Parliament Speaker Mohamed Al-Halbousi called for an Arab parliament summit in Baghdad, highlighting Iraq's proactive approach to addressing regional conflicts.
On the day of Hamas's attack, the Iraqi government issued a statement reaffirming Baghdad's unwavering commitment to the Palestinian cause. It blamed Israel for the consequences of the attack as "a natural result of the systematic oppression they have been subjected to since ancient times at the hands of the Zionist [Israel] occupation authority." It emphasized that Iraq stands with the Palestinian people in their pursuit of legitimate rights and unequivocally condemned any injustices and usurpations that obstruct the path to Palestinian statehood.
Furthermore, Iraqi Prime Minister Mohammed Shia al-Sudani engaged in a significant diplomatic move by initiating a phone call with Arab and regional leaders. He also received a call from US President Joe Biden on October 16, reflecting the United States' realization of the Gaza conflict's impact on the entire region and Iraq's role. Their discussion primarily revolved around the situation in Gaza, with Sudani urging President Biden to support opening a humanitarian corridor in Gaza and emphasizing the need for international intervention in the face of escalating hostilities.
Challenges in Iraq-US relations
The United States has a history of tensions and confrontations with several Iraqi Shia armed groups that are integral to the Iraqi political process while operating independently from its military apparatus. These militias—many of them aligned with Iran—have been involved in multiple attacks on US interests in Iraq and Syria over the last seven years. However, since the inauguration of Prime Minister Sudani in October 2022, tensions between the United States and these groups in Iraq have significantly decreased. This reduction can be attributed partly to the majority of these armed groups aligning with Sudani's coalition to form a government, necessitating a temporary truce with the United States.
However, the conflict in Gaza adds complexity to Iraq's relationship with the United States, especially as various armed groups and political figures have already resumed rocket and drone attacks on US interests in Iraq since October 7. This threat is poised to intensify as long as the Hamas-Israel conflict continues. Several pro-Iranian Iraqi militia commanders, including prominent figures like Hadi al-Amiri of the Badr Brigade and groups like Kataib Hezbollah, have issued belligerent statements praising Hamas's attack and made threats against US interests in Iraq should the United States intervene on Israel's behalf.
Additionally, Muqtada al-Sadr, an influential Shia cleric and a significant political voice within Iraq, called on the Iraqi government to formally end the US mission in Iraq and close the embassy. However, he rejected violent methods to target US diplomats but warned that he would consider taking other measures if the Iraqi government did not respond to his request. This is partly related to the intra-Shia rivalry between Pro-Iranian camps and the Sadr bloc. However, the Palestinian issue remains a sensitive and popular topic in Iraq, garnering support from most Iraqi political figures.
Moreover, the US remains a crucial partner for Iraq in the fight against the Islamic State of Iraq and al-Sham (ISIS). Iraq's economy also highly depends on its relations with the United States and Iraq's central bank heavily relies on US Federal Reserve policies and access to its $100 billion foreign currency reserve. Another element to consider is how, despite US sanctions on Iran, the United States granted Iraq certain sanctions waivers—such as for electricity—to conduct business with Tehran. These examples all highlight the importance of the US-Iraq relationship.
Iraq's stability at stake
US Secretary of State Antony Blinken's November 5 visit to Baghdad holds immense significance given that Iraq is and will continue to be impacted by the Gaza war. Iraq stands out as the only country in the region that accommodates thousands of US forces and historically anti-US, pro-Iranian armed groups, underscoring Iraq's exceptional and precarious role in the broader geopolitical landscape. Consequently, Prime Minister Sudani faces an exceptionally challenging predicament: he must maintain a delicate balance between the interests of the United States and the armed groups that serve as partners within his government while having significant political leverage over it.
Therefore, inaction by Sudani to meet the demands of various actors within Iraq is not an option. That may lead to him being removed from office, causing political and security instability in the country and further complicating the fragile situation. This poses a risk to US-Iraq relations and the broader Middle East, as it becomes increasingly complex for the prime minister to balance the demands of influential militias while maintaining the relationship with the United States. This nuanced situation underscores the critical importance of Secretary Blinken's visit in navigating these complex dynamics and promoting stability in the region.
Prime Minister Sudani knows the value of US ties and has shown support for continuous US troop presence in Iraq. However, as the Gaza war escalates, the prime minister may lose control and come under massive pressure from within his coalition and his rivals like Sadr. In this precarious environment, a peaceful diplomatic solution remains the most prudent method to avoid further instability and spillover of the conflict to the wider region.
Sarkawt Shamsulddin is a nonresident fellow at the Atlantic Council's Middle East Programs and was a member of the Iraqi Parliament from 2018 to 2021.
Further reading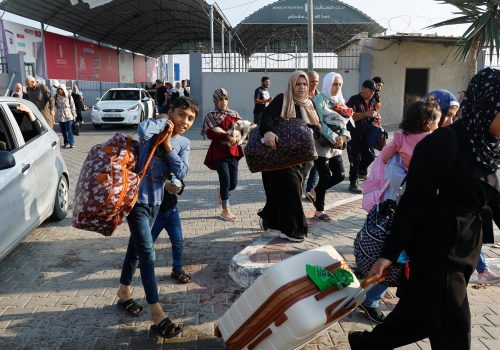 Fri, Nov 3, 2023
MENASource By Shahira Amin
As Israel expands its ground raids in the Gaza Strip, Egypt is witnessing the ripple effects of the war and faces growing pressure to act in regard to Palestinian refugees.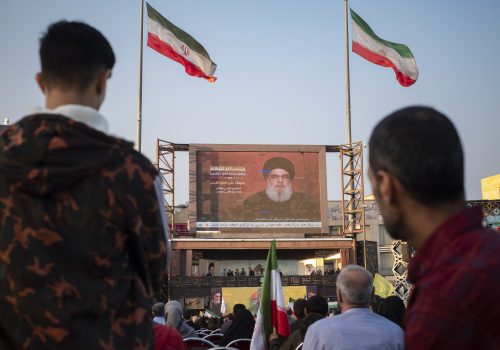 Mon, Nov 6, 2023
MENASource By David Daoud
To avoid appearing weak against Israel to its supporters, Hezbollah is falling back on a pattern of using propaganda to cover its inaction against the Jewish state.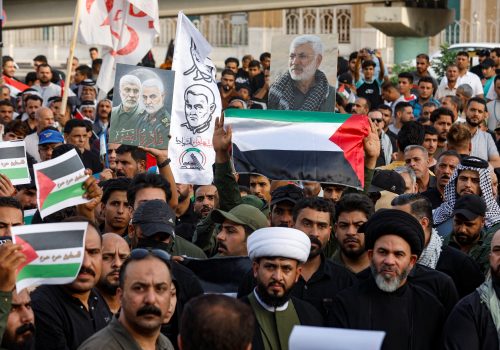 Fri, Oct 20, 2023
MENASource By C. Anthony Pfaff
After Israel responded to Hamas's deadly October 7 attacks, Iraqis took to the streets in massive pro-Palestinian protests, burning Israeli flags and chanting anti-American slogans.