As the Gaza war continues, Egypt is facing pressure to act     
As Israel expands its ground raids to hunt down Hamas militants in the Gaza Strip, Egypt—which shares its northern border with the enclave—is witnessing the ripple effects of the war and faces growing external and internal pressure to act in regard to Palestinian refugees.           
Since the start of the war, which erupted in retaliation to Hamas's October 7 attack on Israel, United States and Israel have demanded that Egypt open its border with Gaza to allow the evacuation of hundreds of thousands of Palestinians and their subsequent displacement in Sinai. But Cairo has categorically rejected the plan, insisting that its national security "is a red line" and that "the forced displacement of Palestinians would jeopardize the Palestinians' right to statehood." Cairo has, instead, called for a ceasefire and a return to negotiations that would lead to a just solution to the decades-old Israeli-Palestinian conflict.
Cairo's intransigence on Palestinian refugees has irked the United States, which had hoped it could use the $1.3 billion it gives to Egypt in annual military as leverage to influence the Egyptian leadership. However, the stakes of acquiescing to US and Israeli desires are high for Cairo.
For one, if the border was opened, a mass exodus of Palestinians would risk an infiltration of Hamas militants into the Sinai Peninsula. Egyptian President Abdel Fattah el-Sisi has cautioned that attacks might be launched on Israel from Egypt's side of the border, prompting Israel to respond with retaliatory attacks that would undermine Egypt's peace treaty with Israel.
Egypt is also concerned about the potential threat to its security. The Egyptian leadership is wary of Hamas, which it perceives as an affiliate of the Muslim Brotherhood (branded a terrorist organization by Egypt in late 2013). Egypt's ousted President Mohamed Morsi, who hailed from the Islamist group, was supported by Hamas and had promoted trade between Gaza and Egypt. At the time, Morsi had allowed humanitarian aid and fuel from Qatar to enter Gaza through the Rafah crossing on multiple occasions. This contrasts to Sisi who has helped Israel tighten the noose on the enclave by keeping the border closed to traffic. 
Before the latest flare-up, Sisi had only allowed Palestinians studying in Egypt and those seeking medical treatment to enter the country via the crossing, but only after they had obtained the necessary permits from Israel. Hamas also has close links with the jihadist groups based in Egypt, such as Wilayat Sinai (Sinai Province)—an Islamic State of Iraq and al-Sham affiliate that has waged an insurgency against security forces in northern Sinai. Allowing thousands of Palestinians into the Sinai Peninsula—as a proposed plan by the Israeli Intelligence Ministry suggests, according to a leaked document published in the Israeli news outlet Sicha Mechomit—increases the risk of Hamas strengthening its ties with Wilayat Sinai and other extremist groups that the Egyptian military has been battling for more than a decade.
Furthermore, a massive influx of Palestinian refugees would pose significant economic and humanitarian challenges at a time when Egypt is grappling with a severe economic crisis. Egypt is host to nearly three hundred thousand refugees and asylum-seekers whose vulnerability has increased as a result of soaring inflation, according to the United Nations High Commissioner for Refugees (UNHCR). Taking in more refugees would risk destabilizing the country, where an estimated sixty percent of the population lives near or below the poverty line, and where middle-class Egyptians are being driven into substandard living conditions as a result of the crisis.
Finally, Egypt knows only too well—from lessons learned from Lebanon and Jordan—that Palestinian refugees will settle permanently if admitted. 
Since the eruption of violence three weeks ago, Egypt has kept the Rafah border crossing—the main gateway for Palestinians into Egypt and the outside world—largely closed, opening it intermittently to allow humanitarian aid to trickle into southern Gaza.
Since October 21, when Israel finally agreed to allow humanitarian assistance to pass through, less than one hundred trucks of aid have crossed into southern Gaza—a mere drop in the ocean compared to the massive needs of the Palestinians amassed near the border. The assistance has included food, medical supplies, and water, but Israel has barred the entry of fuel—already in short supply in Gaza—for fear it would fall into the hands of Hamas. A medical team of ten foreign doctors was allowed entry into the Gaza Strip via the crossing on October 27—the first health team to enter since the war erupted.
Meanwhile, in a major breakthrough, hundreds of foreign nationals crossed to safety into Egypt through the Rafah crossing on November 1 after a Qatar-mediated deal was reached between Egypt, Israel, and Hamas. Dozens of injured Palestinians were also transferred to Egypt for medical treatment, according to an official who spoke to me on condition of anonymity.
But Egypt's role in allowing humanitarian assistance into Gaza and admitting injured Palestinians into the country is seen as too little, too late by many Egyptians, who are enraged by the scenes of death and destruction on their television screens. On October 20, thousands of Egyptians took to the streets to express their solidarity with Palestinians after President Sisi gave the green light for the rare protest marches that were held at several locations in Cairo and other cities (demonstrations are illegal in Egypt and can only be staged with prior permission from security agencies.)
Protesters vented their anger and frustration at not only Israel—they chanted anti-Israeli slogans such as "Israel is the enemy"—but also at their government over its muted stance on the Gaza war. Dozens of protesters marched into Tahrir Square, where the 2011 anti-government protests were staged, defying a government order to hold the demonstrations only at pre-approved sites. Chants of "Bread, freedom, social justice     "—the slogan from the 2011 uprising representing the unmet aspirations for basic rights, which was used against then-president Hosni Mubarak—echoed through the streets. Some protesters shouted, "We do not endorse anyone" in an apparent response to Sisi calling for Egyptians to endorse his rejection of Israel's plan to displace Palestinians and relocate them in Sinai. More than one hundred protesters were arrested and detained in the days following the demonstrations—some of whom may face terrorism-related charges, according to their defense lawyers.
The recent protests signal growing public discontent over the government's failure to address the plight of Palestinians and the country's dire economic conditions. This public disgruntlement is a major source of concern for Sisi, given that presidential elections are only a few weeks away (slated for December 10). Egyptian social media platforms are flooded with criticism of the government for not doing enough to stop the "ethnic cleansing" of Palestinians. While many Egyptians—mainly government supporters—condemn Hamas for inflicting suffering on Gaza's more than two million residents and for allegedly carrying out attacks against Egyptian soldiers in north Sinai, many others—Muslim Brotherhood sympathizers and some leftist activists—perceive Hamas as a resistance movement and condone what they believe is a legitimate struggle against occupation.   
But, while the majority of Egyptians are enraged by Israel's brutal onslaught on the Gaza Strip, they oppose the scheme of relocating Palestinians to Egypt. If Sisi bows under international pressure and opens the door to the besieged Palestinians, he risks facing the wrath of millions of Egyptians and perhaps even dissent from within army ranks as some of the senior generals in the Egyptian Armed Forces have fought at least one war with Israel to reclaim Egyptian land captured by Israel in the 1967 war.
While it is hard to imagine that Sisi will succumb to Western demands, he may seek to turn the turmoil in Gaza to his advantage. He could do this by trying to secure debt relief and/or foreign aid in exchange for allowing foreign nationals to evacuate from Gaza through the Rafah crossing or for opening humanitarian corridors into Gaza. He may also seize the moment to make amends with the United States after the fracture in US-Egypt ties over recent accusations that Egyptian officials had bribed Senator Bob Menendez (D-NJ). Menendez was chair of the Foreign Relations Committee at that time and was allegedly supposed to help Egypt secure a bigger share of aid from the United States. US lawmakers were notably contemplating freezing a portion of the aid over Egypt's poor human rights record.    
The Joe Biden administration may reciprocate by giving Sisi the support and acknowledgment he needs and may, once again, turn a blind eye to Egypt's dismal human rights record, prioritizing US national security interests instead.
In so doing, the administration would only be disenfranchising the Egyptian people, many of whom have, in recent weeks, shifted their anger and resentment towards the United States, seeing it as complicit in the brutal massacre of Palestinians after Biden expressed his wholehearted support for Israel. In particular, Egypt's leftists and pro-democracy activists who share the US values of freedom, equality, and justice feel dismayed and utterly let down. They accuse the US of double standards and hypocrisy for failing to condemn Israel's violations of international humanitarian law.          
A marked shift in US policy vis-à-vis Egypt and the region is needed. The bitterness harbored by the Arab masses towards the United States may, in time, prove to be a red flag, threatening stability not just in their countries but also in the United States. 

Shahira Amin is a nonresident senior fellow at the Atlantic Council's Scowcroft Middle East Security Initiative and an independent journalist based in Cairo. A former contributor to CNN's Inside Africa, Amin has been covering the development in post-revolution Egypt for several outlets, including Index on Censorship and Al-Monitor. Follow her on X: @sherryamin13.
Further reading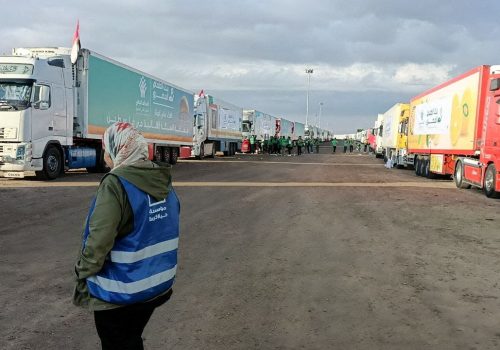 Wed, Oct 18, 2023
MENASource By Lisandra Novo
Despite urgent appeals for aid and multiple deliveries to Egypt, no outside aid appears to have made it into Gaza.
Sat, Oct 14, 2023
MENASource By Shahira Amin
Whether Egyptian President Abdel Fattah el-Sisi will bow under US and Israeli pressure remains to be seen.
Wed, Oct 4, 2023
MENASource By Shahira Amin
Egypt's predominantly pro-government media has chosen to either dismiss altogether or downplay the allegations against Senator Bob Menendez.