The earthquake in Syria: A crisis of nature and politics
Minutes after a 7.6 magnitude earthquake rocked Turkey and Syria on February 6, the immensity of the human catastrophe was undoubtedly clear to the leaders of the United States and Europe. As is the case with such mega-disasters, governments immediately assessed how rapid assistance—specialized search and rescue teams, ambulances, and equipment—could be provided to save human lives trapped under the rubble and how the earthquake could impact their contradictory policies and provide opportunities.
It was evident that the consequences of the quake exceeded the capacity of Turkey and its well-established government and relief agencies. It was also more evident that the Syrian state institutions—together with the non-governmental organizations (NGOs) active in all parts of Syria—lacked the proper means to address the disaster after twelve years of conflict, sanctions, and corruption.
Many countries rushed to help Turkey in its affected regions, where Kurds and Syrian refugees constitute a significant share of the population. However, rescue efforts took a long time to reach the Turkish province of Hatay (Sandjak of Iskenderun) and its capital Antakya, which has symbolic value for both Christians and Arab Alawites. In that delay, roads were damaged and the Iskenderun port caught fire. Meanwhile, very few regional and Western countries sent rescue teams to Syria, which is already divided into different areas controlled by parties of the conflict. The rapid intervention necessary to save lives posited political questions rather than logistical ones. These very questions have kept countries stalled in their proxy wars on Syrian territory.
How can rescue teams and earthquake response aid be sent to Syria through disaster-stricken Turkey? How can rescue teams and equipment be sent to Idlib under the control of Hayat Tahrir al-Sham (HTS), which is recognized internationally as a terrorist organization? How to send rescue teams to Jindires town in Afrin, which used to be Kurdish majority but was repopulated following its "liberation" by displaced Syrians from other areas in Syria? How to send aid to Aleppo, where the "opposition" was abandoned, or to the most-affected coastal region, which is accused of "backing Bashar al-Assad"? And how to do all such things while ties are severed with the Syrian state under Assad?
Faced with such awkward questions, the US and Europe preferred not to intervene in rescue efforts in Syria, appearing to blatantly abandon those that they continuously supported in northwest Syria, insisting on keeping Bab Al-Hawa border crossing between Turkey and Syria open for international aid, thanks to United Nations Security Council (UNSC) resolutions. Additionally, the United Nations (UN) failed in its mission, even though it had more room to maneuver while it helped redraw of the map of the conflict.
For instance, in the absence of access through Turkey, rescue teams and equipment could have come through Lebanon, Iraq, or Jordan, where they could have easily accessed the three areas of control in HTS-controlled Idlib, Turkey-backed factions-controlled northern Aleppo, and Assad-controlled areas. Would Syrian authorities dare stop such a rescue convoy from crossing the borders of these countries and reaching affected localities, particularly if they entered Syria under the UN flag or any of the other countries still maintaining diplomatic ties with Syria?
Dealing with government- and opposition-held areas as if they belong to two different countries helps further divide the country. The quake could have triggered world powers into seeking a solution for fragmented Syria, especially as they regularly declare that they support "the unity of all the Syrian territory." This could have been done without appearing to shake hands with Assad.
The US and Europe, with the adoption of the no-rescue teams and aid policy, appeared to be contradicting their official statements. This is even though rescue teams and equipment, heavy machinery, and fuel were urgently needed on the ground before the food and medicine were feared to be stolen. The United States declared that "we only deal with our partners," despite HTS's control of the other side of the Bab Al-Hawa crossing. This is while their main partners are the Syrian Democratic Forces (SDF), which are listed by Turkey as a terrorist organization, and, thus, will ruin the positive political effect of the rescue aid to Turkey. Facing these embarrassments, the United States was forced to acknowledge that unilateral sanctions have a humanitarian impact and issue a license alleviating them partially for six months, while the European Union remained silent.
What's next after no rescue?
Although those who died under the rubble can never be saved, there are still many humanitarian and political challenges that need to be addressed. Today, hundreds of thousands of people are left without shelter, healthcare, or livelihood in Turkey and Syria. The scale of the crisis in Turkey makes it impossible for the Turkish government to solely provide all means of immediate relief to its affected population and, by extension, to those impacted in Syria.
Relief to Idlib province and northern Aleppo province has continued for years in the form of in-kind aid, while all aid items provided are available in the markets through trade with Turkey (rather than being replaced by financial aid) so that everyone can buy what they need. This is despite all the criticism that has been leveled at thwarting local production, pointing to corruption within local and international aid organizations, the high wages of their workers compared to what is distributed, and the need for such organizations to deal with armed factions (which have not been seen removing rubble and rescuing those trapped underneath).
Today, those needing aid are not only the displaced, who make up half of the population in northwest Syria, but also the resident population whose homes have been destroyed, having been badly built during the conflict. They lack fuel and electricity, and most lived in poverty even before the quake. Organizing relief without it being stolen remains a challenge and serious questions about how to rebuild following the quake's destruction need to be answered.
For example, who will decide who will live where after the destruction? Will the quake give the Syrian power system new opportunities to seize more properties to speculate and reap the rent? Will the mansions of Sarmada and A'zaz, which were poorly erected to launder funds looted by different opposition factions from international aid and have been lost in the quake, be rebuilt? These questions are all overshadowed by how internationally sensitive the concept of reconstruction is, and how regionally and locally sensitive the concept of demographic reengineering is in Syria (for example, replacing Kurds with Arabs).
The quake: a catastrophe and an opportunity
The devastating February 6 earthquake has reshuffled the political cards in the region. It has allowed all Syrian parties to reconsider their discourses and let go of their condemnable calls to divide the country. Hence, while this quake is the second catastrophe inflicted upon the Syrians after over a decade of civil war, it is an opportunity as well. Nothing can be done without stitching up different fragments of Syria and getting rid of the warlords.
Consequently, the challenges of the quake create endless awkwardness, even after the first days of rescuing. It necessitates a reassessment of world powers' existing policies regarding Syria, which has yet to happen, particularly since the West is busy with the war in Ukraine and the vast amounts of money it is investing in it, and with the lack of room for dialogue and understanding with Russia and China concerning the materialization of a political solution in Syria.
Politics is the art of the possible, and the tragic earthquake has put Syria on the priority list again.
Samir Aita is a Syrian and French economist, and former editor-in-chief of Le Monde diplomatique Arabic editions. Follow him on Twitter: @SamirAita.
Zedoun Alzoubi is a Syrian expert on governance, peace-building, and civil society. He was the former general manager of the Union of Medical Care and Relief Organizations (UOSSM). Follow him on Twitter: @AlzoubiZedoun.
Further reading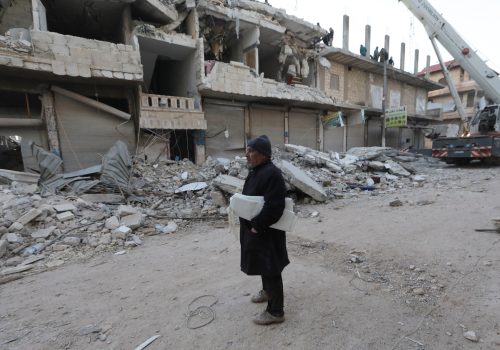 Thu, Feb 9, 2023
MENASource By Arwa Damon
While aid increasingly flows into Turkey from around the world by air, land, and sea, areas on the other side of the border in Syria's rebel-controlled areas are seeing none of that.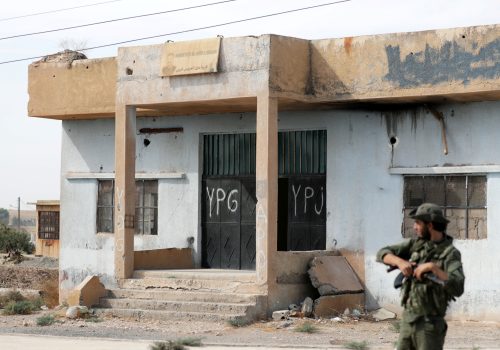 Mon, Jan 23, 2023
MENASource By Ömer Özkizilcik
The December 2022 meeting in Russia is the first of many that may ultimately result in a direct encounter between Recep Tayyip Erdogan and Bashar al-Assad.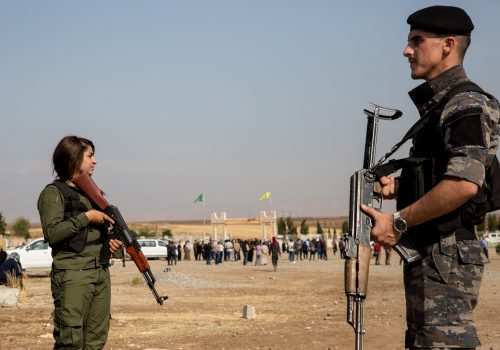 Wed, Feb 15, 2023
MENASource By Michel Duclos
The time has come for the United States and its core allies on the Syrian issue—foremost among them France and the United Kingdom—to adopt a robust initiative toward northeast Syria.