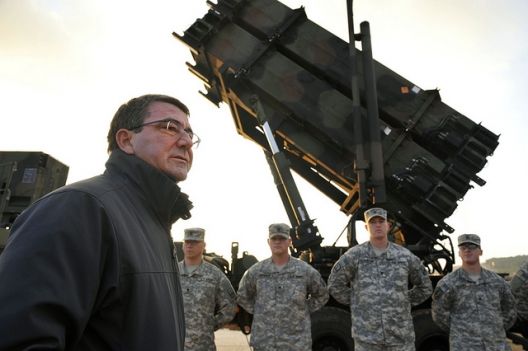 From Eric Schmitt, New York Times: The United States said Sunday that it would withdraw two Patriot missile-defense batteries from southern Turkey this fall, a sign that the Pentagon believes the risk of Syrian Army missile attacks has eased since the Patriots were deployed in 2013. Officials said the antimissile systems would be needed elsewhere to defend against threats from Iran and North Korea….
What the statement did not mention was a complicated story behind the Patriot decision, which briefly last month seemed poised to dash months of painstaking talks with Turkey about allowing American armed drones and fighter jets to fly combat missions against the Islamic State from Incirlik Air Base and other Turkish installations….
American diplomats and other senior officials were so concerned that they delayed notifying Turkey of the impending Patriot pullout until after President Obama and President Recep Tayyip Erdogan of Turkey reached agreement on the bases and other antiterrorism steps in a phone call on July 22, senior American officials said Sunday….
The challenge for senior State and Defense Department officials boiled down to managing one priority — withdrawing the antimissile systems and their troops, an Army capability already stretched by near-constant deployments — without scuttling another priority, gaining Turkish permission to launch airstrikes from Incirlik. Last week, six F-16 fighter jets and 300 American military personnel arrived at Incirlik and flew their first combat missions….
Four American officials, speaking on condition of anonymity to discuss a diplomatic issue, said Sunday that Turkish officials were livid when told two weeks ago that the United States was withdrawing the Patriots….
The Defense Department never liked the Patriot mission, which many Pentagon officials viewed as mostly a symbolic gesture. The Patriots in Turkey have not been called on to intercept a single hostile missile. The batteries and their troops are among the most highly demanded in the Army, and as the missile threat from the Assad forces seemed to ease, Pentagon officials sought to withdraw the units, give their troops more rest at home and focus on higher-priority threats from Iran and North Korea….
Several months ago, after an internal review of what the embassy statement on Sunday called the "global missile defense posture," the administration decided to withdraw the Patriots from Turkey, Pentagon officials said. On Saturday, Germany said it would pull its batteries and troops from southern Turkey by the start of 2016 after a reassessment of the threats stemming from the conflict in Syria. "The decision was taken after the present assessments made by the NATO in June 2015, which concluded that the threat against Turkish territories by Syrian ballistic missiles is very low," Ursula von der Leyen, Germany's defense minister, said in a statement.
From Noah Barkin and Ayla Jean Yackley, Reuters: German Defence Minister Ursula von der Leyen announced at the weekend that Berlin would let its three-year Patriot mission lapse in January instead of seeking parliamentary approval to extend it….

"The threat in this war-torn region has shifted in focus," she said in a statement on the German defense ministry's website. "It now stems from the terror organization Islamic State. Therefore, we will remain engaged in the region in a continued effort to stabilize it."