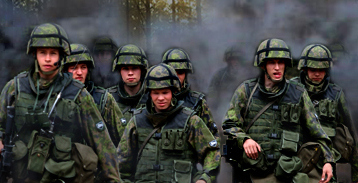 Now – with a newly expansionist, jingoistic Russia led by President Vladimir Putin set on reasserting itself internationally, with eastern Europe and the Baltic states wondering fearfully what may follow its armed intervention in eastern Ukraine, and with close military encounters between Russia and the west running at cold war levels – Finland is once again on red alert. . . .
Although Russian military activity is up in the past six months, there have been no maritime incidents comparable to three apparently concerted violations of Finnish airspace in August by Russian aircraft, which caused widespread consternation about Moscow's intentions. "Right now we do not have any trouble with the Russians," [Chief of the Gulf of Finland naval command Captain Markus] Aarnio said. Judging by the grim look on his face, the Russians may do well to keep it that way.
Alexander Stubb, Finland's boyish-looking conservative prime minister, agreed on the need to keep things calm. Finland had good bilateral relations with Russia, he said, but it was important western countries understood what they were dealing with.
"The situation is naturally worrying from a European and Finnish perspective. I said in 2008 after the war in Georgia that power politics, spheres of influence and war had returned to the borders of Europe. I hoped I was wrong. Now, unfortunately, we are back to square one. There's a lot of cold war rhetoric," Stubb said. . . .
Jaakko Iloniemi, Finland's former ambassador to the US, said the outlines of the problem were clear. "Their military and naval activity is certainly up. For Putin it's about showing the flag and restoring pride. The Russians call it [the Crimea operation] 'fast power' – there are no democratic encumbrances, executive power is sovereign, the legislature, the military, the media, the judiciary are compliant. Putin's achilles heel is the economy … So he needs external crises and foreign devils," Iloniemi said. . . .
"In the near term, Russia will continue to try to bully and threaten us. The EU is in disarray, physically and mentally. But in five to 10 years it will be different … When it comes, it [a Russian collapse] could be like a stock market panic. Putin is no Gorbachev, he is not a guy who is going to give up. He will not go quietly. Remember, this is a global nuclear power we are talking about," the [senior Finnish government] insider said.
Opinions differ about how Finland should handle the Russian challenge. The country is deeply split, as ever, over the question of Nato membership, with about 60% of voters opposed.
But there is also concern about a return to the bad old cold war days of "Finlandisation", when Finnish governments sometimes appeared too eager to appease the Soviet leadership at the expense of their country's values and independence. Some Finns believe this may already be happening. As Lasse Lehtinen, a retired MP and newspaper columnist, put it, Finlandisation is creeping back.
Practical considerations also apply. Finland, lacking fossil fuel deposits, is also highly dependent on Russian energy imports – 71% of its oil, 66% of its coal and 100% of its gas comes from Russia. In other areas, too, Russia is a major trade partner and export market. Meanwhile, Finland's own economy is struggling. Controversially, the defence budget is facing a sharp 10% cut. To compensate, closer military integration with Sweden, another non-Nato state, is planned.
Erkki Tuomioja, a lifelong social democrat and foreign minister in Stubb's ruling coalition, said Finland supported sanctions on Russia over Ukraine. But he was critical of the EU's handling of relations with the Kiev government. . . .
Yet whatever happened, the government insider insisted, Finland would not kowtow to Moscow. [Tuomioja:] "There is zero appetite for going back to the old way of doing things, to placating and appeasing Russia. We're not looking for a fight. But we need to be able to deal with Russia. Russia is our everyday reality."