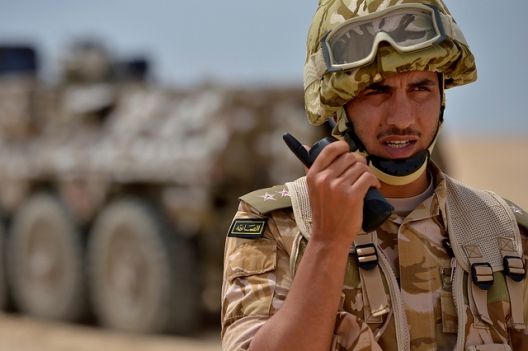 In a big step forward to consolidate Gulf joint security, Arab Gulf leaders agreed Wednesday on the establishment of a joint military command and police.
"The Supreme Council agreed on the establishment of the joint military command to the GCC member states and assigned the Joint Defense Council to take necessary measures to put this agreement into effect according to the relevant studies," read the final statement of the 34th Summit of the Gulf Cooperation Council.
The Gulf leaders have also approved a proposal for setting up the Gulf Academy for Strategic and Security Studies and welcomed the UAE proposal to host it.
"The Supreme Council also gave the green light for completing the project of the secure communications." The Gulf leaders ratified the decisions of the Joint Defense Council of the GCC member states and expressed appreciations of the executive measures taken to bolster joint military action.
"The latest of which was the GCC Defense Ministers' laying of the foundation stone of the coordination center for maritime security in the Kingdom of Bahrain," the statement said.
On the inter-GCC security, the Gulf leaders agreed on the foundation of a joint Gulf police force.
From Awad Mustafa, Defense News: The academy will aim to bolster military cooperation through a unified education based institution, according to Matthew Hedges, analyst for the Institute of Near East and Gulf Military Analysis.
"The academy will look to increase knowledge transfer and greater comprehend a unified realization of threats across the entire GCC region," he said. "There will be an initial focus on missile defense, border security and counter terrorism."
In the December 2000, the member states agreed to a joint defense agreement based on the principle that any aggression against a member state would be considered as aggression against all the GCC states.
The agreement obliged all the six states to provide military assistance to help each other. It further established a Joint Military Committee to supervise cooperation and promote collaboration in joint military exercises and coordination in the field of military industries.
"The declaration highlights the increasing construction of a regional security architecture which was started with the peninsula shield force and is an issue that is seen by outside observers to need more attention," Hedges added.