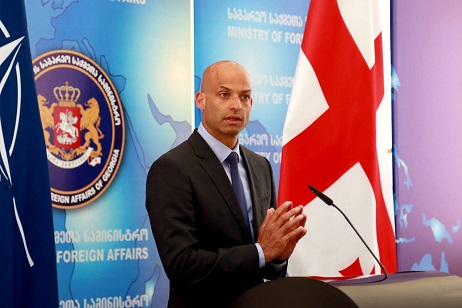 NATO Deputy Secretary General's Special Representative for the Caucasus and Central Asia region James Appathurai said in Tbilisi today that he believed the Alliance would discuss whether NATO allies should deploy "defensive assets" in Georgia.
Appathurai announced this in response to the Georgian Defence Minister Irakli Alasania's suggestion to put "air defense and anti-armour capabilities in Georgia," which he made in Washington at the Atlantic Council's conference "Toward a Europe Whole and Free" on Wednesday.
"This is something we need to put in Georgia and then Russians will understand that you are serious," Alasania said in response to Russia's actions in Ukraine at the panel discussion of the conference.
Appathurai, who is on a one-day working visit in Georgia, said he would deliver this message to members of the Alliance.
"I would like to focus that NATO does not have its own defensive assets, in particular the Alliance allies have such assets. NATO can always support organising this as it was in the case of Turkey during the crisis in Syria," Appathurai said at the joint conference with Georgia's Foreign Minister Maia Panjikidze.
"Defence Minister Alasania's message was clear and I believe the issue will be discussed at NATO," he added.