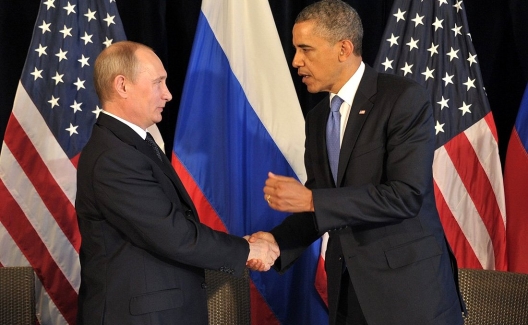 Barely had I been seated before Vladimir Putin told me that NATO—the organization that I then headed—no longer had any purpose and should be disbanded. "After the end of the Cold War, we dissolved the Warsaw Pact," he said. "Similarly, you should dissolve NATO. That is a relic from the Cold War."
During my visit to Moscow in December 2009, I sensed that President Putin was challenging the world order that the U.S. created so successfully after World War II. Beginning in 2014, he invaded Ukraine and launched a military action in Syria.
From my former positions as prime minister of Denmark and secretary-general of NATO, I know how important American leadership is. We desperately need a U.S. president who is able and willing to lead the free world and counter autocrats like President Putin. A president who will lead from the front, not from behind….
It is also about morality. Just as only America has the material greatness to stop the slide into chaos, only America has the moral greatness to do it—not for the sake of power, but for the sake of peace.
Yet the U.S. will only be able to shape the solutions the world needs if its leaders act with conviction. When America retrenches and retreats—if the world even thinks that American restraint reflects a lack of willingness to engage in preventing and resolving conflicts—it leaves a vacuum that will be filled by crooked autocrats across the world.
The Obama administration's reluctance to lead the world has had serious consequences, and none is graver than the behavior of Mr. Putin. While Europe and the U.S. slept, he launched a ruthless military operation in support of the Assad regime in Syria and tried to present Russia as a global power challenging the U.S. in importance. In Europe, he is trying to carve out a sphere of influence and establish Russia as a regional power capable of diminishing American influence.
Mr. Rasmussen, a former prime minister of Denmark and a former secretary-general of NATO, is the author of "The Will to Lead—America's Indispensable Role in the Global Fight For Freedom," out this month from HarperCollins/Broadside Books.