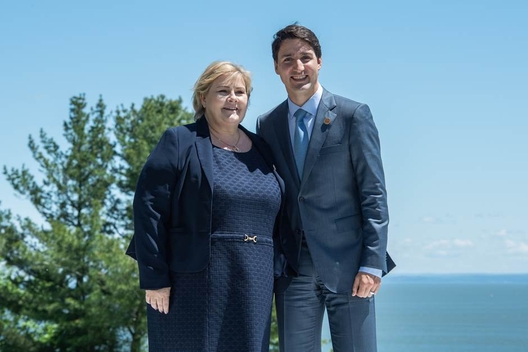 From News in English: US President Donald Trump has sent a letter to Norwegian Prime Minister Erna Solberg in which he asks Norway once again to boost defense spending to 2 percent of GNP. A former Norwegian foreign minister to the US thinks the letter can be viewed as threatening.
"Trump makes it clear in the letter how vulnerable we are, which we realize, and how dependent we are on help from the US," Knut Vollebæk, a former foreign minister in a conservative coalition government, told Norwegian Broadcasting (NRK) over the weekend. "And in that lies a little undertone that if we don't fulfill demands, it's not certain the US will come to our rescue."
The letter, dated June 19 and revealed by newspaper VG, made it clear what Trump expects of Norway on the eve of the annual NATO summit in Brussels next week….
He referred to his meeting with Solberg at the White House earlier this year: "When we met in January, you spoke of Norway as the second-largest spender per capita on defense behind the United States, and of your procurement of quality military equipment including F-35s (fighter jets) from the United States." He referred to both,though, as merely "good first steps" and went on to claim that it will become "increasingly difficult to justify to American citizens why some countries continue to fail to meet our shared collective security commitments…."
He stated that "we must ensure Alliance credibility by living up to our agreed commitments."
"I have especially marked how the letter refers to Norway's proximity to Russia," Vollebæk told NRK. "I don't think it's appropriate to state that (as Trump has done). Even though Trump starts off with a mild tone, it can be interpreted as threatening."
Vollebæk also notes that "many are talking about how solidarity in the (NATO) alliance is threatened, that President Trump doesn't stand by the US' commitments in the same way as earlier presidents have and that Article 5 (NATO's famous "all for one and one for all" commitment) is being undermined by that."
From Reuters: "Norway … remains the only NATO ally sharing a border with Russia that lacks a credible plan to spend 2 percent of its gross domestic product on defense," Trump said in the June 19 letter, a copy of which was published on VG's website.
From CTV News: In the June 19 letter, Trump says there is "growing frustration" in the United States with North Atlantic Treaty Organization allies like Canada that have not increased defence spending as promised.
"This frustration is not confined to our executive branch. The United States Congress has taken note and is concerned as well," reads the letter, first reported by iPolitics. The Canadian Press has confirmed the authenticity of the letter.
"The United States is increasingly unwilling to ignore this Alliance's failure to meet shared security challenges," Trump writes….
Looking ahead to the coming NATO meeting next month, Trump says in his letter to Trudeau he appreciates Canada's defence contributions around the world, including in Iraq, Syria and Afghanistan, and on United Nations peacekeeping missions.
But these contributions "do not excuse any of us from our commitments to ensure NATO has the resources it needs," he writes.
"As one of our most capable allies and a leader in worldwide security, Canada's continued defence spending of less than two per cent undermines the security of the alliance and provides validation for other allies that also are not meeting their defence spending commitments," the letter says.