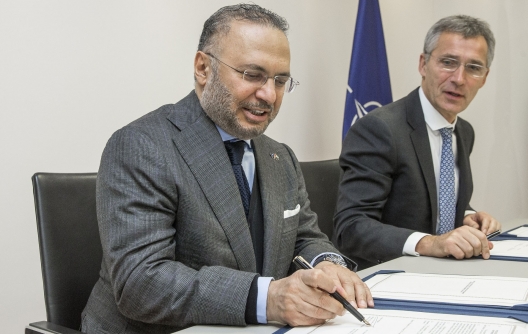 NATO and the United Arab Emirates reinforced their partnership and set out their priorities for future cooperation by signing an Individual Partnership and Cooperation Programme (IPCP) on Wednesday (19 October 2016).
During a signing ceremony with Dr. Anwar Mohammed Gargash, Minister of State for Foreign Affairs of the United Arab Emirates, the Secretary General stressed the importance of NATO's cooperation with the UAE. He praised the UAE for its role as a valuable NATO partner in projecting international security and stability: from Kosovo, to Afghanistan to Libya.
The Individual Partnership and Cooperation Programme takes NATO-UAE political and practical cooperation further, setting out in detail more areas for enhanced bilateral engagement, including through political dialogue and practical cooperation in NATO-led operations and missions, enhanced interoperability, crisis management, civil emergency planning, capacity building, counter-terrorism, education and training.